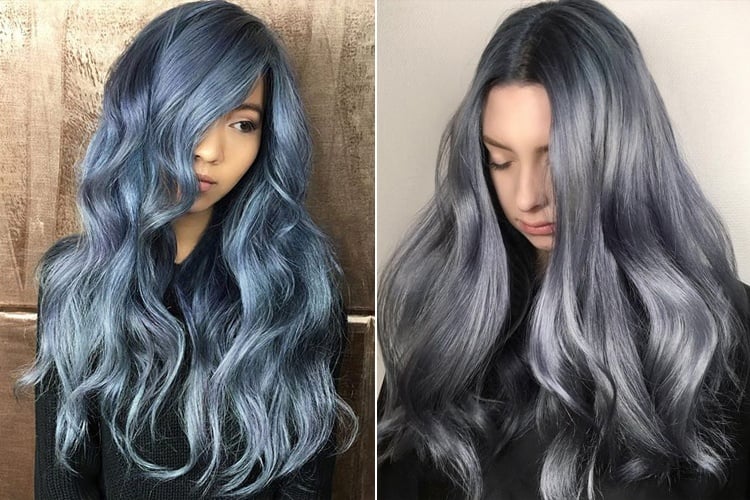 Bored of your mundane hair color? Looking for an interesting change that could totally give your personality a makeover? Why not go for the trending denim hair colors? It will come about as a fresh upgrade to your look.
Exactly What Is Denim Hair Trend?
It is the art of dying your hair the color that denim jeans are. You may be a little bewildered, but keep calm because yes; your favorite pair of jeans can be incorporated into the hue on your hair as well! The denim hair color trend has been going viral all over social networking sites. Available in various shades of gray, blue and purple – you can be the judge of what suits you best and blends in with your skin tone.
With this hair hue you will never have to worry about the color eventually fading out, because like denim it will look just as great when little washed out. Continuously refreshing the hair color thus would not be required. What's more, just like your favorite jeans, this denim hair color fits in well with every piece of OOTD you choose to wear!
Shades Of Denim Hair Color
This hair trend is rather ingenuous, which makes it a brilliant style for everyone to try out. There are many different shades of denim hair color. They go from completely faded out, to indigo, to whatever you want! And this can be done on any current hair color you have – whether light or dark.
If you have light hair, we suggest that you opt for light colors itself; for example – faded out denim hue with mauve roots, light blue middle and white ends. If your hair color is dark, you could choose to have immense blue roots, violet middle and lavender ends. If you have a hair color that is between light and dark you can yourself select what you like. We recommend that for the rad denim look you could try out coloring your locks such that the roots are dark and ends are lighter, this also makes the hue easy to maintain.
The options are vast and we guarantee each style will give one final look – a rusty metal look that will doubtlessly make your hair stand out!
Here are some styling tips for denim hair
1. Balayage Blue
Do you have light or blonde hair? Just beautify it by adding a touch of blue on your roots or highlighting various streaks of your locks.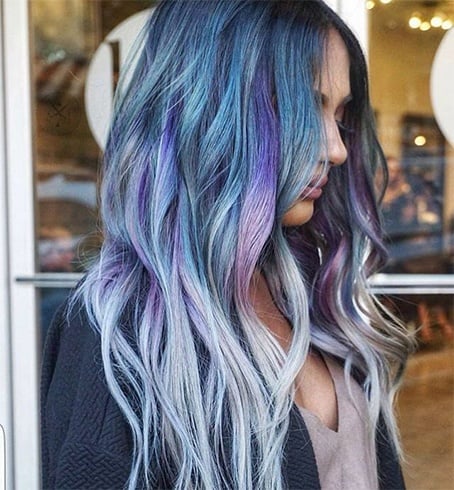 [Also Read: Strawberry Blonde Hair Color ]
2. Bold Blue
Match the color of your deep blue jeans. Starting from your roots color your hair bright blue, which gradually fades as it reaches the ends.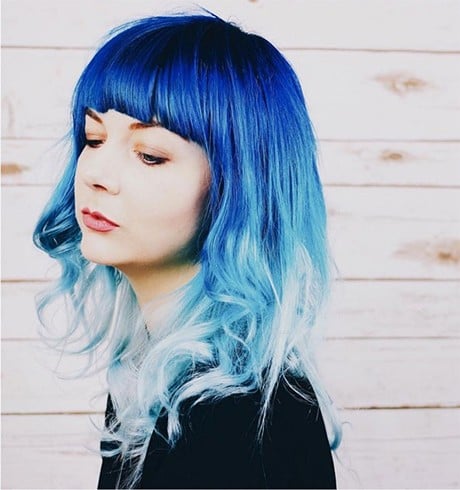 3. Faded Denim
Give your hair ashy blue hue amalgamated with light purple colors. A wonderfully washed out look.
[sc:mediad]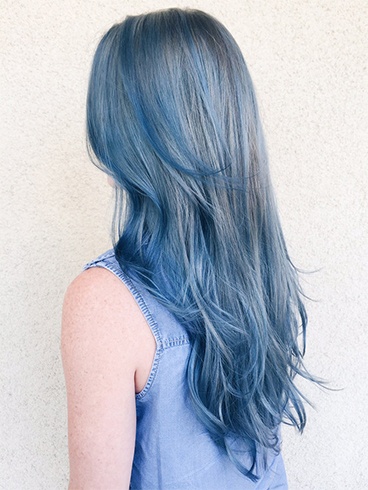 4. Stonewash
For adding a more grayish tone to your tresses go for this look. Color your hair with blends of blue and gray to achieve this hue.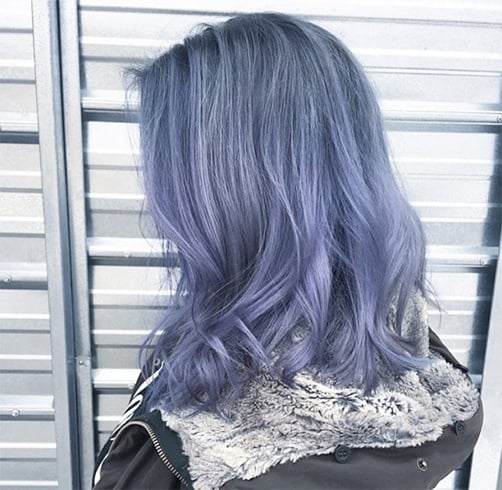 How To Get The Denim Hair?
If you're hesitant on dying your hair in a hue of denim for the first time, then you could opt for the easy, temporary method. You'll achieve the same effect as permanent colors – with the added benefits of zero staining and no messy mixing of dyes. All you need is for this DIY is temporary hair chalks. How? Just follow the subsequently listed procedure
[Also Read: Blonde Hair Colors To Highlight Your Tresses]
Get a water jar ready.
Untangle your tresses properly
Plan where and how you want to apply the chalk. Whether you just want a few highlights, colored roots & ends or color all your hair.
Get together all the needed hair chalks. The basic colors always needed are – light blue, mauve, dark blue, turquoise, blue-green, mint, lavender, ultramarine, silver, sea blue, white or gray
Begin the chalking. Chalk all the areas you want to color, carefully.
Brush through the lengths of your hair to dry out the chalk. Blend the colors and expel any leftover chalk grains.
To make sure that the colors set – flat iron, curl your hair or apply hair spray to it.
For the more permanent result, go to a hair stylist and get your hair bleached and dyed the color you wish it to be!
So there you have it – all the tips, tricks and techniques of coloring your hair denim. Now it's your turn to go get your hair colored in gorgeous denim hair shades! Style your tresses and make your precious locks stand out even more!
Images Source: pinterest.com