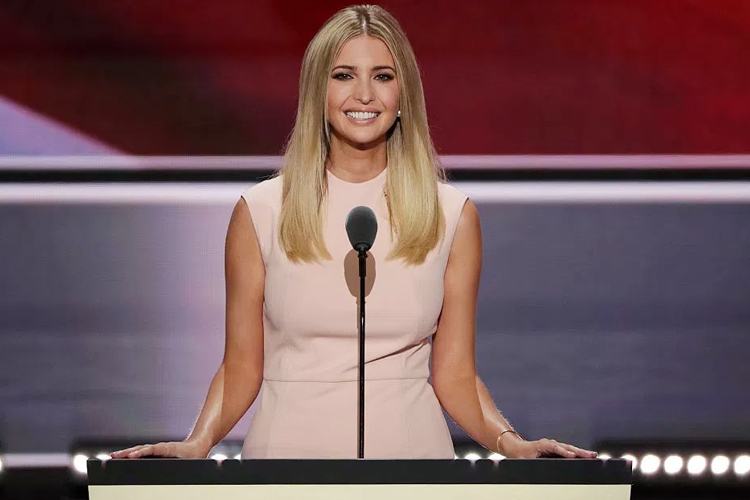 Apart from being Donald Trump's daughter, she is a writer and a business woman in her own rights; her achievements have hence kept her in the lime light from a longtime. To dress all proper was a sense she was born with. Though Ivanka Trump, soon to be the First Daughter of the US was always a style statement maker, the election season has seen her taking her fashion game up by a notch or two, giving step-mom Melania Trump a good run for her money. We chronicle here Ivanka Trump's best fashion moments, in no particular order of genius.
[Also Read: Knowing More Of Melania Trump Is Going To Be Interesting]
Ivanka Slaying The Red Carpets
The Trumps were on the guest list of all high profile events, and though Hollywood had decided to stand against the elect President during the 2016 elections, there was a time, not very long ago when the red carpets of Hollywood found it honorable to host the family. In one such event, Ivanka Trump graced the red carpet looking like a porcelain doll. The royal blue gown by Prabal Gurung sat on her transforming her into a real life princess at the premier of "China: Through the Looking Glass" met gala event held in New York in 2015. We couldn't help but fall in love with the long trail on the dress in a contrasting white.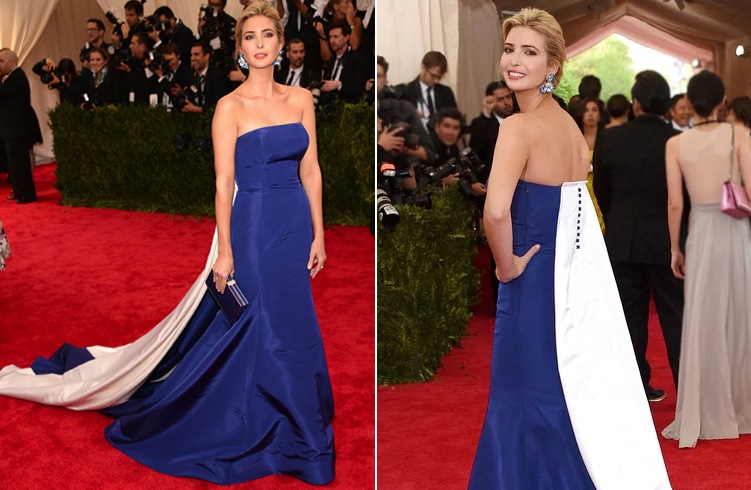 That was not the only time Ivanka rocked the red carpet of a highly glamorous night. The occurrences are bountiful.
[sc:mediad]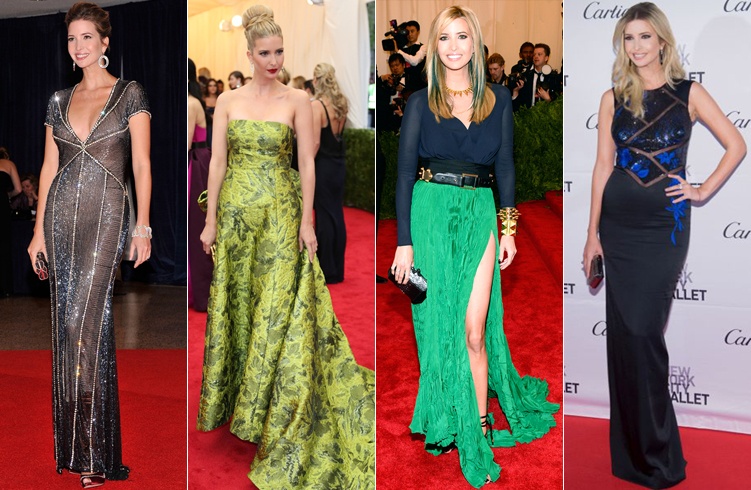 Ivanka Trump's Maternity Style
The annual American Museum of Natural History Museum Dance of 2013 had seen her cut a slim figure in a shimmering Roberto Cavalli – would you tell she already has a bun baking in the oven? The halter neck gown exposed just the right amount of cleavage leaving much of it to imagination. To complement a dress encrusted with jewels she carried a clutch to match.
[Also Read: Melania Trump Has A Style Statement Like None Other]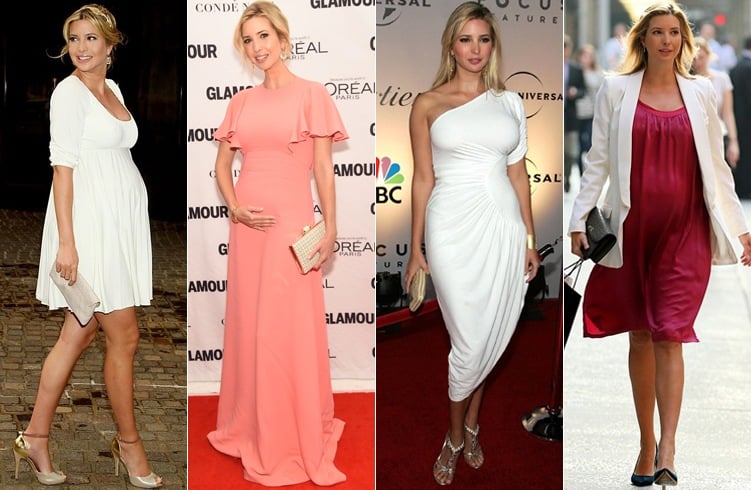 Even Ivanka Couldn't Evade The Floral Love
The daughter of a business mogul has walked several runways for designers like Versace and Tommy Hilfiger. But in heart of hearts she is a regular girl with a love for florals. At 33 years old, Ivanka took New York by storm by showing up in the most adorable floral dress one might have ever seen. The 3-D flowers in pink sowed in a fabric of navy brought the pretty out of Ivanka's personality.

But this was not the first time Ivanka had displayed her love for florals. Here are the many other occasions when the flowers sat on her well sculpted silhouette.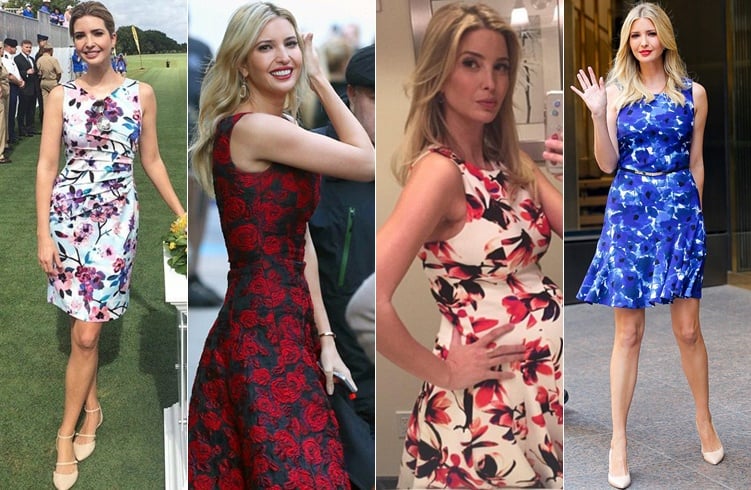 Campaigning For Daddy In Style
Ivanka was shoulder to shoulder with her dad, step-mom Melania Trump, and siblings. She had addressed tons of gatherings and despite her family's infamous reputation she managed to win the applause of her audience, with her words and with her style statement. She also proves that she is indeed her father's daughter as far as her business sense comes to play. The eldest daughter of the Republican presidential nominee took to stage to promote her daddy's campaign many a times with a view to promote her own business. One of such situations were when she rolled up in one of her own designs. The dusty rose knee length dress was noted for its unique blend of simplicity and aristocracy at the same place.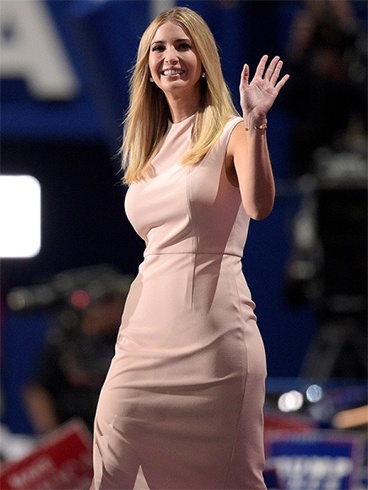 Keeping glamor aside, her looks for the campaign were classy yet conservative. Here are a few more that we have been admiring.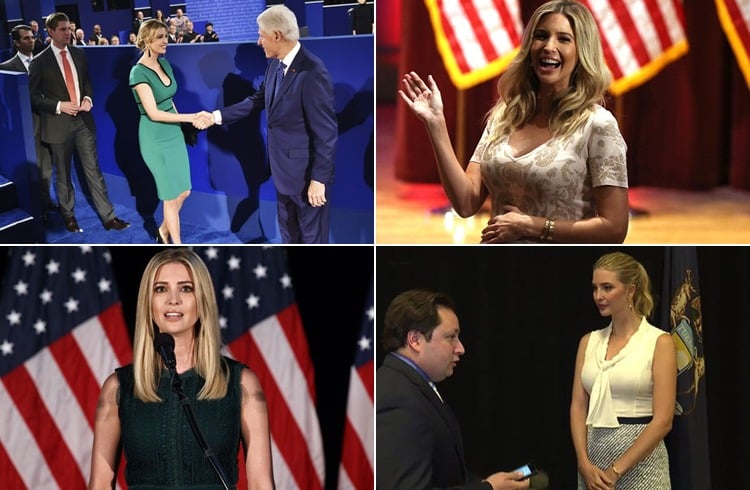 Blending Style And Corporate
Not only is she the daughter to the world's most powerful man, Ivanka is also a very successful business woman. Her business mind is as sharp as the fashionista in her. And when the two merge they create magic. We have fished a few of her corporate looks from the ocean called internet and I wouldn't be exaggerating if I say each of these pieces are to kill and die for.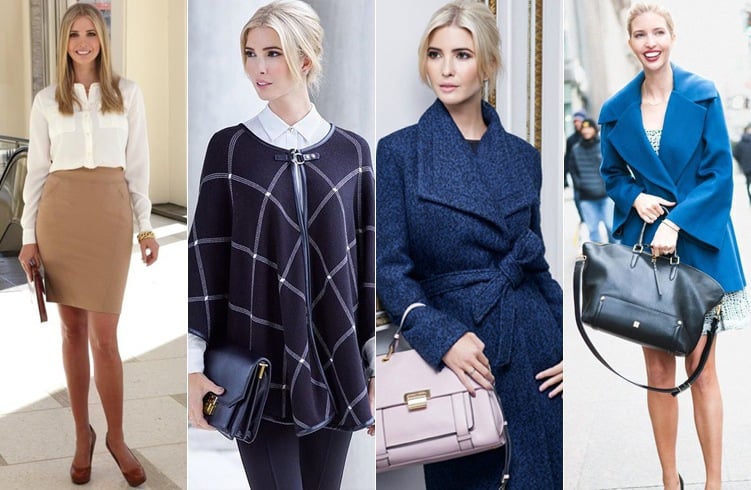 Though daddy Trump has won the Presidency, the Trump family is far from being accepted by an average American as his First Family. Ivanka, along with the others in her clan will have to give in her best to plant confidence in American hearts, and we are quite sure she would certainly do that with her pleasant personality, warm smile and triumphant style sense that rounds her up as a victor.