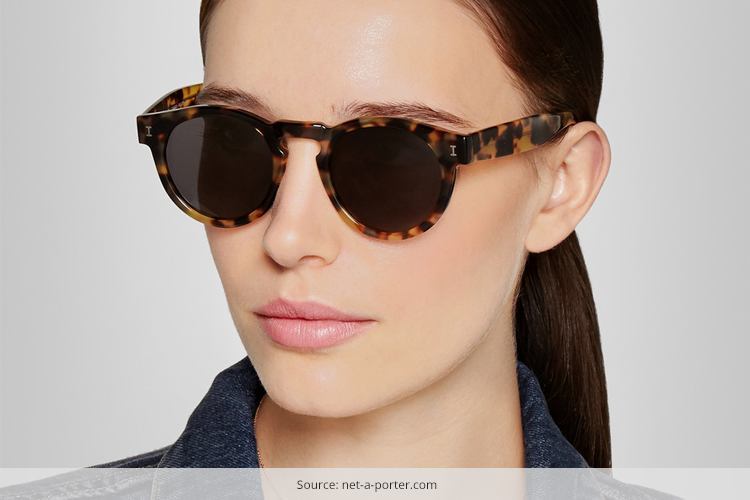 The world of sunglasses have now been taken over by tortoiseshell frames. You catch your favorite celeb off guard on a pleasant sunny day and they will be rocking some tortoise shell sunnies for sure. Taylor Swift, Kendall Jenner, Emma Roberts, Katy Perry and Lady Gaga… all of them are going absolutely gaga over these new babies. Some of the high end sunnies to protect your peepers from the harsh sun rays while maintaining the style quotient is are listed down here.
[Also Read: Get Sexy And Shady With Celebrity Sunglasses]
Ray Ban's Jackie Ohh Stylish Glasses
You must be dwelling in fool's paradise if you thought Rayan wouldn't be one of the early birds to jump into the making of these stylish sunglasses. Ray Ban knows that the primary purpose of a sunglass is to bring up the style quotient in the wearers persona. And hence the bold and beautiful styled frame. The best thing about this piece of style accessory Ray Ban is offering is that they come in crazily affordable prices.
Armani Tortoise Shell Sunglasses
Now if you are a collector, the Armani tortoise Shell Sunglass has to be in your treasury. The beauty of this product is its suitability for both men and women. And check out that retro wingtip edge. If that isn't classic then nothing is. Not only will this guy be a trendsetter but by the book of high-end fashion, this one is the ultimate accessory for any summer event.
Illesteva Leonard Round-Frame Tortoiseshell Sunglasses
When we speak of Iconic style accessories we can't afford to miss a mention of the Illesteva Leonard Round-Frame Tortoiseshell Sunglasses. The shade features an elegant round frame on the gorgeous texture of tortoise shell. Adding to the style quotient this piece creates a cooling effect on the eyes with 100 % UV protection with its smoke tinted material. These "must have in your closet" shades are manufactured in Italy, Germany and France using the latest technologies. Go own one and amplify your guilty pride.
[Also Read: Reading Glasses]
Tortoiseshell Aviator Sunglasses
Now for someone who is obsessed with fashion eyewear, this accessory is a killer. It stands out with its distinguished look and style. Every look through this sunny wear will speak of class, and versatility. The frame particularly shouts of waves and sea making it perfect for a day out at the beach. What's more? It compliments every face shape and skin tone. Though it is designed focusing on menswear trend, the edgy woman can carry it with equal confidence. The Tortoiseshell aviator sunglasses are remarkable for their acetate frames pinched with a tone of gold lending a magnifying effect on brown lenses.
[sc:mediad]
Stella McCartney's Square-Frame Tortoiseshell Acetate Sunglasses
For the fashionista looking for that strong effect, this one has to be the 'It' possession. The square frame of brown sunglasses will add to your natural charishma and bring elegance to your collection of fashion eye gears. These fabulous sunnies are produced in Japan using tortoise shell acetate procured from natural sources.
Prada Black D-Frame Acetate Sunglasses
The one who follows fashion religiously, worships Prada every minute of the day. And this pair of envy inspiring sunglasses will give you all the more reasons to evoke the Prada Goddess. The glares have a subtle tone of gold and enhanced light grey lenses. The unique cat eye shape of the frame on the tortoiseshell texture brings the best of both the worlds together. This one too gives 100% protection to your eyes from the harmful UV rays. A Prada product, with its immense look, is tailor made for the woman who breathes fashion.
[Also Read: Sunglasses And Lipstick Ideas]
Valentino Brown Tortoise shell Sunglasses
You will never commit the crime of speaking about fashion and not speak of Valentino. Because, we all know, Valentino is the ultimate, and so is this Tortoiseshell sunglass brought by one of the largest fashion houses. The piece comes in an oversized frame and is available in tones of black and brown with brown gradient lenses. The signature pyramid studs in silver-tone gives you that much needed way to boast the brand.
Now let's see how our favorite celebs rock their Tortoise shell sun protectors.
Here's the very adorable Emma Roberts all happy with those "Bellevue" tortoise shell sunglasses from TOMS.
And Katy Perry seems to be such a fan of those Quay Kitti shades, she even wore them to Coachella. Doesn't she looking stunning?
Hilary Rhonda displayed some classic fashion sense, pairing up her retro look with Rebecca Minkoff tortoiseshell sunnies.
[Also Read: celebrities in sunglasses]
If that cute pup is stealing Gwen Stefani's heart, the Stella McCartney glares are stealing her stares for sure.
Am I the only one green with envy at the sight of Taylor Swift in her alluring Ralph Lauren sunglasses?
These very trendy sun glares come in a range of size and shapes. Now you need to visit the showroom and get some assistance in figuring out the perfect one for yourself. They are great companions for a day time event, and you really have to try hard not to look like a bomb in them. Totally a worth splurge.