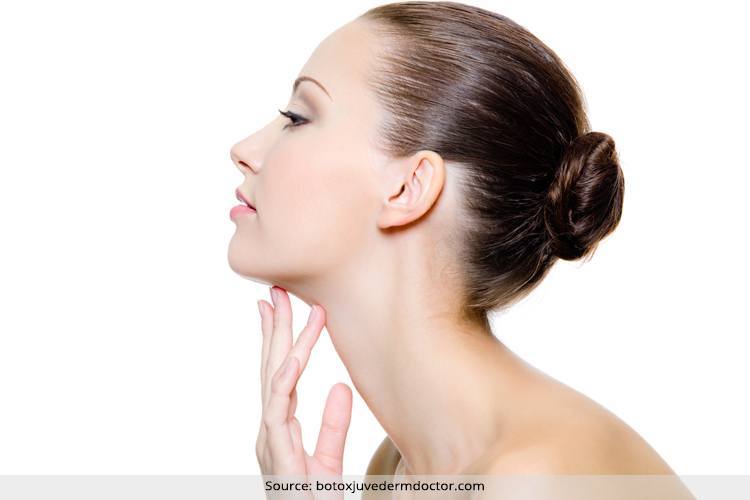 Are you the one who just tend to focus on face, neglecting your neck? Well, this is a mistake that I guess many people commit. Your neck is equally sensitive and prone to ageing as your face. Skin experts around the world suggest paying more attention to neck as the neck skin has less collagen and consequently can begin to sag. It is thus important to treat your neck well to avoid premature wrinkling and dryness. Therefore, keep in mind to extend your face wash, exfoliating scrubs and moisturizers onto the neck and make it look super sexy. After all, who doesn't like to flaunt a beautiful neck? Are you wondering how to make your neck look good?
Below are a few tips for a younger-looking neck
[Also Read: Skin Tightening For Face and Neck]
Moisturize it
Who doesn't know the benefits of moisturizing? It is one of the best mediums to avoid skin-ageing and drying effects. Next time, remember to spend as much time on neck as you spend on moisturizing your face. Make your neck look good under cold and dry weather by extra application of moisturizer whenever you step outdoor.
Here's how to moisturize your neck for maximum benefits:
Moisturize your neck immediately after bath with clean hands. The damp skin absorbs the lotion quickly, helping it to lock moisture on the skin. Simply pat dry your neck and apply face moisturizer, preferably homemade moisturizer.
Apply a liberal amount of Moisturizer to the most neglected parts of your neck – back and sides. It will help to minimize horizontal wrinkles and sagging of the neck skin.
Rub the moisturizer stroking upwards from bust line to chin, to avoid pulling down the skin. It helps to keep away from wrinkles.
Moisturize at least twice a day, preferably in the morning and before going to bed. Also, if your face is dry then your neck is dry too.
[Also Read: Wedding Makeup Tips]
Check out for some really nice homemade moisturizer for your neck:
Aloe Vera Moisturizer For Neck
What you need:
Aloe vera gel – 1/3 cup
Sweet almond oil – 2 tablespoons
Beeswax – ½ tablespoon
Jojoba oil – 2 tablespoons
Method: Mix together beeswax, jojoba oil and almond oil, and heat it until it melts. Allow it to cool for an hour at room temperature. After it has cooled down, pour in the aloe vera gel and blend it well using electric blender. Finally, store it in an airtight container.
Strawberry Moisturizer For Better Looking Neck
What you need:
Strawberries – 10-15
Lemon juice – 1 spoon
Cream or curd – ½ a cup
Method: Cut and mash strawberries in a bowl and pour in cream or curd and lemon juice. If you want you can add few drops of argan essential oil. Refrigerate it for 30 minutes and then, apply and leave it for 15 minutes to instantly moisturize your skin.
[sc:mediad]
Exfoliate The Neck
Neck should be exfoliated on regular basis to remove dirt and dead skin cells. Exfoliation not only lightens the complexion but also aids in new collagen growth. Dampen the skin and gently exfoliate your neck skin with loofah or scrub, preferably, a homemade scrub.
Here's few natural scrub that will help to lighten your patchy neck and remove dead skin cells.
1) Oat scrub For Neck
What you need:
Oats (coarse powder)
Tomato Pulp
Water
Method: Mix tomato pulp with coarsely ground oats powder and add little water to make a paste. Apply this mixture to your neck and leave it for 15 minutes. Gently rub it with wet fingers in circular motions and feel the result.
2) Walnut Scrub For a Better Neck
You can make a similar scrub as above using walnut instead of oats and milk cream instead of tomato pulp. The vitamins and zinc present in the walnut will nourish your neck while milk cleanses the neck.
[Also Read: Juice Therapy]
3) Chickpea Scrub For The Neck
What you need:
Chickpea flour – 1 Tablespoon
Sugar
Turmeric
Water
Method: Simply mix all the ingredients – chickpea flour, sugar, turmeric and water to make a paste. Apply it to your neck and gently rub it in circular motion for 10 to 15 minutes. Wash it off and apply a good moisturizer. This scrub will bring radiant life to your neck.
[Also Read: How To Get Rid of Dark Neck]
Protect The Neck
Avoid wearing metal neck jewelry on humid days, as they tend to leave black marks.
Avoid excess makeup and don't forget to remove it before going to bed.
Avoid perfume on the neck as they can cause skin irritation and spots after exposure to sun.
Drink at least 8 glasses of water to avoid dryness.
Always apply sunscreen when stepping out.
So, these are some of the ways to make your neck look younger, healthy and radiant! And, don't forget to share your thoughts with us.