Whether it's pre-party or after-party, makeup lovers just love getting ready and go all out there. For the rest of you, we finally have covered how to play with playful palettes that maybe most of the time stays untouched in your beauty kit. A party is an excuse to indulge with experimental glam (though not necessarily). Or if you're the type of girl whose usual makeup follows a certain spectrum, the party season allows the perfect chance to test glimmering shadow, bold lips, or both.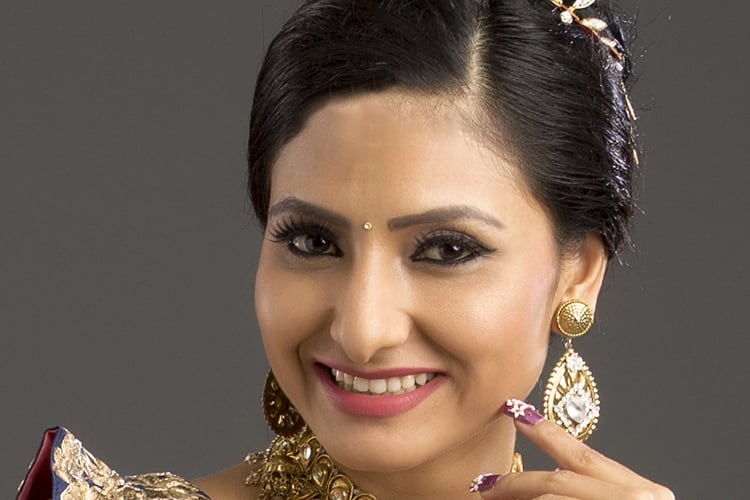 We just put it as a friend tussle between the festive galore.
15 Party Makeup Ideas To Try While Wearing Saree:
Just in case you're thinking of attending those party invites, here are 15 of them. We have covered the best of party makeup inspiration to plan your party looks throughout all seasons. Even if you're the type of girl who girls classic red lips or prefer the metallics, there are lots of ideas to choose from. Each one of them is highly approved and party vetted.
1. Nude Makeup:
And by nude, we mean expensive. If your preference is towards gold eye shadow, go a notch up higher and mix it up with bronzer, chestnut lips, and smoky liner. You can try this makeup look with Kanjeevaram saris to bring out a nice balance.
2. Smoky Eyes:
The party season is the perfect occasion to try out a glided smoky eye. To get a different kind of feel, try using sparkly shades and finish off with nude lips and false eye lashes. Create a look that keeps the focus on the eyes and complement the color of your saree.
3. Gold Flecked Eyes:
While your party look may have saree elements worth stealing, there are certain makeup ideas you can blend it with like gold flecked eyes. To create the look, use a gold liner tracing it all the way to the top lashes all the way around the tear ducts. Draw a small 'V' around the eye corners to bring the attention to an otherwise neutral look.
4. All Red Makeup:
This look is a stealer especially if you are wearing a monochromatic saree to the party. Complement the look with crimson lips with matching blush and shadow in same hues. Hell of a match to your party look!
5. Pastel Shadow:
Have you heard of the catchphrase "baby blue eyes?" The shimmer blue eye shadow gives a new meaning to it. There is a subtle playfulness and feminine element to the hue, we love!
6. Frosty Silver:
When you think of silver or glitter makeup, we don't immediately recall neutral. But you can actually create a makeup with specks of silver and still make it look neutral. Want to know how? Wear a gradient silver sparkle over your lash line and blend it with nude lips. This is a perfect look to take to the parties.
7. Cranberry Lips:
A swipe of a lip color like a cranberry shade is all you need to make a daily look transform into a party-look. Try a lip color in deep matte, wine-colored hue.
8. Smoky Gold:
The party season is the perfect time to test out a smoky gold eye. To create the look, try experimenting with sparkly shades and finish off with nude lips and intense false lashes.
9. Pink Over Pink:
Party makeup does not mean sticking with bold colors. You can be low-key and still look stylish like this look here. We are talking about pink glossy lids, lips, and cheeks. This pastel look is a visual treat, perfect for any evening occasion or cocktail party when you want to shine without necessarily being the party stealer.
10. Red Lips:
You can never wrong with red lips paired with a hint of nude shadow and extra lashes. You can try a red lip shade that works with every skin tone. This may also be a great time to try out new line of red lip colors.
11. Disco Lids:
When it comes to party wear, there is no halt for glitter. So give attention to your eyes by sweeping a shimmery shade up to your brow bone all the way to your lash line. Blend it with peachy lips.
12. Sharp Cat Eye:
A sleek, sharp cat-eye will never-not be hot for a party-saree look. Nude lips, red lips, you decide.
[sc:mediad]
13. Floating Cat Eyes:
Or, try this cat-eye look for a unique twist to your classic wear. To create the look, draw a line aboe your lids. Do not connect it to your lash line as you usually do. This floating cat eye makeup look is a step ahead to everyday eyeliner makeup and we are totally here for it.
14. Red Eyeliner:
And since we are talking about party makeup and cat-eye looks, we cannot skip the red eyeliner treat which is more than just trending. This wow-worthy look is just perfect for a cocktail event. To master it, swipe the red winged liner, and swipe on mascara and matte lip color.
15. Cocoa Lipstick:
Yes, we approve the cocoa-hued lips with sparkly eye shadow combination. You can wear both on your next party event at the same time.
These are our top picks for party makeup up to wear with saree. We hope you find your perfect match. Do share us your thoughts in the comment box below.