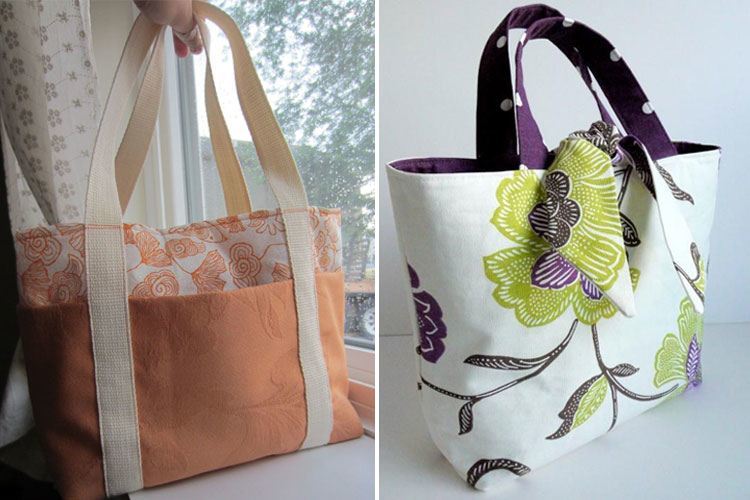 Who doesn't love the act of giving selflessly? Gifting something special to anyone, means the world to us all. It speaks about emotions, the bonding, the love and the connection shared, which is why if you plan to give your mother, your bestie, your sister, or maybe a female boss at work something special, gift them something trendy and usable. Here are ten cute tote bags to gift and make an impression, because a tote bag can bring out the best in a woman!
1. For your college-going daughter
She loves her guitar and she loves playing heavenly tunes strumming those strings, for daddy and you? Show her a little more appreciation and support, than what you usually do by gifting her, this cute green polka dotted tote bag. Musically yours forever!
2. For the female boss
It is her anniversary or maybe her birthday, and a simple card or a SURPRISE BASH isn't enough. Gift her something that she would use every day and appreciate the thought too. A leather fine-grained tote bag then would be a must-give!
[Also Read: Trendy Fall Bags]
3. Show mommy some love
She shops for groceries and cares for the house, and those market bags she carries on her shoulders give way all too often. Gift her a denim chic tote bag this time, a sturdy one that would last long and would make her look so trendy when she goes out!
4. Floral rage
For any occasion, event or moment, a touch of lilac and heavenly green brings in a trendy touch. The same would be for tote bags, which carries the weight of daily life. Make it happen and gift a smile, think of the cute tote bag as an option!
[Also Read: Leather Office Bags]
5. Stripe them off
Colours that play and run amok as the sun beats harsh and rude, the cute striped patterned tote bag in orange would be a stand-alone piece on you that grabs eyeballs and brings in the accolades too.
[sc:mediad]
6. Flaunt the vixen
A foxy charcoal grey with an orange printed vixen on a tote bag for the college-going girl at home, would be an ideal birthday gift this year to give! She'd love flaunting the bag amongst her peers, and foxy as she is, her nature would be foretold in style!
7. Cutey nerdy
Nerdy is cool and everyone digs nerds these days, so why not have one of them printed on your tote bags too. Nothing to be ashamed or embarrassed about, when you have the nerdy babe on the bag, she would want you to flaunt her with confidence!
[Also Read: Birthday Gift Ideas for Your Sister]
8. She shops in style
Wifey at home needs a new market bag, and not one which is made from synthetic and those that look so dull and drab. Give her something cute or think of this tote bag as a gifting option. She sure wouldn't mind shopping the daylights out to make you something special.
9. Fashionable grandma
Says who that fashion is meant for the twenty somethings alone? Grandma too was a rage in her hay days and nothing should stop her now in her prime, not when you give her this cute leather tote bag with a bow!
10. The wise fashion owl spoketh
Hoot-hoot, hear the owl who speaks its pearls of wisdom, and let the fashion bells ring throughout. Your friend needs a cute gift for her birthday, and one that she can easily use everyday.
There are many more cute, cuter and cutest tote bags to flaunt and show off, and there are ways to make your own TOTE BAG the DIY way too. Maybe that is what we would research and show you the next time we meet, until then, decide on your gift now and make the moments for her, super special!