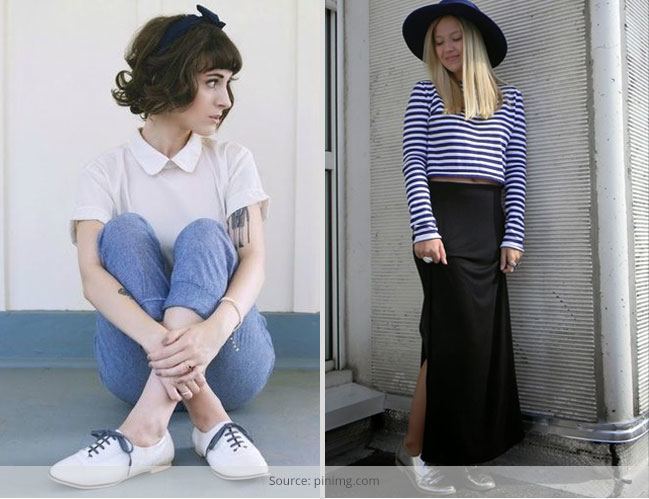 Oxford shoes are a little more sophisticated than sneakers but a little less formal than black pumps. They add character to an outfit, taking it from plain to interesting, from generic to individualistic and unique. If you own a pair of oxfords, then get ready to explore some unusual outfit pairings for it.
With Shorts
If you ask me, oxfords with shorts is such a cute combination that is not done often enough. You don't take my word for it; check out Taylor Swift caught sporting this combo on more than one occasion.
With Rolled up Jeans
You haven't done your oxfords justice if you haven't tried this combination. Oxfords with rolled up jeans is like peanut butter with bread – it just goes so well together. Whatever your type of jeans, skinny, distressed, or boyfriend jeans, simply roll it up and slip your feet into a pair of oxfords for a truly inspired look.
With a Summer Dress
Another totally adorable combination is oxford shoes with summer dresses. Summer dresses are so breezy and fun and when paired with some sturdy oxfords, it creates a very modern-classy look that you are sure to fall in love with once you've tried it.
With a Party Dress
Okay, so this is where we start pushing the limits, exploring some seemingly impossible combinations and making them work. While oxfords are generally considered to be casual wear you can actually pair them with your sparkly party dress. Just opt for a more formal colour like black instead of brown and you will be surprised at how edgy and stylish it makes your whole look.
[sc:mediad]
With a Maxi Skirt
Wear your oxfords with your favourite maxi skirt for a bohemian-turned-city-girl look that is so unexpected that you will be sure to get some long hard stares. But don't worry fellow fashion enthusiasts are sure to appreciate this look, so be sure to try it out.
With a Shirt Dress
This entire look will take you literally less than five minutes. Simply put on a long shirt dress and slip into your oxfords. Slip on a pair of sunglasses to cover your eyes and block out the sun and you're good to go. A perfect outfit for those days when you have a hangover, and just can't be bothered to spend much time dressing up. A super casual look that is perfect for brunch or to grab a cup of coffee round the corner in your neighbourhood coffee shop.
With Stockings and Leggings
This is a foolproof way to wear your oxfords. Simply pair them with some leggings or stockings and it will work. Every. Single. Time.
Perhaps the absolute best thing about a pair of oxfords is that they are suited for all the seasons. Summer, winter or fall, you can always wear your oxfords. Wear them by themselves in summer and pair them with leg warmers or thick socks in winter. What can be more versatile than that? So if you don't own a pair of oxfords already, go ahead and invest in one; you can wear it all year long. Now that is what is called a good investment in my book. If you're not sure about the colour it is always safe to go in for a nice brown or black colour. They will go with pretty much everything and I can assure you that once you start wearing them, you'll make them a regular item in your wardrobe.