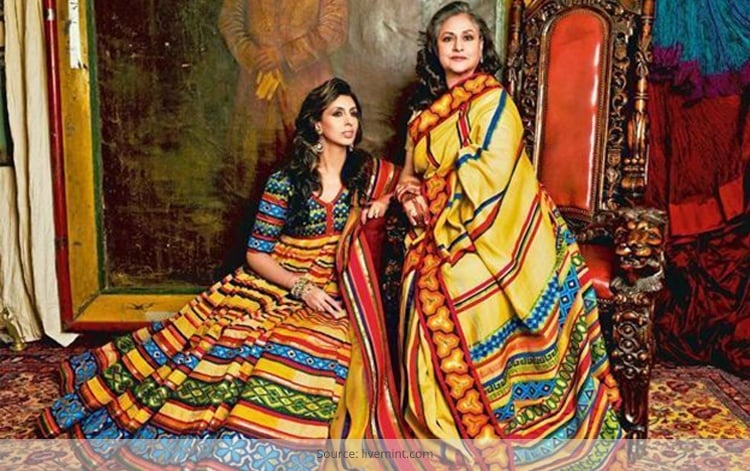 The Supreme Court of the country might have passed a law that sons and daughters have equal rights to parental property. But girls, you know it, only you will have the sole right to invade your mother's closet. And that is pretty much what we aimed at since childhood. Didn't we all take mom's dupatta and drape it all round like a sari? Yeah… we couldn't wait to grow up to claim our ownership to everything she had in her closet. So, the fashion might have changed a little, but there is still a treasure lying out there that so we must dig into:
1. Mom's Old Saree from Her Spinster Days:
One thing that you might have to fight your younger sister with real hard, is your mother's favorite saree from her spinsterhood days. Every mom has preserved one such saree since like forever. She wouldn't have worn it much fearing damage to it and used it just a few times, saving it for eternity. Grab it. It is basically yours (well, if your sister has not already claimed it) with all due rights. But be really careful while wearing it. Though it brings its antique charm along, it does need a lot of attention while you are in it. Make sure you are pining it up carefully and not ruining it.
2. Mom's Bridal Wear:
Be it a bridal lehenga, salwar suit or a saree, this one has a special aura about it. If your mother chooses you to pass it on to, trust me you are really special to your mother. You need to remain grateful to her irrespective of the monetary value of the outfit, because she is perhaps handing over to you the most cherished moment of her life. You may want to revive this piece a little, make a few changes here and there, and it will make a perfect ensemble for your own wedding. Get the wedding blouse design altered to fit you. Most of the time they leave a enough cloth at the seam so as to facilitate the altering or re-fitting. Get the lehenga cropped a Iittle if you are not as tall as your mum. However, if you are blessed with dad's good height, you may add some golden or silver lace to the bottom of the lehenga. Again, adding a patch of a contract colored velvet or silk detailing or piping will also add an extra dimension to the look, while adding to the desired length. Re-doing the dupatta with trendy laces and sequences will also help in bringing the dress back to the trend.
3. Vintage Wedding Jewelry:
They just don't make Jhumkas like those any more. I have checked in so many stores, but they just don't have those designs. Even if you take a sample with you, the artisans these days won't be successful in replicating it perfectly. So, maybe you would just want to stick to the good old pair your mom has. They have a royal air about it. The intricacy of the patterns were rustic and inspired for elements of nature like flowers, leaves, and buds etc. The jadau set that you mother owns is a collector's item, and you will have to earn it from her. But even if you get it eventually, be sure to preserve it the way your parents have. These jewelry which in most cases are your mother's wedding jewelry are something you wouldn't want to part with even in return of the entire world.
[Also Read: Victorian Vintage Gowns]
4. The Silver Key Ring:
The silver key ring is a vintage piece. They don't use it much these days. It must have been lying in some inconspicuous corner of the almirah. But if you can carry it with panache, there is nothing that captivates a rattling and dazzling silver key ring tucked to your saree, at your waist line. It looks super sexy and if you have the perfect waistline to show off, nothing can stop people's attention from getting there. However, you need to give it to the jeweler once to get it polished as it might have lost its luster lying at the dark corner for all this while.
[sc:mediad]
5. The Warm Shawl:
If you know how to manage it, a shawl goes well with both Indian and western attire. I have one kept in my office drawer to save me from the over cooling of the corporate air conditioning. Mothers generally have a generous collection of shawls as in most cases they do not wear a lot of jackets and sweatshirts. And her shawls will be of the best quality because back in the days they were made from pure wool-unadulterated with cotton or any other synthetic fiber. You can find an original Kashmiri shawl with intricate embroidery or one from Assam or Manipur with mirror work detailing.
[Also Read: Vintage Makeup Tricks]
6. The Potli or Batua:
The batua/potli trend has come back a long time ago and is in no hurry to leave. So this is the time you claim your right to your mother's good old batua, if you have not done that already. The potli shaped batua is a perfect to be carried with any traditional attire. It can be given some make over by sewing a few sequences or stones on it, or defining the edges with a golden zari border. This will be very simple and you could do it yourself at home.
7. The Vintage Jewelry Box
It is not only the jewelry but the jewelry box too, which she must have inherited from your grandparents, is a treat to the eyes. Thanks to the safety issues, now-a-days people do not keep expensive jewelry at home, but in a bank locker. The empty jewelry box must be lying there in the almirah. I inherited a wooden jewelry box from my mother with fine brass and minakari work at the top. I just keep it as a show piece on my side table under the lampshade in my living room. And it sits there perfectly. You can grab one as well, think of few constructive ideas and put it to some good use.
8. A Vintage Watch:
This one might be a real tough one. May be the first one that your mother was gifted by her parents on the completion of matriculation or getting the grades she promised. Those were the days, you had to earn your first watch. So, you might have to work a little harder to own your mother's vintage watch. If you feel it does go well with your regular look, wear it with a traditional attire. It will perfectly blend in.
Expensive or inexpensive – each of these items have a memory weaved into them. You ought to be really lucky if you got your hands onto any or all of these vintage fashion collectibles. It is a heritage passed onto you. Style them up, use them as much as you can. They are smeared in love after all.
Hope this article on vintage fashion collectibles is helpful.