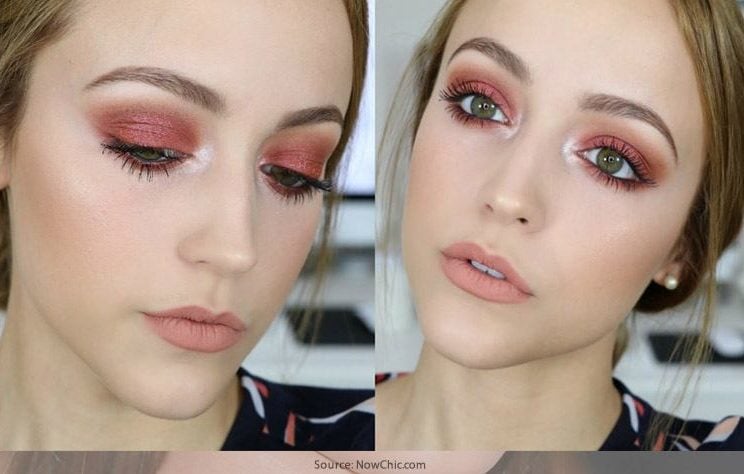 We have read and heard about red lips. But are you prepared to switch to red eyeshadow trend? Surprisingly, this runway beauty favorite has become quite relatable. The red eyeshadow can give out a sexy vibe when done correctly. The right shade, like crimson red, is totally wearable and stunning. The red eyeshadow makeup can work on any skin tone, provided you find the right shade and know how to apply it. You can also go for a full smoky red undertones, skipping your usual black jet liner.
In this article, we will help you pull off this look, while ensuring you look absolutely smashing!
Check out our tips on how to wear red eye shadow below and more:
How to Choose the Right Red:
The right shade of red eyeshadow can make a great difference. For picking the right colour from red eyeshadow palettes, you have to consider your skin tone. For instance, for dark skin, a light colored red hue will not show.
Here are few tips for picking the right red:
Fair skin- pink reds can work best on light skin tones. A good product to try, for fair-skinned women, is NYX Cosmetics Hot Singles Eyeshadow in Pink Lady.
Medium skin- warm and terracotta-red suits medium skin tones. You can try NYX Cosmetics Hot Singles Eyeshadow in Heat.
Dark skin- rich, bordeaux, burgundy, and eggplant red suits dark complexions. You can pick Urban Decay Eyeshadow in Backfire.
How to Prep Your Skin:
Do not go for the red eyeshadow before you even out your skin tone. Here are few steps on how to prep your skin before applying red eyeshadow.
In the first step, you need to conceal and perfect your skin tone, before applying your eye shadow.
Then, prep your skin to make sure there is no redness. A red eyeshadow can bring out more redness to your skin.
Make use of a creamy concealer for covering up any splotches, acne scars, or broken capillaries on your face. Also, pay attention to your eyes for any red tones.
Apply the concealer from the bottom lash line and do not forget to use dark shadows in the inner corner of the eyes.
The under-eye circles can become exaggerated by red shadow, if you do not cover it well. Hence blend it out well.
Then make use of concealer or tinted lid primer to blend red veins over your eyelids.
To finish, apply sheer or medium-coverage foundation, depending on your skin needs.
7 different ways to wear red eyeshadow:
Here are our top seven picks of red eyeshadow makeup ideas for a more natural finish:
1. Brighten your Eyes First
If the whites of your eyes have the smallest hint of red, then red eye shadow will only highlight it more. You do not want your makeup to end up making you look tired and sick. You can make use of eye drops before attempting the red eyeshadow look. Then you can apply primer on the eyes. Make sure to start off with a clean face and moisturizer. Making use of an eyeshadow primer can ensure that your eyeshadow will stay fresh and last throughout the day. You can also replace primer with concealer, as it works well too.
2. Blend your Red Shadow Really Well
This is the tricky part- whenever you are using a rich pigmented red color, you have to make sure to blend the color well into the eye crease or else it'll finish looking messy. For this reason, it is essential to blend a little extra to give the red a smooth and airbrushed effect. Remember, when you are trying the red eye makeup trend, your brush plays a crucial part in creating the look. Make use of a fluffy blending brush to shade your upper eyelids until you achieve a tapered and airbrushed finish. This can also allow depositing lesser eye shadow for building up color. If you use denser brushes, then it will deposit more color on your first swipe. So always blend your red shadow using a fluffy brush.
3. Play with Different Tones and Textures
Layering on several red shades with different finishes can provide your eye better depth and definition, rather than wearing a single red hue alone. To get the makeup right, apply red eyeshadow over your lids as a base. Blend the edges into the crease. Then apply a metallic red, or copper red to the center of your lid. Then blend it to the center of the lid and into the base color.
4. Add a Pop of Red Color to Black Liner
Take a break from your blue liner and opt for a deep red plum undertone instead. The dark eye undertone can give the bright color depth and definition to the eye. Another way to create the effect is to layer a red liner over red pencil. The red can be highlighted well, yet, you'll get the depth from the black. Then you can line the top lash line or apply it across the bottom, by softly smudging it using cotton swab.
5. Give Smoky Eye a Red Halo
This is a new method to play with the smoky eye. Start by applying normal black or gray eyeshadow starting from lash line to crease. After that, blend a sheer red eyeshadow in and above the crease. You can make use of the red as a transition color in between your dark eyelids and brow bone highlight for maximum impact.
6. Swap Bronze for Bold Red
You should replace any warm tones like bronze, gold, and copper for warm red. Both of these tones are very similar, so it won't be a drastic change in your look and make you uncomfortable. If you are putting on red eyeshadow over your eyelids, then you need to blend more neutral colors, like brown, for instance. Apply the brown color over the crease to serve as base and give the eye lids better definition.
[sc:mediad]
7. Apply Lightly on the Bottom
If you dab too much eyeshadow along your lower lash line, then you may end up looking sick. And we are sure you don't want that. So, stick with lightly dusting red color over your lids. This can give you a full dimension, without really shading or darkening the skin around the eyelids. And the best part is, it creates a sunken-in-effect.
Overall, we are convinced that red eyeshadow is as fierce as it looks. We've seen it on runways and admired from afar-so why can't we pull off the dramatic shade? To put all doubts to rest, watch this red eyeshadow tutorial by beauty editor Tara Rasmus, who volunteered to give it a try. In the tutorial, makeup expert James Vincent offers tips for applying and layering rust-colored red for a gorgeous finish.
What to Avoid with Red Eyeshadow:
We hope that you are sure about how versatile this eyeshadow trend can be. But do not be mistaken about red shadow being a neutral tone. As exciting as it sounds, it doesn't suit every look. Here are a few things to keep in mind when trying the red eyeshadow looks.
Do not go for monochromatic colors- red lids and lips may seem like it can be blended well, but it really becomes too much. Well, simply because it is 'red.' So when you are applying red eyeshadow, make sure to tone down the rest of your face.
Skip bright colors- this does not need any prizes for guessing, but is worth remembering. Do not make the mistake of applying bright shade on your lids like orange, pink, red, and plum.
Even out your skin tone-it is best to pair red eyeshadow with cool skin tones. This can help to balance the red. Hence, avoid using warm tones on cheeks and lips.
How to Prep Rest of your Face:
Similar to red lips, your red eyeshadow should be the focus on your face. You shouldn't try to overpower it by going for too strong finish on any facial feature. The aim should be to achieve flawless skin and subtle cheeks and lips. Here are few tips to prep your facial features:
Face– after applying concealer and foundation, you need to think about how to bring about some color on your colors. For this, skip the blusher and do a sleek cheek contour instead. You can apply a face-sculpting shade in rose contouring underneath your cheekbones. Then apply the darker shade halfway down your cheekbones. Then blend out well. If you love a subtle hint of colors, then apply the rose highlighting shade to the apples of your cheeks.
Lips– go for neutral shades, like rosy nude for your lips.
Brows– you should highlight your eyebrows before applying red eyeshadow. A well-defined brow can define your red lids well. If you have sparse brows, use a pencil to draw in any missing hairs. Or, if you need more definition, then fill brows using a tinted powder and an angled brush.
Eyes– you are almost done with your makeup, but we suggest finishing the look with dark, thick lashes, to add extra drama. Try few coats of a waterproof mascara for long wear.
This is how you can convince yourself to bring some red into your life. Follow these tips to make red eyeshadow wearable and chic daily.