High-waisted jeans have become a must-have of thousands of women, who are very pleased with the choice because this cut emphasises the waist, shapely hips and buttocks, slims the tummy, hides the love handles and makes the legs look longer. What more could any women want?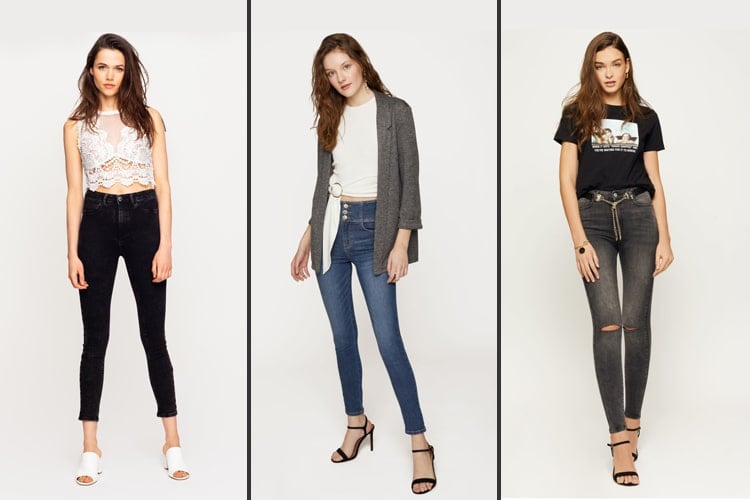 High-waisted trousers are an excellent choice for any women looking to slim their figure and make their legs look longer. Depending on the colour and the shape of the legs, you can achieve an interesting effect every time. One thing is sure – high waists should always be stressed! What does this mean in practice? For the top – a blouse, a shirt or even a thin sweater, should be tucked into the trousers. As the waist is stressed, you should also consider a stylish belt. What else? This outfit must certainly be combined with high-heels. High-waisted jeans emphasise the legs, so to finish off the effect you need appropriate shoes.
The Ideal Match:
If you choose high-waisted jeans, make sure they fit your figure. They cannot be too tight. Dark smooth denim allow you to slim your figure to the maximum extent. Light trousers with abrasions are an alternative for women with slender legs. Straight legs perfectly balance the proportions of the slightly well-padded women. Tall women always look great in high-waisted cropped trousers, especially if they wear classic stilettos.
Comfort And A Perfect Look:
High-waisted jeans allow you to create many interesting outfits. If you choose classic ones and combine them with such items as a white shirt, shuttles and a shopper bag, you have an excellent outfit for work. Jeans with abrasions, classic jeans or jeans combined with a shirt and timeless leather jacket enable you to create a perfect base for a party look, or for going out with friends. An interesting alternative is the combination of high-waisted jeans with off-the-shoulder, flounced or puff-sleeved blouses. Such exceptional outfits keep you looking fashionable for a date or going off to the city.
[sc:mediad]
In Casual And Elegant Styles:
Favourite high-waisted trousers, fitted appropriately to the figure, should remain your number one choice for any event! Thanks to them, you may conjure up both stylish and elegant combinations, as well as loose casual outfits. This type of trouser is ideal for every season of the year. High-waisted jeans are also a must-have for those who are inspired by a classic vintage style and willingly choose trends from the old days.