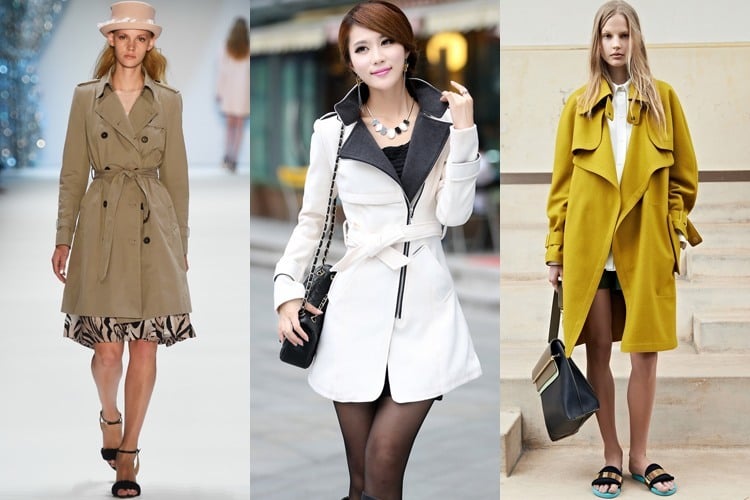 Don't we just love snoozing up while the misty winter winds blow around? A cup of hot latte and a nice book to cozy up with, warm blankets and the fireplace to sit have chai! Sounds perfect for the winters around the nation, and with that being said, we must not forget to dress well too!
LET'S LOOK AT HOW TO WEAR A TRENCH COAT WITH PANACHE
Cover up nice and toasty in haute trench coats this December, and here are a couple of sexy styles to flaunt!
Moncler Jackets
A slim double-breasted coat not only keeps you warm and toasty, but is perfect for big-busted girls and plus size PYTs to doll up in. Wear it with your sarees, lehengas or maybe western outfits, dress pants or leggings too, and you'd stir up a lot of heat!
Trenched Coats and the Skirt
Nothing speaks more of elegance than a Trenched coat with a short skirt, dolled up so chic and sexy. Flash those legs if you please, wear heels in nude tones and wear a waist length long trench coat over the sexy evening cocktail; carry a bag on the same hues for show!
Canada Goose Jackets
Love the flooring look for office wear, and we know what the winters can do to those living in the northern parts of the nation. Getting to work isn't a chore anymore, and staying warm all through it can be a stylish affair.
[Also Read: Crochet Gloves For Winter]
Viva Luxury All Saints
Fashion by Viva Luxury, the All Saints Trench coat keeps it slim, sexy and sensual too. White skinnies for the bottoms with white shoes and grey tops with an overflowing edgy trench coat, why not?
Paris Fashion Week Spring 2014 Showed Us How
Paris Fashion Week Spring 2014 street style showed us how the prints and dots can play sexy with sensual trench coats and heels combined!
A Designer Combination
The Trench Coat is from Romwe, while the bag is from Chanel. Couple that with sexy heels from Christian Louboutin and you are the she-devil that roams the street!
[Also Read: Color Trends For Winter]
Double-Breasted Camel Back Trench Coat
Lapel long and in black, the mystical touch of camel browns enhances the haute look. Wear it complete with boots or shoes for the feet, a short cocktail dress or maybe pencil pants for the bottoms, and a loose top inside!
Graphic Lines by Burberry
Neutral tones and graphic lines on the A-Lined Burberry women's trench coat pattern, can be worn with almost anything Indian or western – we leave that choice to you!
[Also Read: How To Wear Baby Pink]
Side Button Trench Coats
Quite sexy with an appeal to die for, the side button trench coat has made a comeback in this new-age from the sixties. Wear them with pants, skirts, shorts or leggings, and your winter fashion diaries would be filled with stories to tell!
Keep reading for more Women's coats.
Pretty Pinks for The Winters
Throw in a pop of colour for the winter months ahead, without being too loud! Pretty peach pinks or pinks in fuschia and baby soft tones are okay to wear for work or for play! Match it up with polka dots or graphic prints for the top, and leggings or skinnies for the bottoms – be the haute diva this winter!
[Also Read: Funky Ways to Style This Winter]
Diva in Black
The Black Belted Trench Coat with a frock or a short skirt, pencil pants or with leggings and even over the anarkali suits would look trendy enough to sport at weddings. Try and experiment with the shoes to match and complete the look – boots for casual evenings and heels for formal occasions though!
Rosie Huntington-Whiteley
Red hot and for moments too spicy when with him on a date night at home, bring out the champagne glasses, because the man is staying over and for good!
Toasty enough are we? Tell us about the choice of Best Winter Coats for Women you like to wear!