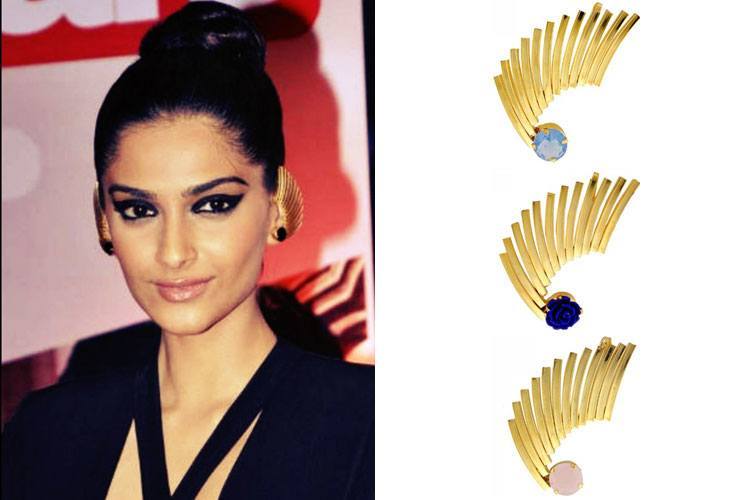 Our divas from tinsel town are an inspiration, not only with the roles they play and act in, but with the sense of style and fashion they carry off with oomph and grace too. From the world of everything shiny and glossy, our tinsel town girls once again have set a trend with fashionable ear accessories (and we aren't talking of studs, dots and chandelier earrings only), and this time around, with the likes of Sonam Kapoor to Freida Pinto, Sofia Vergara to Portia, our trendy hot ladies have raised the ear haute statements with trendy ear cuffs. Ten styles now to wear it like divas, here's the scoop!
[Also Read: Ear Cuffs for Pierced Ears]
Rhinestone ear cuffs
Wear it like Emma Watson and spin the magical haughtiness around. A party tonight or simply a dinner out with him by the lakes under the moonlit kissed backdrop, there's no excuse not to have this chic embellishment to catch the fancy of roving eyes!
Chunky ear cuffs
Keisha and her wild ways are known to the world, aren't they? Wearing chunky accessories has always been the norm of this popular razzle dazzle singer, and this time around at the American Music Awards, Keisha flaunted the chunkiest of ear cuffs, making the shutterbugs go crazy over her new statement!
Cute ear cuffs
Fancy the cuteness overload compliments this evening? Do it like Hollywood actress Keira Knightley sporting the cutest ear cuffs ever seen. The bling factor Keira brought to the red carpet event at the 2015 SAG awards night was more than enough for the fans to go wild.
[Also Read: How to Make Ear Cuffs – DIY]
Shiny leafed ear cuffs
Perfect for the shaadis, mehendis, sangeets and even a girls night out or a pubbing spree evening, the chunky quirky ear cuffs as sported Taylor Schilling grabs the eyeballs even in the darkest no-moon nights!
The long ear cuff
Jaime King, Hollywood celeb loves her ear cuffs long and shiny. Should you fancy the same, opt for the collection she flaunted at a social do, making a statement so bright and blingy that the world was after her to know where she got them from!
[Also Read: Ear Cuffs are Back in style]
Sparkling ear cuffs
Smoking hot and drop dead gorgeous to say the least, Chole Grace Moretz at the Oscars 2015 showed us how to bring on the minimalistic chic bling appeal with the cutest ear cuffs that sparkled and shone while celebs walked the red carpets that night!
Daring blingy ear cuffs
Rita Ora, celebrity singer and actress flaunts her pixie hair and smokey eyes at almost every gathering, but this time at the 2015 Grammy's, Rita brought to the world a new twist with the daring bling on her ears!
[sc:mediad]
Diamond studded ear cuffs
Bring back the bling of the 90s, just the way actress Emma Stone flaunted her jewels at the esteemed 2015 SAG awards night. Do you need a reason more to celebrate the divine blessings of all things bling?
[Also Read: Chandelier Earrings To Die For]
Edgy dashing ear cuffs
We love the look on Jennifer Lawrence, she daringly sported the edgy rhinestone studded ear cuffs with utmost grace and confidence at a recent event!
Vampy ear cuffs
At the National Dance Institute Gala, actress Sophia Bush brought in the devilish-mother-of-all-ear-cuffs, a snake shaped accessory for the ears that created a dramatic stir. Now that's what we call being a sassy bold showstopper!
A leafy ear cuff
Quite an affair to suit the FALL this year, and when done like Olivia Munn (celebrity Hollywood actress), you just cannot go wrong in flaunting the ear statement, so chic and cool!
Dominatrix ear cuff
Rihanna styles up pretty well and evolves with every fashion statement she brings forth. This time around, our sassy ebony queen has brought to us fashionistas a dramatic dominatrix look with the gong-like trendy ear cuffs to wear!
Loved them all, didn't you? Admit it ladies, we are crazy about quirky statement accessories, and there's nothing to be shy about the same! Which one was your favourite amongst them all!