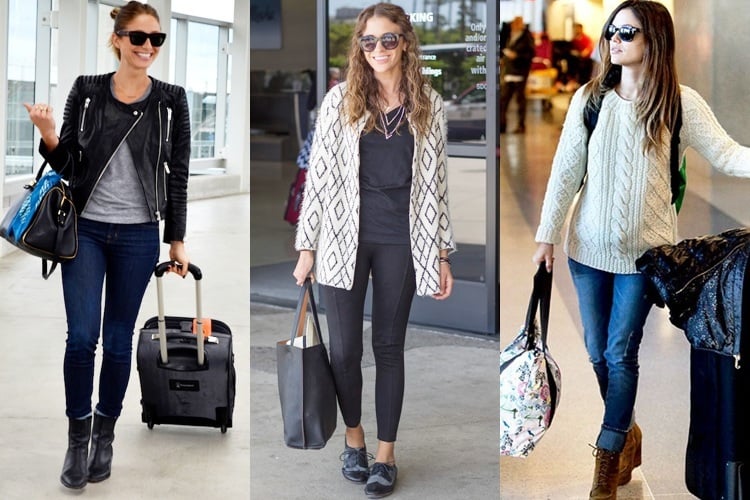 Whenever I travel in a plane, I come across at least 1-2 women defying the airplane fashion rules. While some create unnecessary discomfort to the co-passengers, others just make ridiculous statements through their provocative outfits.
No matter whether your flight duration is short or long-haul, night or day; there are some tips to consider while dressing up for the travel.
You should never ignore the facts like airport security checks, temperature shift inside the plane's cabin and even the climate of your landed destination. There are some factors as well that you may have to consider such as if you are on a business work and have a meeting right upon arrival; if you have a transit in between or you are on vacation and heading straight to hotel.
And if it's your international flight then you should be extra careful as you'll have to travel in a long-haul flight, lasting through the night and crossing continents along-with climate and time zones. In this hectic travel, comfort comes first when considering the type of cloth to wear to board the flight.
In February this year, I had to travel from Hyderabad to Canada. Since Canada as compared to USA is nearer to the North Pole; so it's freezing out there in February. Anticipating a chilling climate, I had carried my over coat outside of my cabin bags. This made me easy to wear it as soon I stepped out of the airport in Canada.
Even I had carried my high neck sleeveless sweater in my cabin bag. As we're all aware of India's climate, especially Hyderabad in the month of February where winter is hardly felt; so I didn't dare wearing it before boarding the flight. Only when my flight crossed Ohio airport of US, I wore that high-neck sweater inside my full-sleeved woolen top so as to ensure my body was covered up in layers before facing the sudden climate change and snow. The only mistake I did was I had not worn snow-boots.
Well, snow boots if you know are quite heavy and they are specially designed only to walk on thick layers of snow. And in Hyderabad it was pretty impossible to find such boots and I had decided that after reaching in Canada I would buy a pair. The moment I stepped out of the airport to get into the taxi, my feet had already frozen in my sports shoes.
[Also Read: Most Expensive Watches]
The reason why I am discussing about my trip here is to make my readers understand the importance of dressing appropriately while traveling in a plane. There are various factors to be considered before randomly picking any outfit from the wardrobe, so that you should not regret sitting in the plane and not even after landing if you're on a business trip with a meeting scheduled ahead.

From my own experience and taking some cues from my fellow travelers from all my trips I have made so far, here are seven things I have gathered that a female traveler should not wear while traveling in an airplane. Continue reading!
5 things to avoid wearing while traveling in an airplane
#1 Clothes that make you feel too warm or cold
Most of the working women I know, for whom travel is a frequent activity in their calendar, destination is always diverse with different time zone, climate and temperature. And if they are boarding a flight from busy airports then security check-ins become much more hectic and exhaustive. So even though layering clothes is key to sustain freezing climate of your landed destination. Avoid wearing them all before landing or at least not before security checks.
Do not wear too warm or too thin clothes while travelling. While warm clothes can make you feel suffocated, very light clothes in thin fabric can even make you feel too cold during the trip. You should at least carry a shawl or a stole, a wrap or a light jacket, in case it gets too frigid and an airline blanket won't suffice.
Layering always works great in cold countries like Canada or any European countries. So carry such essentials in your cabin bag for your convenience.
#2 Stiff and tight clothes
Unless your flight is only of an hour or two, avoid wearing stiff and binding garments only for the sake of fashion. For long-haul night flights, I suggest you to always prefer comfort over fashion.
Go for soft, wrinkle-free, loose or stretchy outfits that will make you move freely on the go and allow you to slump in your seat or curl up, without looking disheveled when you wake up.
[sc:mediad]
As you'll have to remain seated unlike train where you can lie down during night; tight clothes can restrict circulation and cause deep vein thrombosis (DVT), or blood clots to form in the deep veins of the body, thereby even causing swelling in the feet.
Avoid travelling in those girdles and skinny jeans and instead go for comfy garments like flowing skirts and loose pants.
[Also Read: Most Expensive Shoes]
#3 Oversized and funky accessories
Avoid wearing outlandish jewelries to the plane. Accessories such as earrings fastened with screws; belts, boots and jackets with metal studs and even shoes that have a lot of laces, straps, zips or buttons not only look inappropriate but can create trouble for you during security check-in process. You'll unnecessarily have to be detained for the metals on your body.
#4 High heels
You remember last year how Lady Gaga had tripled at the airport because of her bizarre towering heels? Absolutely this can be the worst you'll expect to happen. High heels can ditch you any moment at the slippery floor at the airport and can even hamper your balance in the flight while going for the restroom during turbulence. You'll either fall on someone's lap or badly injure your ankle.
So, it's wise to wear comfortable, non-restrictive shoes that are easy to slip on and off when you're ready to stretch out or curl up. Ballet flats, loafers and sneakers work great. Even such comfortable shoes can help you easily breeze through the security checks and make quick moves through the terminal gates to make a connection.
#5 Strong fragrances
Coco Chanel had once said, "A woman who doesn't wear perfume has no future.". Well, one should never leave her house without wearing her fragrance but the smell should always be sweet and not strong, especially when you have to spend long hours in a compact room say in airplane.
Go easy on the perfume, cologne or strong-smelling deodorant. Odors are intensified in enclosed places, especially in cabins where passengers are packed like sardines and air is merely re-circulated. Your cabin-mates may not appreciate you for it. Scent is highly subjective. What smells sweet to someone may be nauseating to another. Worse, it could trigger allergic reactions for people with asthma.
So either wear a light perfume or better to skip it for the travel.
#6 Inappropriate or provocative attire
Did you know?
Several US airlines have been refusing to let ticketed passengers board planes based on how they're dressed. Being told to change their clothing or not fly, some passengers said they felt unreasonably discriminated against.
Never Wear on a Plane anything that's potentially offensive to people, be it their political, religious, moral or ethnic beliefs. Low-cut blouses, hanging tank tops and short shorts (otherwise known as "denim underwear") are not only unsuitable, but are downright impractical when you have to reach up to stow or get your bag from the overhead cabin. It's better to save them for hotel room, pubs and the beach. Also, avoid junk t-shirts with slogans that carry strong political statements, controversial words or anything that has the tendency to raise eyebrows in public.
#7 Flip flops or sitting bare foot
While it's important to consider about your comfort first, that doesn't mean you should overlook the sensibilities of your seatmates. While flip flops are ultra comfy, they are never recommended for the travel in an airplane. Unless your feet are gloriously beautiful and immaculately clean, wouldn't they mind your wearing open-toed sandals and seeing your feet (smelly sometimes) for the next so many hours?
And if you have an injury or anything that makes you wear slippers then atleast mind keeping your feet down or away from people's view. Best is to wear a pair of socks if you can't help putting your feet up instead of breaking someone's day.
The key to travelling with style is to be comfortable yet classy. So next time before dressing up for the trip, do remember those tips! Even you can share these tips with your friends for goodwill!