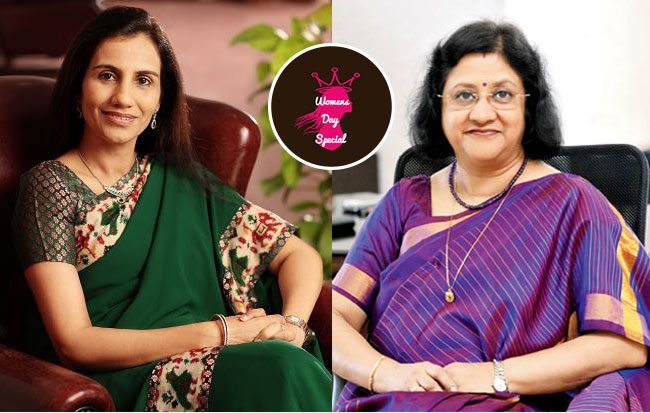 We have been ranting about how we give in to stereotypes and believe that only powerful degrees get us what we want. We have also been ranting about how our parents believe that a career in sports or a career in modelling will not be as successful as any other career which requires us to have degrees. But that doesn't mean that following the path that our parents want us to, is any less successful.
To show that education plays an important role in what we become one day, we are going to talk about two women today – Arundhati Bhattacharya and Chanda Kochhar. Honestly and genuinely, they are on top of what they do because of the degree they hold. Their knowledge on the subject matter, their dedication and their undying attitude of learning new things every day to stay on top is commendable.
Not to sound feminist, but today, Arundathi Bhattacharya isn't famous because of her husband. She isn't known as the wife of State Bank of India's new chief. She is known because she is THE chief of State Bank of India, and that ladies and gentlemen is fantastic! Same goes for Chanda Kochhar. She is known all over the world because of her position in ICICI bank. She isn't defined by what her husband does.
These remarkable women, who are on top of their organizations today, had to work very hard to be where they are. They made histories by being at positions which were apparently only reserved for men earlier, but dang, they worked every bone in their body to deserve this status and honour.
Arundhati Bhattacharya
Born and raised in Kolkata, Ms Bhattacharya completed her schooling from St. Xaviers School. As soon as she graduated, she joined SBI as a probationary officer at the age of 22. Being loyal to the organisation who gave her her first job, she stayed with them for a period of 36 years. During these years, she was promoted to a lot of offices. She tried her hand in foreign exchange, investment banking, human resources, retail operations etc. Not once complaining about the shift in work schedule.
She learned everything about banking. Agreed that she had degrees which already taught her that. But the practical exposure that she got was immeasurable. If that wasn't enough, Arundhati tried her hand at many other things other than doing her regular job. From involving in launches of new business by the bank, developing new schemes for the staff members, she has done it all. And let me assure you, all of this wouldn't have been possible without dedication and hard work.
[sc:mediad]
Today, she is one of the most powerful women in India. In a poll conducted by the Forbes magazine, Ms Bhattacharya came 36 and that is saying something!
When asked Arundhati how she managed to survive in a cutthroat industry where men lead, she said, "Nothing is as bad as it seems to be. If you take the plunge, you will somehow manage to swim across." We say, WOW!
Chanda Kochhar
Born in Jodhpur and raised in Jaipur, Chanda Kochhar attended the St Angela Sophia School in Jaipur and moved to Mumbai to get her degree in Bachelor of Arts from Jai Hind College. Soon, she went forward and got her Master's degree in Management Studies from Jamnalal Bajaj Institute of Management Sciences and excelled in every subject.
In 1984, at the age of 24, she joined ICICI bank as a trainee in management affairs and looked after Project Appraisals. 10 years later, she took the plunge and was promoted as the Assistant General Manager. 2 years later she was promoted as the Deputy General Manager and finally 4 years later as the General Manager. Working hard and proving herself all these years, staying loyal to the company got her the position of Deputy Managing Director in 2006.
Even before she became the Deputy Managing Director, she was in Forbes list of 100 powerful women in India in 2005. As time passed by, she kept climbing up the ladder and in 2012, she was the 10th most powerful women in India according to Forbes. Under her leadership, ICICI bank won the Best Retail Bank of the year award from 2001-2005.
Her accomplishments don't end here. She was honoured Padma Bhushan Award for her services in banking sector in 2010. How cool is that?