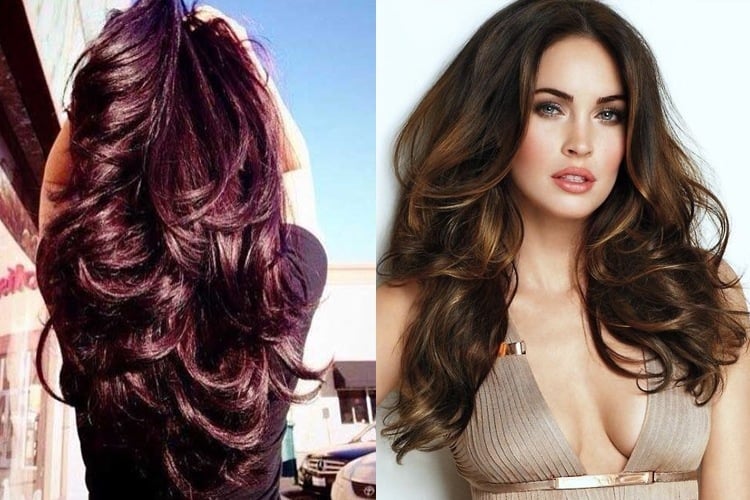 With the changing times, the hairstyle and hair color trends have changed too. Gone are the days when the natural black hair was what people wanted to keep intact. Everyone, from the teenager girls to ageing women have now entered the league of people who get their hair dyed and streaked in different colors and styles. Earlier, this used to be a trouble since the hair dyes came with plenty of chemicals in them, but now, with the availability of colors that use the minimum amount of chemicals, your hair does not undergo exploitation by chemicals enough even after streaking and coloring.
[Also Read: Homemade Hair Dyes]
Since it is so much of a trend now, here are some of the best suited hair color ideas for black hair that you can opt for if you're planning to give your hair a more interesting and smart touch. Have a look:
Hair Color Ideas for Long Black Hair
[Also Read: Prom Hairstyles For Long Hair]
Ombre With A tinge Of Gold
Ombre is the hot favorite among people who love getting their hair shaded rather than opting for getting them completely colored. For black hairs, people usually go for the basic highlighting and streaking, unaware of the fact that a little shading of golden with black can make their hair look wonderfully gorgeous. It is not just very unique but all the same lusciously beautiful too. It has long been a trend among popular celebrities like Kim Kardashian and Mila Kunis, who have been spotted sporting the ombre hair color many a times.
[Also Read: How To Get Dusty Pink Hair Color]
Brown With Burgundy Ends
Getting your hair colored in two different colors is just as unconventional as the idea of hair coloring. The addition of burgundy to black hair has been among the latest hair color trends for long hair. Since highlighting can never really go out of trend, brown highlighting on black hair looks flaming hot. To add to it, getting the lower end colored in burgundy would make it look royal and trendy. The hair color also compliments all kinds of looks, from the typical bohemian look to an elegant girl next door look. Therefore, while you stand out in a crowd of people, you don't look very over the top stylish either.
Dark Chocolate Color With Caramel Highlights
Dark chocolate or warm brown are the best suited hair color ideas for long black hair. Although it is very close to the natural black color but nonetheless it adds a touch of brilliance and warmth to the natural black hair. Chocolate brown color renders a very smooth and shiny look to the otherwise basic hair. To make it more effective and stylish, you can opt for caramel highlights on dark chocolate brown hairs. the contrast looks very appealing and it is one of the newest hair color trends. This hair color especially compliments the winter season looks, since people usually opt for darker shades in this season.
[sc:mediad]
Black Hair With Subtle Gold Highlights
Well, if you do not want to let go of your naturally black and brilliantly shiny hair, you might as well opt for just some subtle highlights to make your hair look smart and interesting. Highlighting with the basic brown and red colors is not all the same trendy anymore nor are the usual thick lines of highlighted colors welcome hair color ideas for black hair. Lightly highlighted hair mostly done on the tips or the lower end of the length is in fashion nowadays. With jet black hair, gold highlights look wonderful. They are not obvious but yet add some brilliance to your hair. If you have layered hairs, that's a further add-on to the enhancement of the gold highlight.
[Also Read: Tips For Colored Hair]
Violet Brown Hair Color
Ideally suited for the women who always go for the wilder options, violet is one very unconventional and stylish hair color. You can barely spot a few people with their hair colored in violet. Not that it does not look beautiful, it is just too unique to suit everyone's style. With black hair, violet goes hand in hand, especially if you have wavy long tresses. Keeping the upper half of the hair in its usual black color, you can get the lower half colored in shades of dark violet and brown. Highlighting your hair this way might not look very good but with waves in your hair, it looks enchanting. To add to it, the contrast with black is all the same alluring too. You can also opt for only purple and leave the brown shading for sometime later. Once it is done, you can gladly flaunt your violet shaded long hair out in public proudly.
[Also Read: Blue Hair on Dark Skin]
[Also Read: Strawberry Blonde Hair Color ]
With these interesting mix of hair color ideas for black hair you sure can rock any look. Make sure you ditch the mundane brown and add variety to you hair colour platter to sport the latest fashion trend.