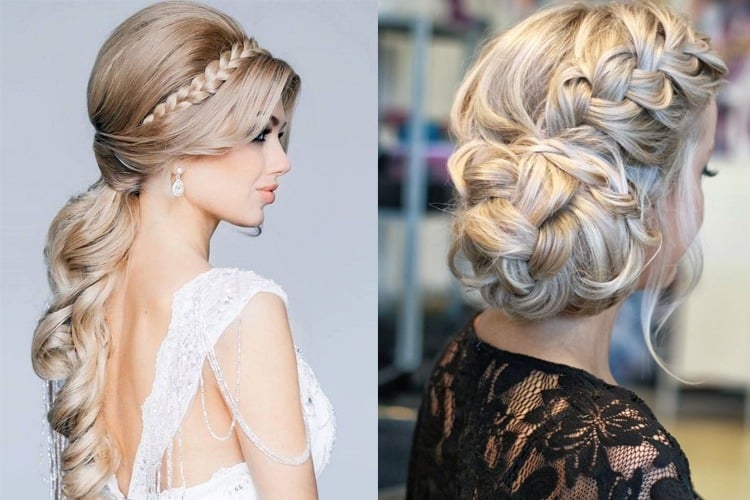 For any high school girl, the prom night, the culminating event of student life is one of the most dreamed about and anticipated nights of her life. All stones are turned to make it as perfect as possible- be it the silken gowns or the perfect make up and of course, the hairstyle. If the girl boasts a thick lustrous mane of long hair, getting those perfect, romantic, classic yet trendy hairstyles is vital for the overall immaculately glamorous prom look!
Here Are A Few Easy Terrific Long Hairstyles For Prom
[Also Read:  Easy Updo Hairstyles For Prom]
1. Ballerina Bun With A Bow
Top knot buns are the latest fashion, so why not do it the ballerina style. Extremely easy prom hairstyle for long hair, this simple, sweet yet chic bun can enhance any outfit and enhance the femininity and glamour quotient of any young lady. Add a satin bow to complete the stunning look. However, do not forget the spray mist, for the bun to remain clean while you dance the night away.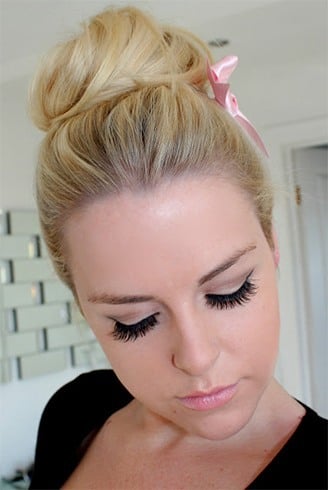 2. Elegant Prom Half-Updo Hairstyle
For those on the lookout of simple yet elegant long hairstyle for prom, nothing beats the elegant prom half updo hairstyle (Also known as Prom hairstyles down). Those having curly hairs absolutely adore updo hairstyles for prom, but ones with straight tresses can get the perfect curls in less than minutes. The hair remains loose to have its own dance, yet perfectly arranged to keep things hassle free for you. Soft locks on the front, high heels and a stylish evening gown and whoa! You are ready to steal all attention. Give it further oomph with slim and long danglers.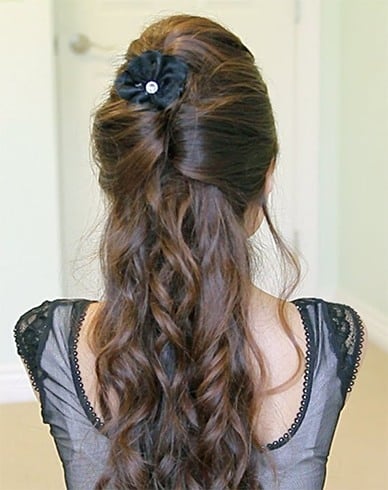 Here is a video on how to do elegant Prom half-updo hairstyle
[sc:mediad]
3. Side-Swept Fishtail Braid For Very Long Hair
If traditionally considered updos are not your prom style for the long tresses, that's completely fine! Instead adorn the sophisticated and glamorous braids as your fashion style statement. Creating big fashion news this season, braids are definitely the latest chic and glam idea of prom haircut for long hair. Amongst all the types of braids, fishtail braids haircut remain an exclusive favorite with me. Make the side- swept fishtail braid hairdo and lend it any character you desire. Loosen the braid gently to give it the in-vogue messy and natural look. Raise it to a celebrity braid by leaving some hair sections lightly curled and loose. If you add some color highlights to your hair before braiding it or decorate it with flowers, be confident that the flirtiness of your braid will attract the attention of the opposite sex. Add pompadour volume to the front part and convert the catchy style statement into more polished and glamorous perfect prom hairstyle.
[Also Read: 2016 Hairstyles Trends]
Tip: The style can be done with any type of French braid as well.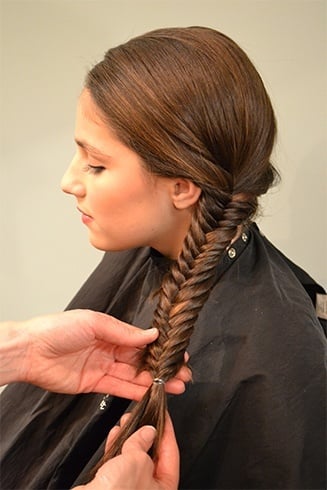 Here is a video on how to create a side swept fishtail braid haircut for very long hair:
4. The Long And Straight Look
Sometimes those gorgeous and thick mane of straight hair need no crutches to grab attention. Long & straight hairstyles look amazing when sleek and healthy. Moreover gals of any height and shape can carry it with great oomph on any outfit. No wonder, it's an all-time favorite prom hairdos for long hair. Give it a side or center parting and generous doze of shine serum with some spray mist so that it remains manageable. Walk the red carpet with it with complete confidence of making a style statement.
[Also Read: Braids For Long Hair]
For those looking to add character to prom hairdos, layer them or add color highlights or light crimps and watch the party go crazy over you.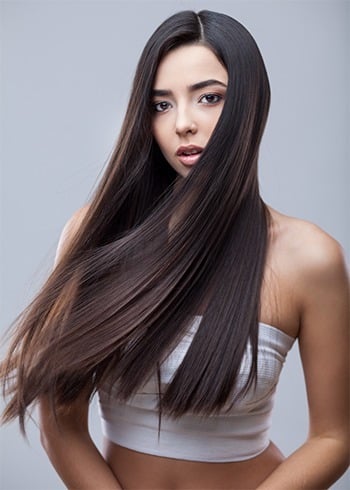 5. Braided Buns
This classic prom hairstyle is not only currently the swag style but has a timeless quality attached to it as well. Using a variety of braids and creating a side bun, center piece or top knot bun, the options of styling it is enormous. Accessorizing it with flowers, embellishments or decorative bobby pins can take these braided buns to a whole new level. Compatible with any type of gown, heels and woman of any shape and facial features, the style is bound to leave others positively astounded .Few worth mentioning super easy and popular ones are boho chic braid, lace braid updo, star burst braid bun hairstyle etc are just a few worth mentioning.
[Also Read: Natural Hairstyles for Long Hair]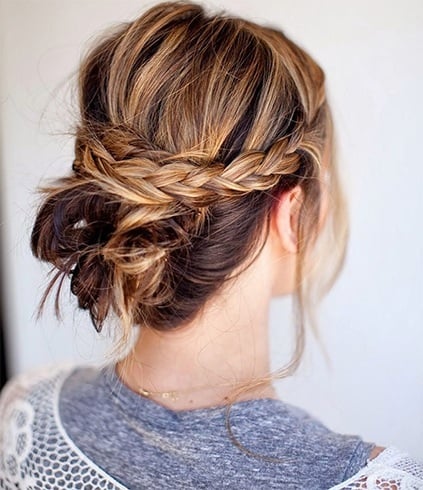 Here is a video on how to create a braided bun hairstyle:
6. Glam Pony
Contrary to popular belief, a simple ponytail can create the most glamorous and polished look to grace any formal event like a prom. Simple and solid, this fool-proof style's charm is increased with loose locks gracing the face or a simple flower tucked on the ponytail style.
[Also Read:  Amber Rose with Long Hair]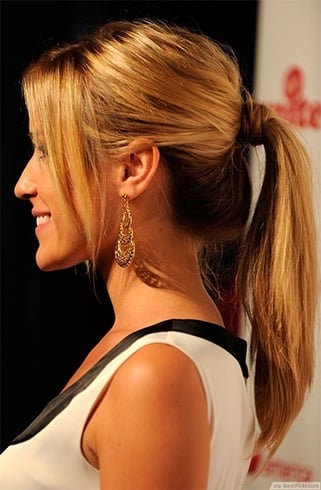 7. French Twist Updo
One of the most elegant prom hairstyles for long hair is the French twist Updo. This easy-to-do prom hairstyles updo would be perfect to show off your neckline or your backless design. Take a look at the tutorial below to ace this style.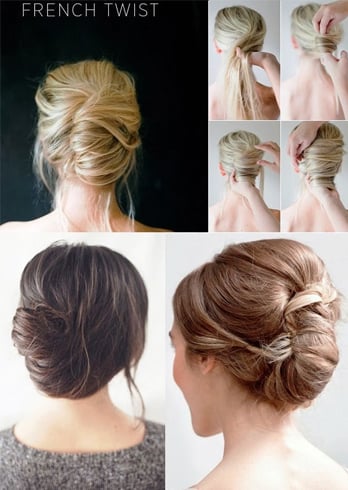 8. Messy Buns
We know that proms are usually a formal affair and a messy bun would probably be the last hairstyle on your mind. However, we assure you that a messy bun is one of the most trending prom updo for long hair. Just ensure that your messy bun is not too shabby!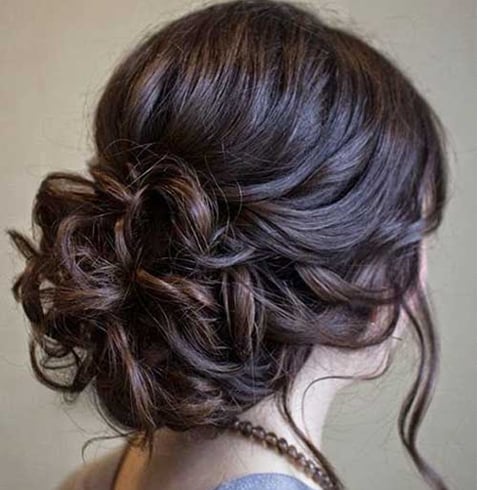 9. Cascading Curls On The Side
If you are one of those who has sadly left her prom hairstyle till the last minute then this would definitely be the easiest hairstyles for long hair for prom. Just bring out your curling iron and give you long locks some heavy curls, gather all your hair and let the curls cascade down on side of your shoulder. You could add some hair accessories like a flower or a hair brooch.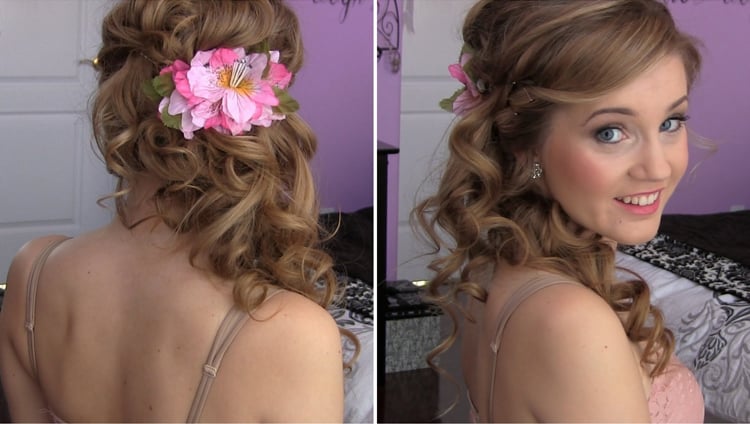 10. Braided Florette Updo
To nail this long hair prom style, we suggest you take the help of a professional. The braided florette updo looks beautiful as well as classy. We are sure that this hairstyle would ensure second and third glances from your friends at the prom party.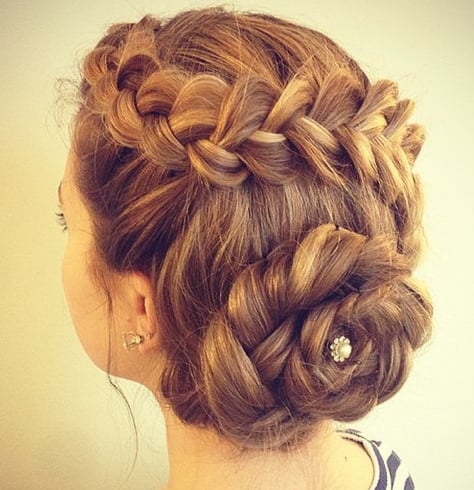 11. Waterfall Braid Hairstyle
If you love braided hairstyles then you have to try out this waterfall braid prom hairstyle for long hair down. Though this hairstyle looks intricate, it is actually quiet easy to do. Once you are done with the waterfall braid, add some waves to the ends of your hair to enhance the hairstyle further.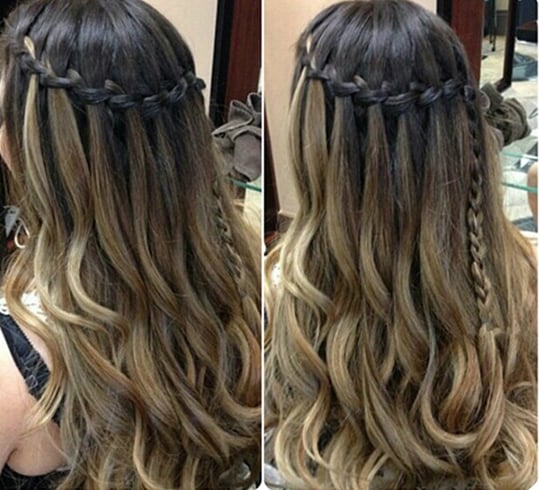 12. Long And Natural Curls
Girls with curls – this is your chance to let your natural curls do all the talking. The best long curly prom hair style would be to just go with a natural look as shown in the below image.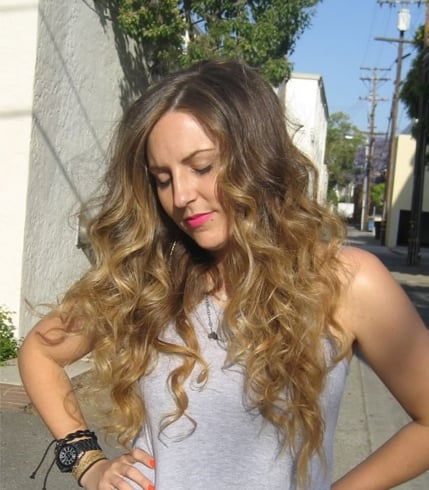 13. Curly Hair With A Bow
Another easy curly prom hairstyle for long hair is to simply comb back the hair and let it fall naturally on the back. Jazz up your simple curly hair with a large and shiny bow!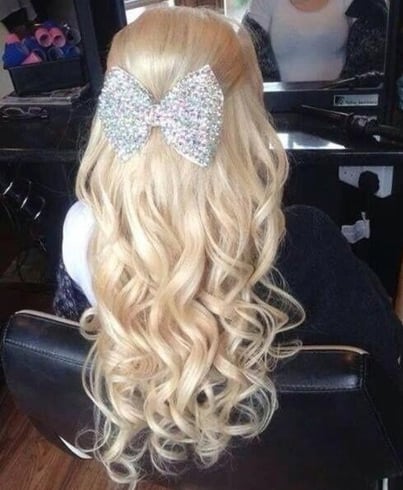 14. Updo With A Hairband
For an easy prom hairstyle for long hair, take your hair and tie it up as a bun and just wear a hairband that matches your prom dress! You could either do a messy bun or a classy French twist.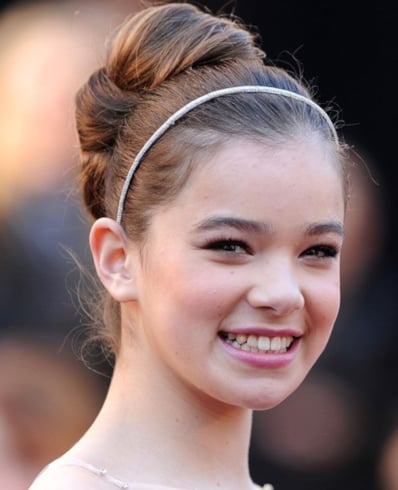 15. Dutch Braid Updo
One of the best prom hairstyles for long hair that we have come across is the Dutch braid updo. Don't believe us? Take a look below! Whether you opt for a single Dutch braid or a double sided Dutch braid, there is no doubt that you would be the belle of the ball.
[Also Read: Long Blonde Hairstyles]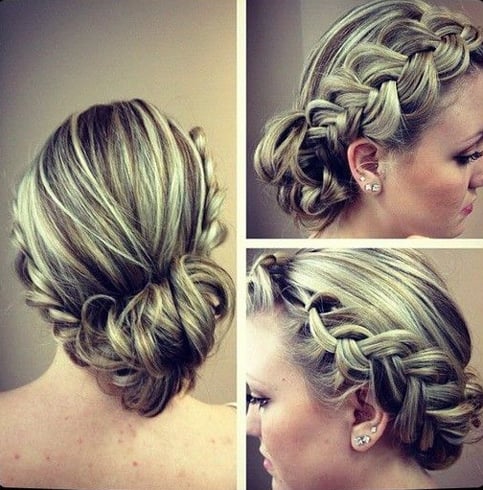 We hope this article was helpful for you. Let us know which hairstyle you adorned. Do you have any other simple style up your sleeve? Share with our readers. They would love it like us!
Images Source: pinterest.com