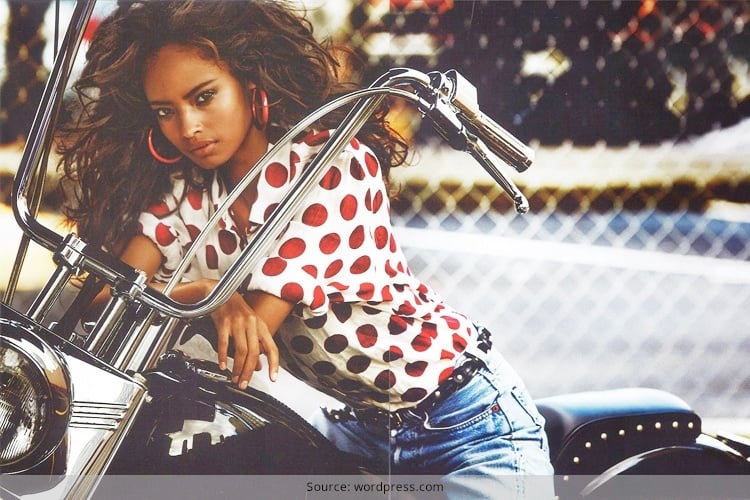 The roads out there need some haute hot biker chicks to grace the tarmacs. With that being said, why should boys have all the fun, when we girls can up the ante and the hauteness quotient too!
[Also Read: Flaunt the Summer Boho Chic Chick Look]
How To Dress Like a Biker Chick?
Presenting a few haute biker chick fashion styles, so cool that the cat calls would dissolve and no one would want to mess with you on the roads. Before you learn how to dress like a biker chick, you must know the following:
It Is But The Style Of An Individual
Without sounding like a male-basher or a feminist here, the main aim with biker chick fashion is to have loads of fun dolling up for the roads, sans the loss of feminine touches. You see we girls can make or break moments, so why not play with a little leather, latex, boots and all things chunky?
Presenting a few biker chick fashion ideas which you can use or emulate to your comfort levels, and have a great time challenging the boys too!
But First, Do You Know The Essence Of Being a Biker Chick?
Strong femininity for sure, if you've closely watched the movie "Sons of Anarchy", you'd know what we are talking about. From tight leather bottoms to secretly covered corsets in black and more, the motorcycle trends with women fashion took a major turn and a kick-start ever since this movie was released.
Some of the famous designers that now create biker chick fashion ensembles are Alexander McQueen, Jean Paul Gaultier, Roberto Cavalli and Christian Louboutin to name a few.
So The Question Is How To Dress Like a Biker Chick?
You could use your imagination and creativity when dolling up as a biker chick, and there are no etched in stone rules to follow as well. From a trendy dangerous look to the subtle gothic mix of black and grays, chunky accessories to the wild creative side of skin tight leather touches; go ahead and experiment as you wish!
[Also Read: Here's How To Recycle Old Jeans]
Coming To Accessories
The aim is to make you a hot haute biker babe and not a scary one, which is why you should know which biker chick fashion accessories should be worn best. Some options would be;
Large silver earrings
Crosses
Studded jewellery
Dark camisoles
Purses
Boots
Minimal makeup
Tuffled and ruffled hair
Stern smiles
Attitude, loads of it
Leather Is What Rules The Roost
With biker chick fashion trends, you cannot but praise the use of all things leather in every ensemble. From vests to boots to the belts worn, maybe your pants and a chic jacket too; play on with leather and be that babe he wants to challenge!
Tattoos
If you don't want to get permanent biker chick fashion tattoos, that's okay! You could opt for chic temporary tattoos in designs on the lines of thorn and roses, hearts with swords, motorcycle pin-ups and more.
[Also Read: Cool Wrist Tattoos for Girls]
What About The Hair?
The darker the better for the Indian look on biker chick fashion, but if you want to emulate the classic American biker chick, you ought to have the blonde touch. And yes, even if the hair is simple and kept dark, the quintessential American flag bandanna is a must-wear!
[sc:mediad]
For The Eyes
With minimal makeup; nude mostly, you really want to focus more on the choice of sunglasses you would wear, more than anything else. As a biker chick and on the roads mostly, the harmful UV rays of the sun can play havoc on your eyes; carry a pair of high repute to protect those eyes.
List Of Accessories
Biker chicks have a way with accessories, and here is a list to keep ready-
Large silver or oxidized earrings
Wristbands made from black leather
Harley belt buckles
Dark red fingernail polish
Chunky boots
Finally, when dolling up in biker chick outfits, remember the rule; the tighter the better. This is because biker chicks have no inhibitions to deal with, and they have no qualms expressing their curvaceous bodies or flaunting them in style. So if you really have that zing in you and would like to doll up in the chicest of biker chick outfits, the world is your oyster and the roads your ramp walk!
Have fun girls and do let us know how you plan on dressing in biker chick fashion trends when outing with the boys!