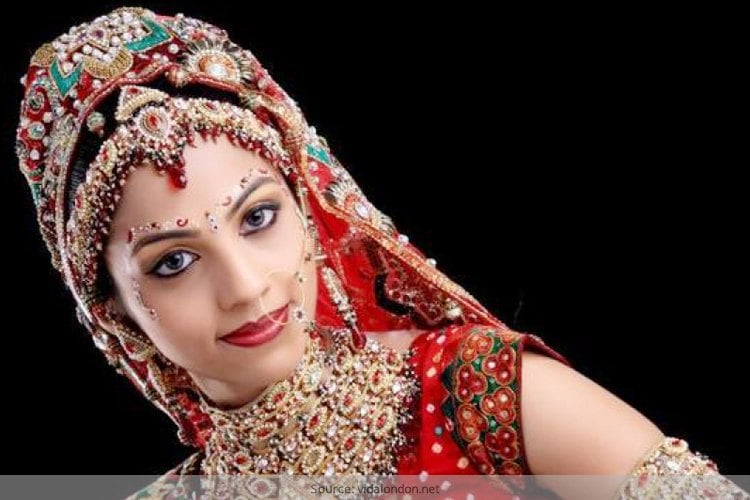 Your wedding day is the most important day of your life and you don't want anything to go amok, not your bridal look especially. This is why we are here to help you with bridal hacks and bridal makeup tips, which would help you save your money and energy. We know how stressful it can be planning for your own wedding, and we promise that these bridal makeup tips and hacks would work like magic for you. Read on and share these bridal makeup tips with your friends.
[Also Read: Western Bridal Makeup Tricks Indian Brides-To-Be Can Use In 2016]
Amazing Bridal Makeup Tips For Indian Brides That Will Save The Day
1. Need a better and a brighter smile, here's what you do to get those coffee and tea stains removed from your teeth. Get hold of a damp toothbrush and baking soda. Add a teaspoon of baking soda to your toothpaste and brush your teeth twice a week with it. Stains would be gone for good, to allow you to flash that chic pearly white smile.
2. We all love flaunting pouty full lips, and not all of us have the pout though. You don't have to undergo the knife for that, not when essential peppermint oil can help. Add a drop of the oil to your lip gloss and apply. It helps plump the lip and also keeps your breath fresh and nice.
3. One of the most important bridal makeup tips for Indian brides would be making the perfume last for hours. For this, we would ask you to apply a little Vaseline on all your pulse points before the perfume you wish to use is sprayed on you. Vaseline acts as a barrier and doesn't allow the perfume to escape.
4. Need touch-ups and manage a disaster while the wedding is on, makeup wise? When you learn how to do Indian bridal makeup step by step without a professional's touch or maybe when you wish to teach someone how to do bridal makeup, you should know how to manage bridal disasters too. To blend all imperfections and skin knick-knacks, use loose sheer powder as the last coat on the face of the bride, which hides everything and diffuses harsh lines, making the makeup look very natural.
5. Puffy eyes can be a thing of the past when you place two used tea bags on the eyelids, but ensure that they are frozen and cold so that the blood vessels under the eyes are constricted. The caffeine in the bags will help do the needful in constricting the eye bags, puffiness and dark circles too.
[sc:mediad]
6. If you have very oily skin, chances are your makeup would peel off if it is not waterproofed. Using a mild face wash would help, but don't use a toner after that. Instead, use a lightweight cream to moisturize the skin. If you wash your face too much, you are telling the skin to produce more oil.
7. Your lips need protection and hydration, which is why you need to use SPF 30 for the lips. Grab a lip balm or simply use Vaseline for the lips, to keep them hydrated and non-chapped for a very long time.
We hope these seven beauty bridal tips and hacks come in handy on your big day. This post on bridal makeup tips and hacks was written keeping in mind the Indian bridal makeup tips and need. If there are Indian wedding makeup tips that you have used or know off, we would love to share those bridal makeup tips with everyone. Do write in!