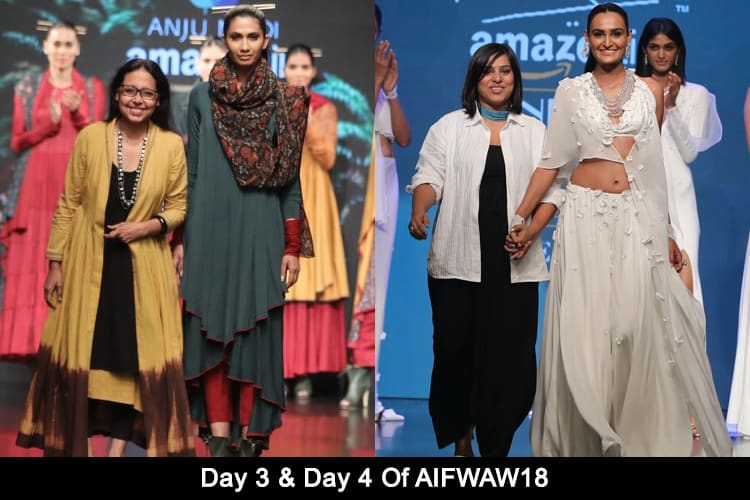 While everyone was bustling around coping and getting along with their everyday lifestyle, we had a ball of a time keeping up with the Amazon India Fashion Week Autumn/Winter 2018. The day 3 and day 4 had a lot of surprises packed in and as we unraveled the mysteries of the designer's collection, we certainly fell in love with the bold, beautiful and creative styles.
Want to know more? Read along for every designer's collection details-
Aarthivijay Gupta
Tribal art form known as Gond from the Dravidian origin was Aarthivijay Gupta's choice of the theme at AIFW Autumn/Winter 2018. The Gond art which is rich in detail, color, mystery, and humor was beautifully depicted by the designer on saris, skirts, trench coats and many more. She brought new meaning to the prints on prints fashion.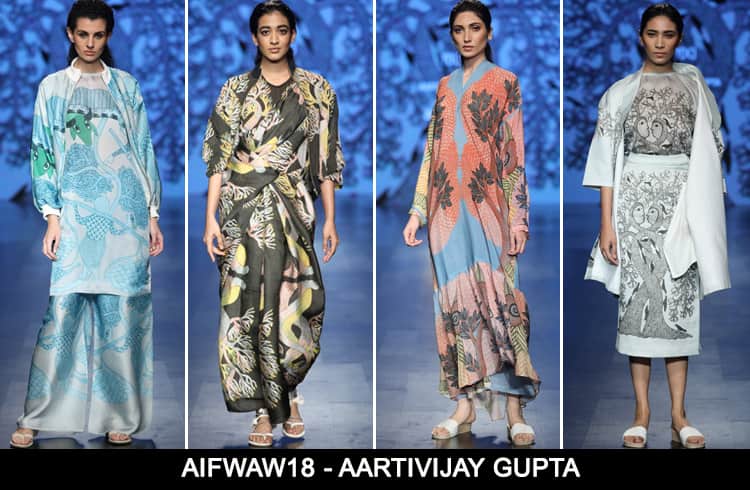 Abhi Singh
In a wide-ranging color palette, mostly sober shades, Abhi Singh showcased anti-fit, boxy styles at the AIFW Autumn/Winter 2018. The wrap around jackets was quite interesting and was blended in perfect harmony with the add-on outfit features. In other words, Abhi Singh's compositions were all about shape and abstraction fashion concepts put to together to make a striking appeal.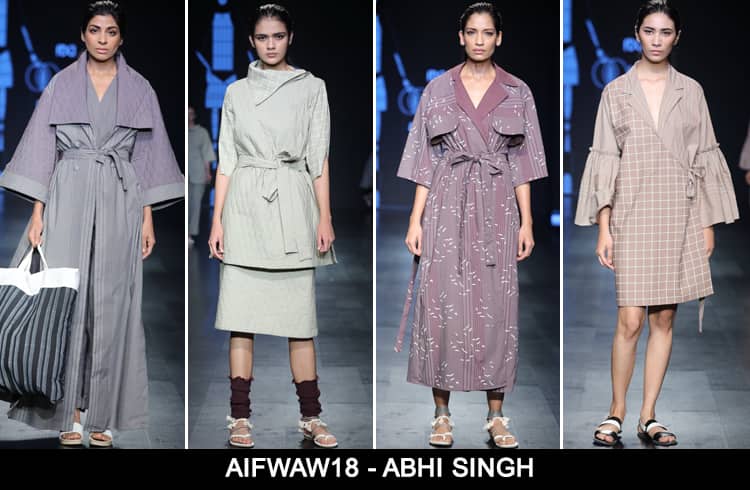 ILK by Shikha & Vinita
The designer duo chose to portray and their creativity through Khadi and it definitely was a splendid choice. When we hear the term khadi, the only color that pops up in our minds, is the shades of cream. However, the designer duo brought Khadi cotton in blues, grape, teals and golden yellows through various silhouettes like saris, pant styles, skirts and many more. Layering with linear cord embroidery can be clearly noted through this collection.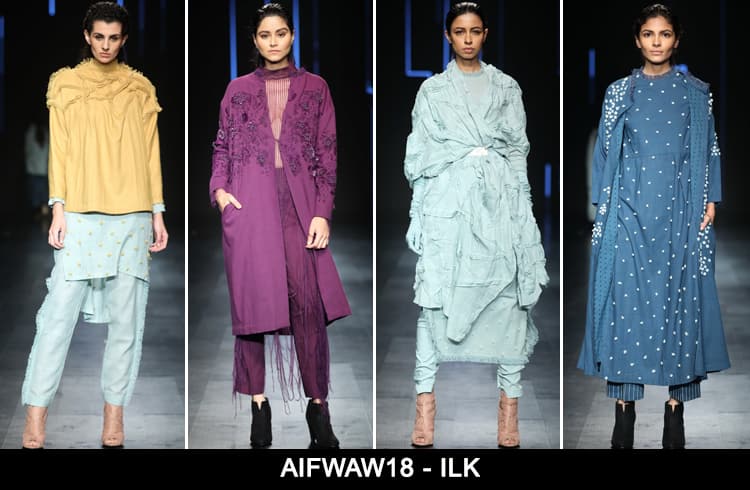 Madhu Jain
Madhu Jain drew her AIFW autumn/winter 2018 clothing line inspiration from traditional Indonesian Ikat and designed biodegradable Bamboo silk Ikat outfits. The models sashayed the styles in a color palette ranging from indigo, black to corals. The show began with a Pung Cholam dance performance by dancers from Prasiddha Foundation. Ruchitra Makhani walked the ramp for the designer in a black heavily embroidered ikat design sari.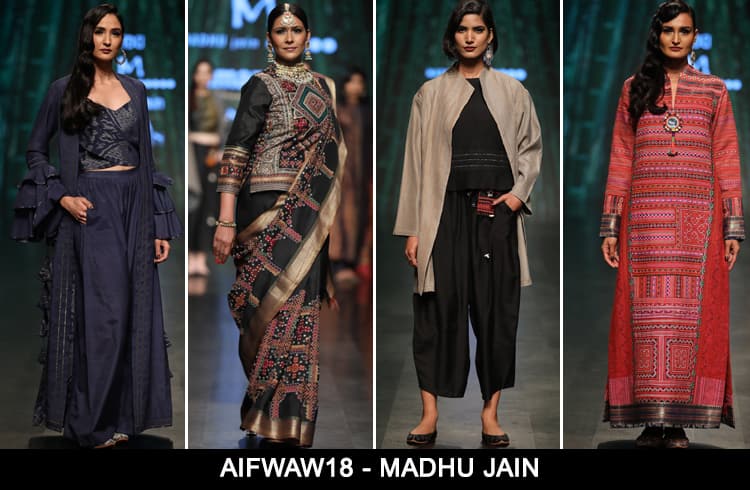 Sanskar by Sonam Dubal
In Ahimsa silks, creating both vintage and contemporary clothing enriched with embroidered wood beadwork, Sanskar by Sonam Dubal was spectacular. By layering with contemporary silk jersey dresses, the outfits were eye-catchy. Titled 'The Oracle', the collection was a pure reflection of the rich heritage of craft and tradition showcased through beadwork, block prints and woven fabric.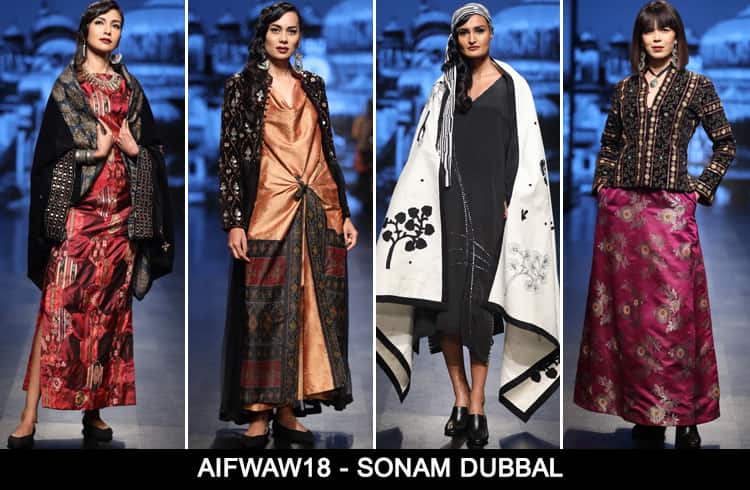 Tom Tailor
With the title 'The Historic Romantic Collection', the designer presented three stunning lines of fashion depicting the romantic, playful and sweet essence of summers. One of the lines named Bossy Girl showcased styles that very well relate to a working woman's lifestyle and character. The other two lines, The Rock and The Folk were all about dark hues and were inclined to favor the winters.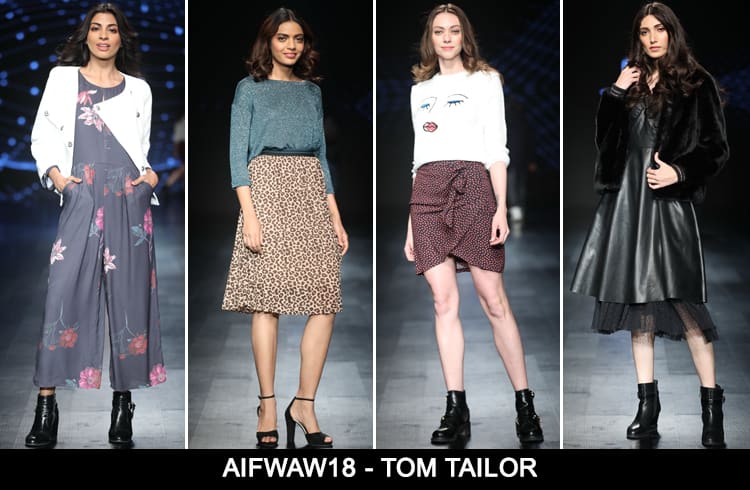 Anju Modi
Honey mustard, red and teal blue/green colors combination is hard to miss and definitely a combination that looks both rich and elegant. Anju Modi chose to bring this richness through her silhouettes in AIFW autumn/Winter 2018. Depicting the enigma and mysteries of the forest through her prints and patterns, Anju Modi rolled out gorgeousness and glamour.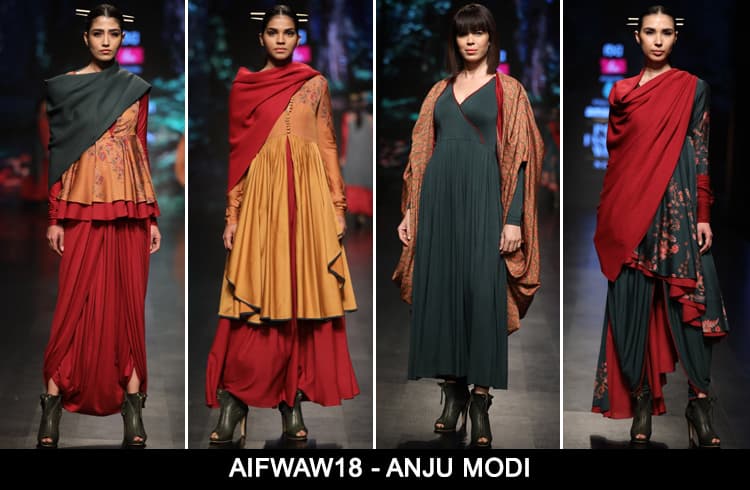 Eshaa Amiin
In mustard prints spread across indigo, Eshaa Amiin brought casual as well as wedding themes to the runway at AIFW Autumn/Winter 2018. With interesting, quirky accessories that complemented mysterious, powerful women, the styles were free-spirited and fun.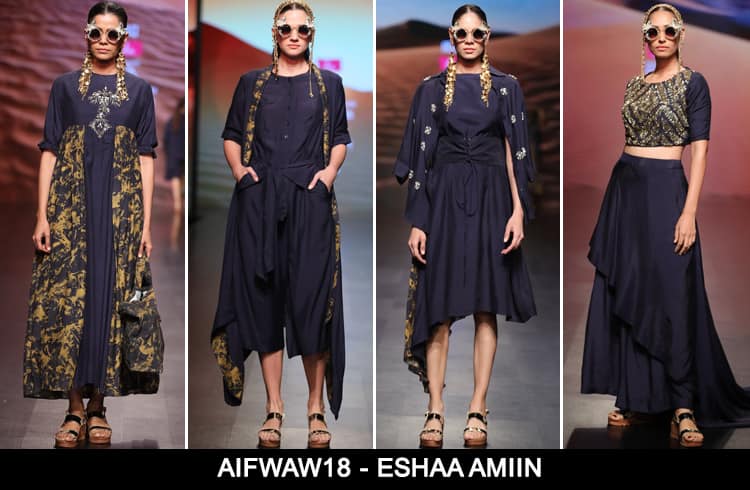 Akaaro by Gaurav Jai Gupta
Titled 'The Upside Down', the Akaaro by Gaurav Gupta brought a new alternate dimension in parallel with the existing world of fashion. It strongly supported sustainable fashion and brought to notice the impact of exhaustion of planetary resources. In black and gray anti-fit garments ranging from culottes, pants, capes, and tunics, the show was sober and impactful.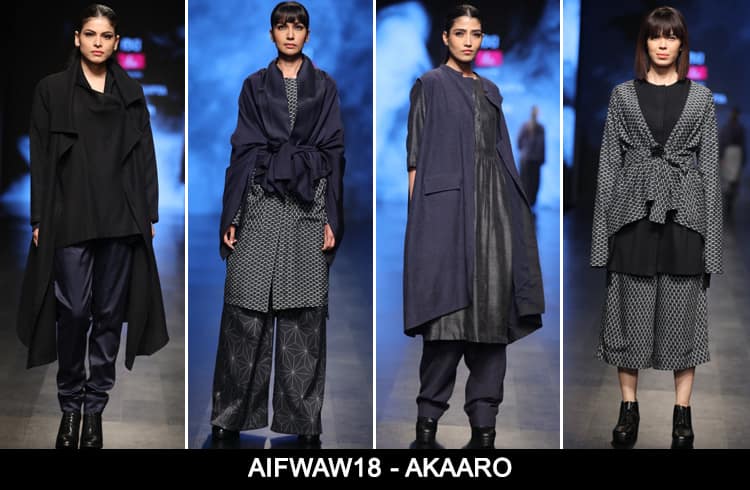 Nida Mahmood
Titled 'The Chillum Sisters', Nida Mahmood's collection easy-breezy rejuvenating styles in teal blue, indigo, creams, dusty peaches, pinks, yellows, and greens. Rolling out silhouettes like oversized tops, tunics, blouses, skirts, and kurtas, with sneaker style, Nida Mahmood brought fun and quirky collection to the fashion plate.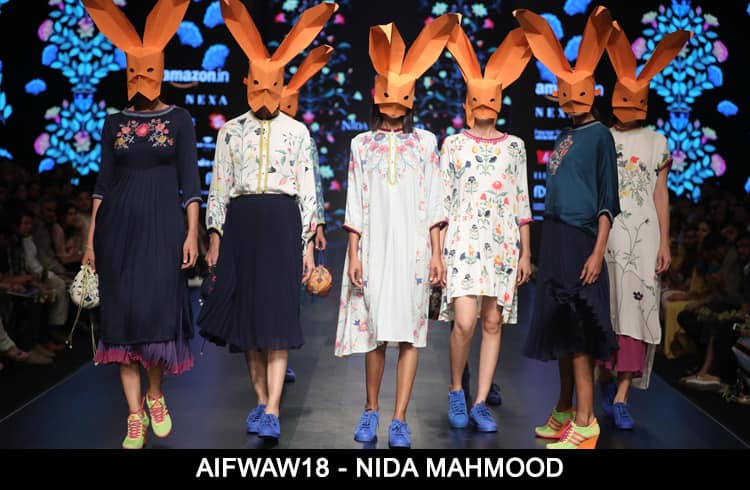 Pinnacle by Shruti Sancheti
Mellowing down the majestic decadence of Tsar's palace, in muted tones, Shruti Sancheti's Autumn/Winter 2018 collection was spectacular. With traditional cross-stitch patterns embroidered on the layering styles, the collection was a true ode to the gypsy life.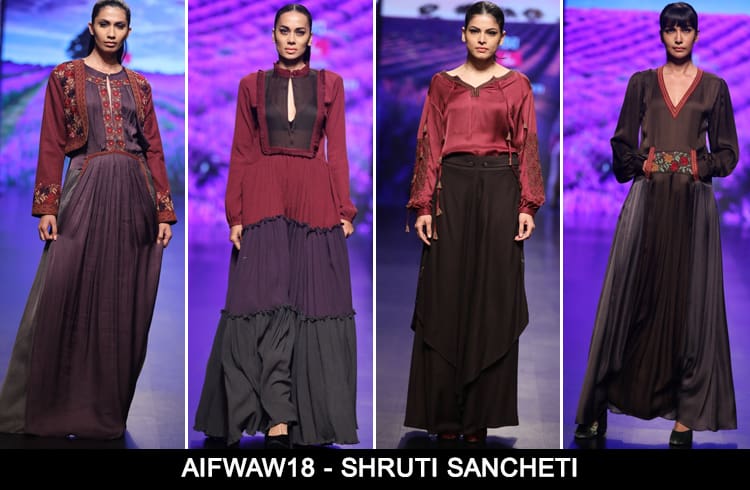 Wendell Rodricks
Schulen Fernandes for Wendell Rodricks showcased a dreamy, sensuous collection in white at the Amazon India Fashion Week Autumn/Winter 2018. In layered styles tailored to accentuate the curves and embroidered with baroque style, the collection was a pure dreamy delight.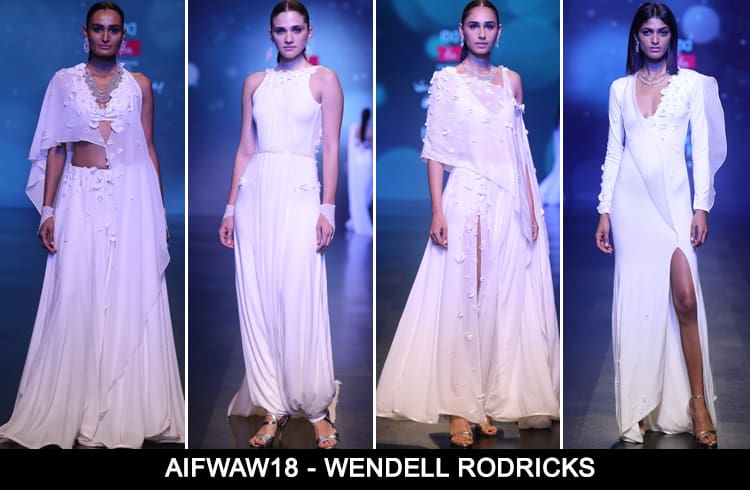 Shivan & Narresh
With Shivan & Narresh, it was a royal depiction of historic 17th century Edo Art in combination with Seychelles at the AIFW 2018. Against cherry reds, aqua blue, coco brown and powdery blues, the line of clothing featured signature prints.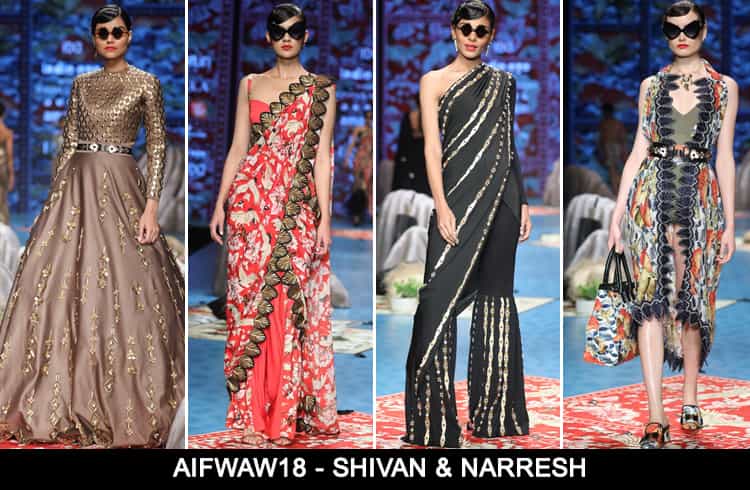 Aekatri by Charu Vij
Easy-breezy dresses in shades like charcoal, rosewood, and mustard were what defined Charu Vij's collection at the AIFW Autumn/Winter 2018. With thread embroidery on chanderi, cotton silk, wool and woven chanderi, it was layered styles all through and surely looked spectacular.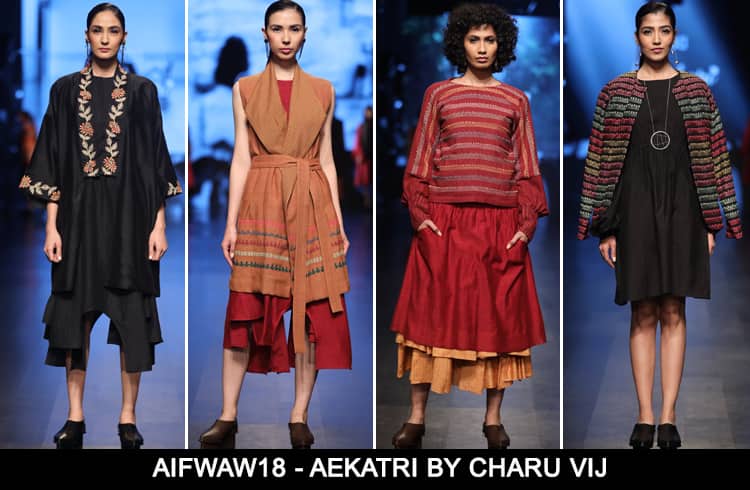 Autre by Gautam Gupta
Titled 'Metamorphosis', Austre by Gautam Gupta collection had styles that blended perfectly Eri silk yarn and mulberry silk yarn. Ranging from trench coats, capes, jackets and dresses, the collection was a true inspiration of the French Art Deco. In blues, violets, grays, and whites, the collection had sharp, crisp and comfortable silhouettes.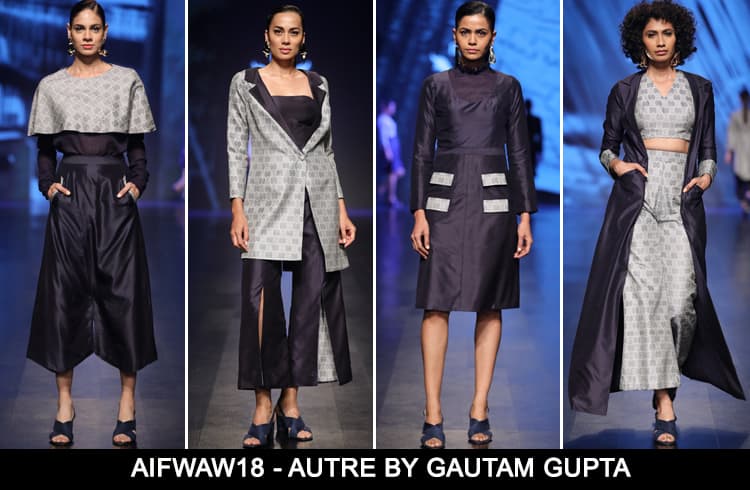 Diksha Khanna
In sober tones and unique design details like cinched pinafores and frayed saris, Diksha Khanna rolled out her collection at the Amazon India Fashion Week 2018. It had both summer and winter clothing lines in easy-breezy silhouettes and layers.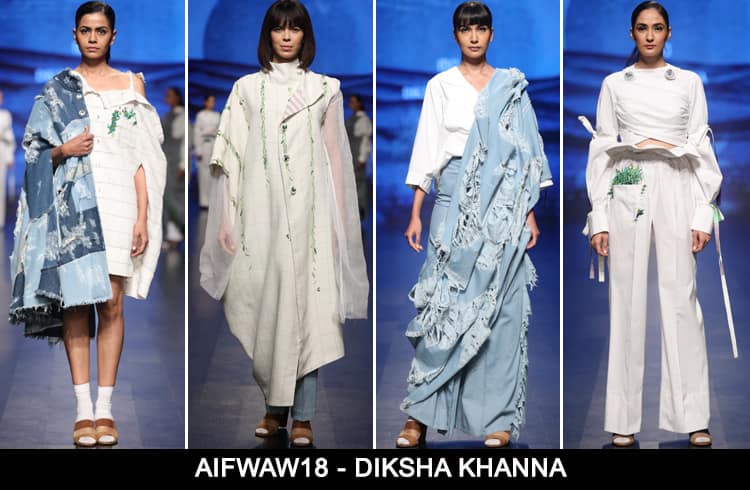 Kanika Goyal Label
Kanika Goyal incorporated the French art style, Tacheism, the brushwork, drips and blobs style of painting in his latest AIFW Winter/Autumn 2018 collection. On vivid background, the designs showcased wayward strokes of paint his the designer's collection.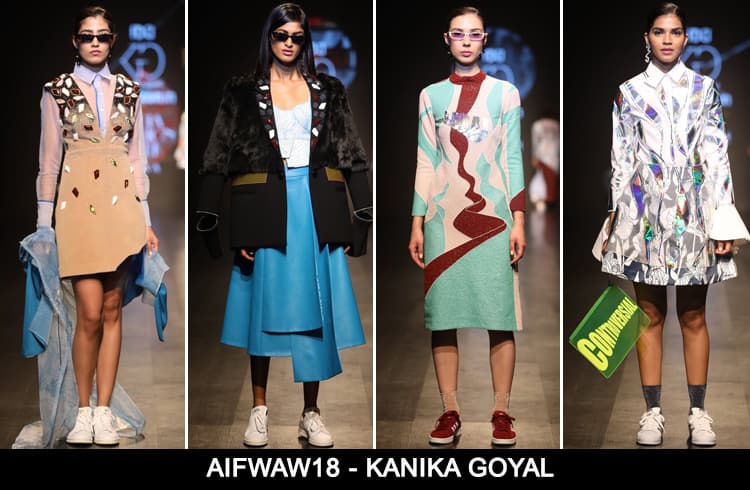 Priyam Narayan
Indian folk designs, indo-western silhouettes, traditional motifs, Middle East inspired crafts work was depicted wonderfully by Priyam Narayan with his collection. Drawing inspiration from Japanese kintsugi, the collection had beautiful flowing patterns.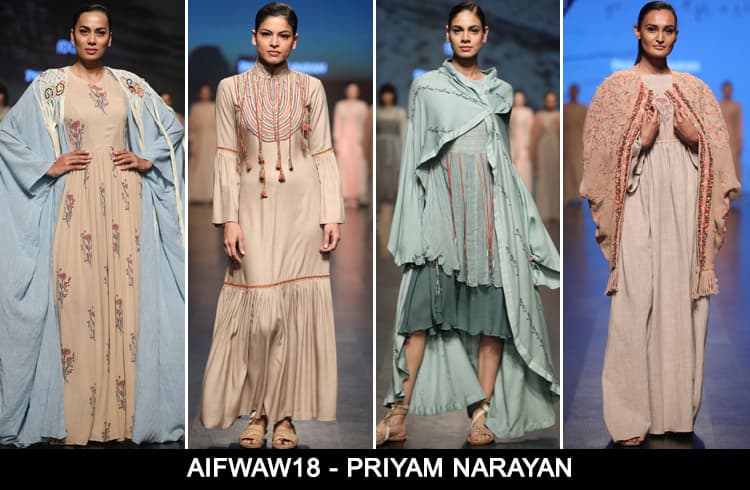 [sc:mediad]
Sahil Kochhar
Ayumi Takahashi, a global artist whose artwork is a window to her life's experiences and the people she meets inspired Sahil Kochhar to depict it through his compilation named 'Chitr' at the AIFW 2018. Takahashi's graphic and whimsical art was showcased in shades of dark color. Bringing florals in mustard, bright red, beige and olives on the dark background, the clothing line was purely spectacular.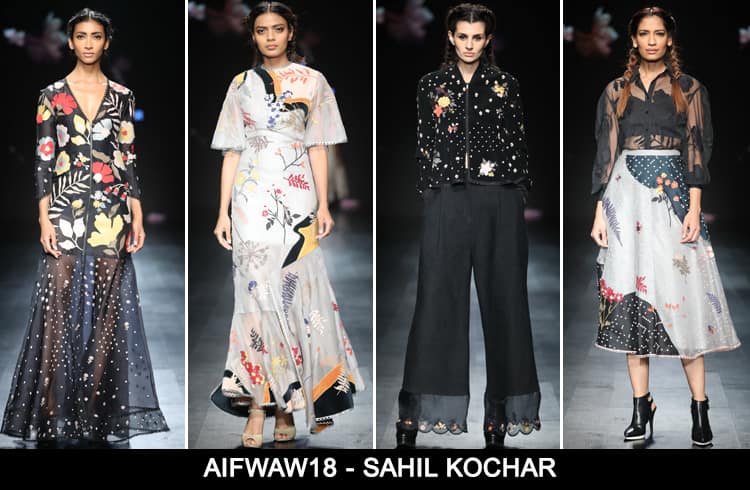 Rabani & Rakha
Feminine and rich in design was Rabani & Rakha's collection at the AIFW Autumn/Winter 2018. Ranging from saris, gowns, and skirts with frills, sequins, shimmering embroidery and tassels, the collection were totally mesmerizing. Spread over a color palette of royal navy blue, metallic silvers and ash color, the collection was worth the time and melted our hearts.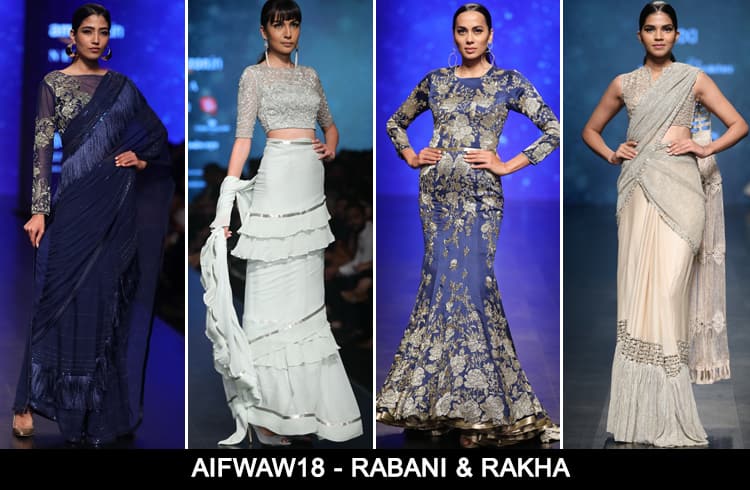 Siddartha Tytler
Siddartha Tytler's collection at the Amazon India Fashion Week Autumn/Winter 2018 showcased the 80's era fashion and the styles of Japanese rockstar warriors. Named F.U.S.S, it was a true blend of street style and high street luxury styles. Absolutely edgy, sports-luxe, the collection was fascinating and glamour filled.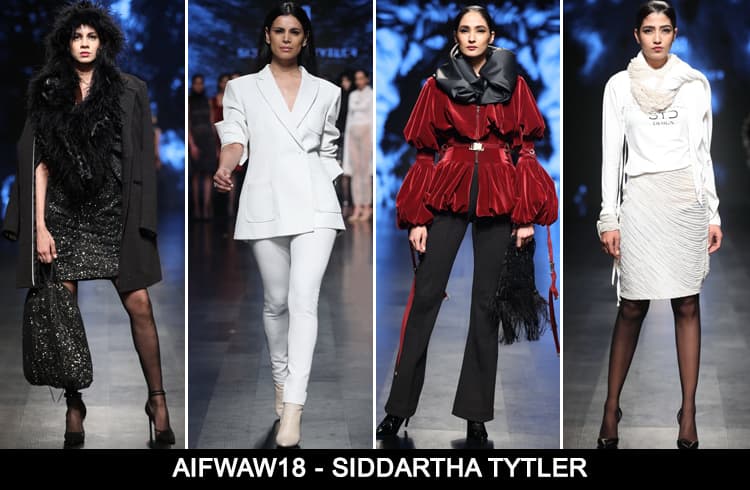 Pero
Pero this AIFW Autumn/Winter 2018 decided to break their signature monochrome styles with shots of corals, peach pinks, grays, and blacks. The geometry of the styles was played in perfect blend and the designer brought the best of his creativity through traditional twists. Checkered wool along with floral totally suggested their extent of fashion versatility.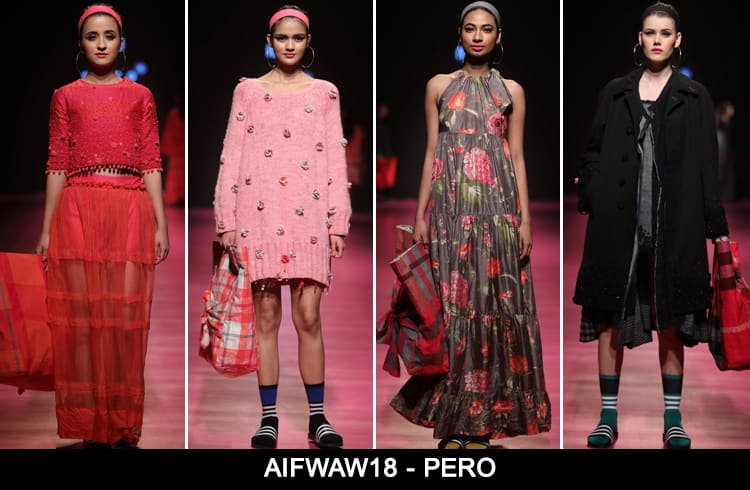 Namrata Joshipura
The closing show by Namrata Joshipura comprised of capes, ruffles, slits, fringe and sheer styles of electric blues, magenta, dusty pinks and grays and blacks. Right from gowns, jumpsuits, skirts and cape dresses, the collection had a lot to offer to the fashion world.
Hope you enjoyed the post!
Images Source: facebook.com/TheFDCI/