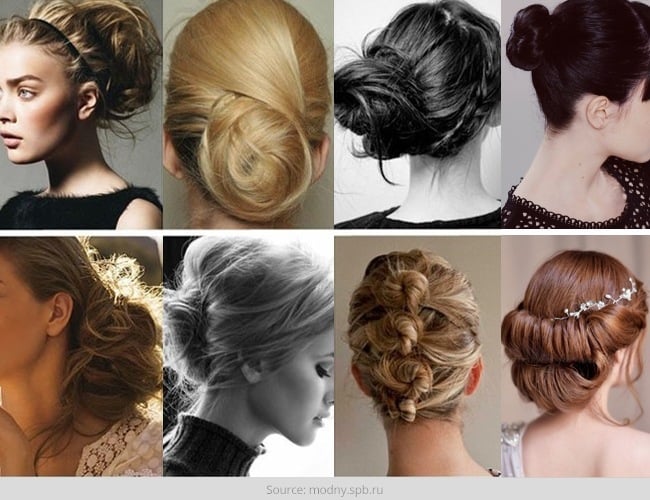 Buns can be such a life savior right? When you are having a not-so-great hair day, you can easily wrap up your hair in a bun! Buns are easy, versatile and can swiftly transform your day look to a night look without hassles. What's great is that buns can also save a lot of time when you are running late. Let's walk you through the different bun styles you need to know!
1.The most common bun: The Low Bun
This is for the woman on the run. You take all your hair and twist to form a bun at the nape of your neck. You can tie it with a scrunchy or you can even fix it with a few bobby pins.
2. The Easiest Bun: The Messy Bun
This is the best and the easiest type of bun that you will ever come across. The best part about this bun is that you can easily convert it into a day look by just adding some fancy bobby pins or an artificial flower. You can give more volume to this messy look by even adding a sock donut. This is one of the simple bun hairstyles you can try on any given day.
3.The Ballerina Bun
Tight and often the exact opposite of a messy bun hairstyle, you usually tie a ballerina bun on the bang centre of your head or to your side. The USP of this bun is that all your hair is neatly tucked into your bun and even flyaway hair strands are put in place. This is one very clean bun type. This is a different type of bun for long hair.
4. Fancy Schmancy Bun
This is the bun you would love to wear at a sundowner or a fancy bowl. It is dreamy and is a high bun which is usually adorned with flowers, ribbons or hair accessories. You can be really creative with this bun and it's a favorite at weddings and balls. This is a bun hairstyle for short hair.
[Also Read: Hair Ribbons to flaunt this Summer]
5. Bow Bun
[sc:mediad]
As the name suggests, your bun is twisted to form a bun. You can sport it to a fun day out with your buddies or even at a date. It is cute and delicate and very feminine.
Here's how to make bun hairstyle:
6. Twisty Bun
Another easy and flirty look; this is for the ladies who have curly hair. You can easily braid your hair from two sides and tie them up together at the base of your head. Embellish them with a few hair accessories and you are good to go! This bun hairstyle for long hair looks pretty when done well. If you are unable to do it yourself, get a friend to help you have the bun hairstyle in place.
[Also Read: Trendy Hairstyles]
7. Rope Twist Bun
For ladies with naturally curly hair, you can give your curls quite the definition by simply parting your hair into two halves. Twist each half and then twist them both together. Once you are done, you can twist the twisted braids to form one bun. This simple messy bun look is simply perfect for a day put with your girls or a casual date.
8. Chic Bun
For a chic lady, this bun is easy yet elegant. Take your hair at the nape of your neck and roll your hair into an elongated shape. Fasten the hair with bobby pins for a more set look. This can make a beautiful bun hairstyle for the bride.
9. French Twist
This one is the easiest yet one of the most elegant bun hairstyles. The hair is wrapped in one direction sideways and rolled like a banana. You can embellish it with rhinestones or hair accessories to give it an even more elegant look.
[Also Read: Style it right with hair accessories]
10. Milkmaid Bun
This is a normal bun, but has a braid wrapped around it. This braid starts from one side of the head to the other and is tucked into the bun.
So, there you go. Hope you enjoyed this cheat sheet of the different bun hairstyles and make sure you add it in your bun vocabulary.