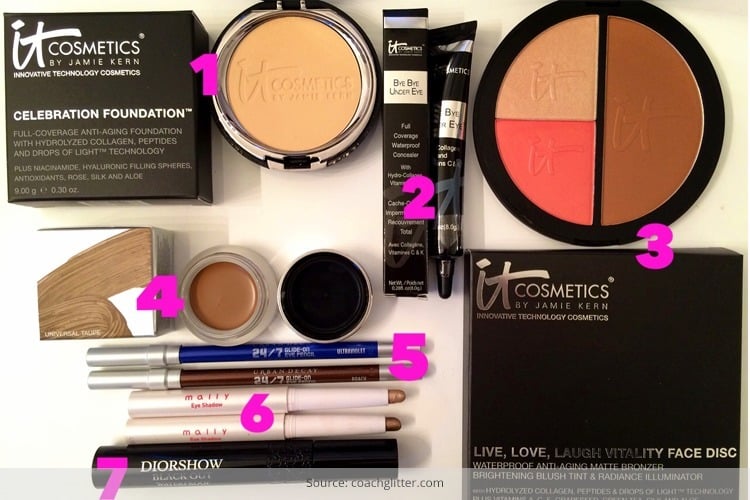 You are always worried about your flawless foundation, your luscious lip tint and your majestic mascara lashes going to turn into a gooey gunk thanks to the sweat and the sun. But the marvel of science and the magic of makeup has gone a long way now and even after literally dunking your face in water, waterproof makeup is going to stay as immaculate as ever.
The best thing in the makeup industry now is the invention of the different types of waterproof makeup. In fact, now waterproof makeup brands have become like the Holy Grail and people mostly concentrate on getting these because they won't run and ruin your entire look.
[Also Read: Fairy Makeup Tutorial]
For your face – Waterproof BB Cream
We at FashionLady have picked up the best waterproof makeup brands for you so that next time you swim and go for a hike, your makeup does not ditch you along the way!
Smashbox Camera Ready BB Cream
For something that is cheap, smooth, and ultra, mega sweat proof, all you need to have is your Smashbox Camera Ready BB cream. It is usually found in most Sephora stores and in Ulta, this one will not let you down, even when you are dripping in sweat!
[Also Read: Sweat Proof Makeup]
Maybelline Dream Fresh BB Cream
If you are looking for something even cheaper, you can rely on the drugstore favourite: Maybelline Dream Fresh BB Cream. It does not give as good coverage as its more expensive counterparts, but it does do a good job. It gives you average protection from the sun and if the weather is unbearably hot, this one is the BB cream that you should be applying. It is extremely light, which makes it a breeze to apply and use.
Waterproof Concealing For Those Eye Bags
Lancôme Effacerness
Another important part of your makeup routine is the concealer. So, whether you are concealing those eye bags or hiding those unsightly zits, the concealer is here to do the trick. Among the best waterproof makeup brands, the Lancôme Effacerness Waterproof Protective under eye concealer gives the best coverage and also stays put for a long time. It is super lightweight too and though it is a little expensive, this one needs to be used very little which makes it last for a really long time!
[sc:mediad]
For Waterproof Blush+Lips
Benetint Cheek & Lip Stain
Of course you need that tint in your cheeks and one blush (in liquid form) that works amazingly is Benefit's Benetint. This one doubles up as a lip stain too! It comes in a beautiful light red stain which stays on your skin for a long time (at least 5-6 hours in the day!). You can use it on your lips and see it last for a really long time too. Plus, it smells great too!
[Also Read: Makeup For Less]
Here's how you use the lip and cheek stain:
[Also Read: How to Apply Mineral Makeup]
Waterproof Eye shadow
Make Up For Ever's Aqua Cream
Is a look ever complete without the eyes speaking volumes? Well, this is what your eye shadow will do for you. But on those hot summer months, you will need something which stays put on your eyes. The best among waterproof makeup brands is Make Up For Ever's Aqua Cream. It is extremely pigmented and gives dark and brooding colours and is also waterproof (no surprises!).
The best thing about this eye shadow is that it can also double up as a blush, highlighter and a lip colour! So double value for money!
[Also Read: Organic Makeup Brands]
So folks, this is all we have for you in the waterproof makeup brands section. Choose wisely women!