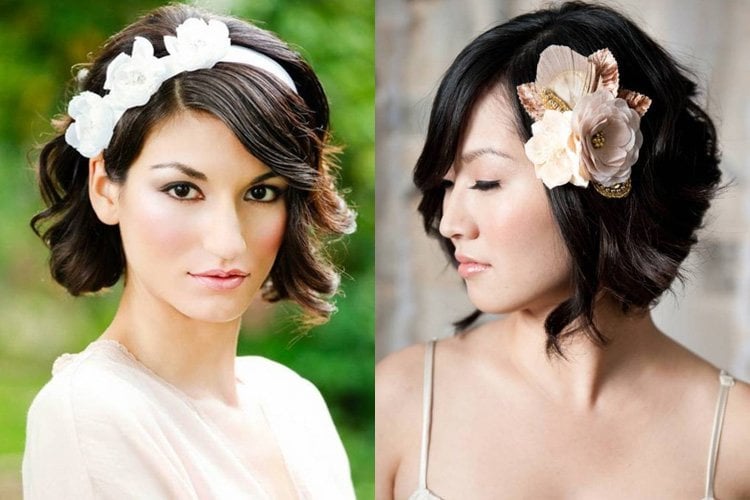 Short hair is smart, chic and trendy. Indeed. But when it comes to styling your cool bob for a beautiful feminine bridesmaid look, you always have a sinking feeling. In fact, bridesmaid hairstyles for short hair are never that easy to wear, pretty and attractive, right? WRONG! Whether your hair is super short or you have maintained its length up to your neck, there are always myriad of styling choices that can give you glamorous looks. From twists to braids to curls to gleaming accessories, short hair can be perfect for wearing almost all sorts of styles. And yes, it is true even for a bridesmaid look.
[Also Read: Hairstyles While Exercising]
bridesmaid hairstyles
Here, we have sorted out 10 great bridesmaid hairstyles for you that are exclusively meant for short hair. So, just explore your options and plan for the celebration:
1. Half-Twisted Hair
Say one easy-to-do yet oh-so-edgy hairstyle that has been trending these days and 'twist' will surely top the chart. The best thing about twisted style is that it suits hair of all length and thickness. So, if you want to rock your short hair as a bridesmaid on your bestie's wedding, do give this half-twisted hairstyle a try without a second thought.
2. Side-Braided Hair
Be it a casual party or your friend's marriage, braids can never go out of fashion for any occasion. Even though you have short wavy hair with fine texture, you can go for a simple side braided look. Therefore, here is one of the best short bridesmaid hairstyles for you in which the wavy bob is made attractive with a single side braid.
3. Simple Wavy Bob
Who says that styling your hair is indispensable for nailing an elegant bridesmaid look? If you have short bob hair and are running out of styling ideas, we have the perfect solution for you. Just create large soft waves on your smoothened hair and seal the look by spritzing some hairspray. Voila!
[Also Read: Stylish Indian Hairstyles]
4. Waterfall Braid
If you think that you can't look sensational with a waterfall braid on your short neck-length hair, you are completely wrong. Just check out the cute hairstyle below. A side waterfall braid and that too on a short ombre bob. We find it to be one of the most amazing hairstyles for short hair bridesmaids. Don't you?
5. Stacked Curly Bob
Want to bring the sexiest side of yours out as a bridesmaid? All you need is a short stacked bob to complement your outfit. To add a touch if oo-la-la, curl up the front bangs in the inward direction and set the style with mousse. There are very few bridesmaid hairstyles for short hair, which can make you stand out from others like this one. We bet!
[sc:mediad]
6. Dense Accessorized Curls
If no hairstyle goes well with your dazzling bridesmaid dress, swear by dense luscious curls. They look really awesome on short hair, especially while hugging the nape of your neck. Finally, add some bling to the entire style with a glittering hair clip or brooch. We simply can't help but love the look!
7. Hair with Studded Headband
To be honest, if you have a beautiful sparkling headband, you'll never go out of bridesmaid hairstyles ideas for your short hair. Check out the studded black headband shown in the following picture. A zigzag part, slightly messy waves and a band like this. Do you really need anything else?
[Also Read: Color Suggestions for Bridesmaid Dresses]
8. Classic Retro Bob
How about going retro with a classic vintage bob for your bridesmaid hairdo? This timeless style will certainly turn you into the center of attraction at the ceremony right after the bride. Just make sure that you choose your outfit, accessories and makeup according to your vintage hairstyle.
9. Pixie with Forehead Chain
We know how much you love your cool pixie hair. Well, we also know how much painful it is for you to come up with suitable bridesmaid hair ideas. Don't worry. It's just as simple as wearing a forehead chain. Yeah…we mean it. The image says it all. Isn't it?
[Also Read: Bridesmaid Dresses]
10. Gorgeous Pouf
Tired of your duties as a bridesmaid? No time for styling your hair? Grab a couple of bobby pins, make a gorgeous pouf at the front of your head and keep it in its place by spritzing a good-hold hairspray. You're done!
[Also Read: Hairstyles For Frizzy Hair]
These were our top 10 pick of bridesmaid hairstyles for short hair. None of them are complicated or time-consuming. But the end results are superb! So, just get ready for a ravishing short haired bridesmaid look and rock it with confidence!