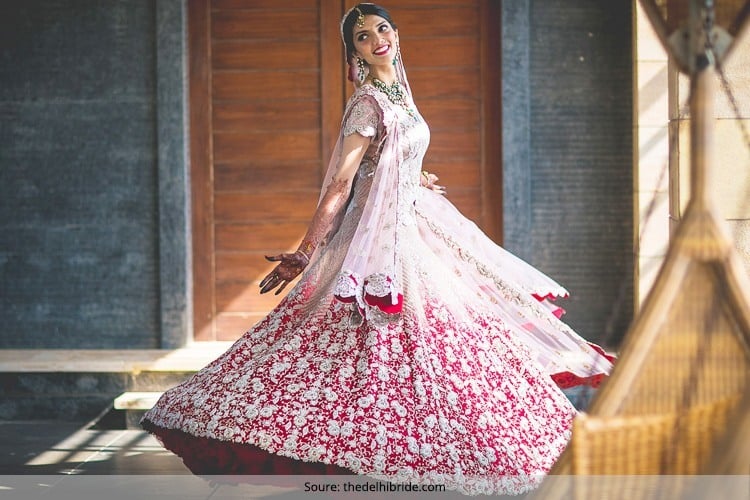 Do you ever mourn the fact that after spending days hunting for the perfect wedding dress and spending a fortune on it, it is now hanging in your wardrobe collecting dust? Do you fear that you'll never get to wear it again because it is too grand to be worn when attending other people's weddings? So is that it? Will your beautiful bridal lehenga never get to be in the spot light again? Of course it can, give your bridal lehenga a second lease of life by following our creative ideas.
Make a Saree Out of Your Dupatta
Most bridal lehengas have dupattas that are as intricately worked as the lehenga itself. So you can make yourself a saree by attaching your two and half meters or so dupatta with a plain coloured three meter cloth in a colour that matches the dupatta. You can use the blouse from your lehenga or get a new blouse stitched and flaunt your dupatta-turned-saree outfit.
Cover Up the Heavy Work
The major issue with wearing your bridal lehenga is that it is too heavily-worked and is not appropriate to be worn for a friend's or a relative's wedding. While this is true, you can still manage to wear your bridal lehenga to your sibling's wedding. After all, being the bride or groom's sister means that you are allowed to be a little more flamboyant than the rest of the guests present at the wedding. But of course, you must not steal the bride's spotlight with your bridal lehenga; cover up the skirt with a sheer long jacket or a shrug to make sure that a part of the heavy work is concealed, thus striking the right balance between simple and grand.
[sc:mediad]
Swap the Grand Blouse and Dupatta for Simpler Ones
Swap your lehenga's heavily-worked blouse and dupatta for simple ones with little or no work on them. This will help balance out the grand lehenga skirt and make it less of a bridal lehenga and more of a wearable festive outfit.
Transform it Into an Anarkali Suit
As years go by, chances are that you've put on weight and are neither the same size nor have the same figure as you did on your wedding day. So if concern about how you will look in a lehenga is the issue, you might want to consider transforming your lehenga into an anarkali suit. Oh yes, it can be done; all you need is a really good tailor to give your lehenga the absolute makeover by attaching the skirt to the blouse.
Cut it Up
Okay, this option is not for the fainthearted. If you are horrified at the mere suggestion of cutting up your bridal lehenga, then you should just try one of the other options mentioned above. But if your bridal lehenga is too old and completely out of fashion, then the only way to re-use it is by cutting up the borders and motifs from your lehenga and using it on a plain saree. This way you turn your bridal lehenga into a saree. Before you completely dismiss this idea as cold, practical and unromantic, consider this – you can make a saree out of your bridal lehenga and take photographs on your wedding anniversary to replicate your old wedding photos. Now isn't that just super romantic?
[Also Read: Bridal Lehenga]
It is a crime to never wear your bridal lehenga and have it closed up in your wardrobe. Now that we've given you some DIY ways to re-use your bridal lehenga, please take it out and wear it. A bridal lehenga is after all, meant to be in the spotlight, receiving admiring looks and compliments and looking fantastic in photographs.