Wearing a saree is not a piece of cake for every lady, whether you know how to wear one or it's your first time to wear one. Today there are so many wrong attempts to wearing a saree for which you can be judged for. To avoid such situations, or to not be tying your saree the wrong way, here are some don't do and common mistakes of wearing a saree.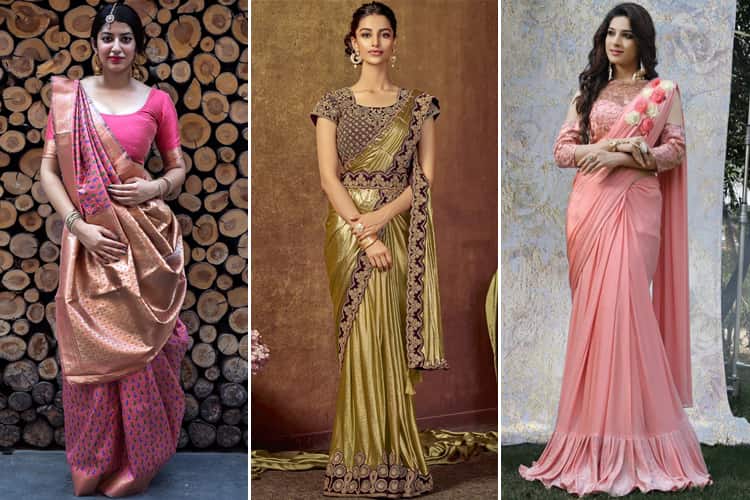 With this post, we will also bring light to the best way to wear a saree perfectly. So here are the saree wearing mistakes we all make which we should now learn from.
1. Choosing A Wrong Saree Drape For Occasion:
When attending a formal function, meeting or a business party, you don't want to tie your saree in a stylish or party drape. Choose to wear whichever saree in an open apply or a well pleated saree look at shoulders which should be at least 5 inches in width or choose the half saree pleat pallu.
2. Wearing Your Saree Too High:
We all know wearing a saree that touches your feet is the best, but remember to always put on your heels before draping. This will give you the right length otherwise once you drape and later put on the heals, your saree will look too high. This tip is a must do, even if you are going to dance the night away, don't tie your saree at ankle level.
3. Choosing The Basic Petticoat:
Well all women normally choose a classic petticoat which is of a-line silhouette and in cotton. Where some way this tip is right but you need to make sure that you don't always choose a cotton one or a wrong color. If your saree is even a bit semi transparent, don't just wear a similar kind of petticoat, invest in the right colors or at least a nude one. Always choose a petticoat which is 2 inches above the normal ankle length.
4. Wearing The Right Bra With Your Saree:
Designer sarees these days come with padded blouses, but for those which need an inner wear have to be cautious on choosing something that's matching well. You can't but on any regular color bra that's the opposite of your blouse color. We all do this and forget to pay attention to the type, wear a plunge neck if your saree blouse is deep neck or wear those with transparents straps at shoulder and back if its a net blouse or a low back neck blouse. Always adjusting your blouse in public is not such a good idea as well it may seem easy, so avoid this mistake when wearing a saree.
5. Pinning Your Saree The Wrong Way:
Mostly women used to pin their lower skirt drape pleats with a safety pin, but this is a very odd view and adds disturbing clean look the saree. If you want to do this, do it the right way. Pin the all pleats towards the inner edge and leave the first pleat un pinned. Another mistake is to pin saree pallu at shoulder exactly at side point, this will not keep your pallu in place, better pin it at the back side of your shoulder to keep it at the back.
[sc:mediad]
6. Making Too Many Pleats Or Lesser Pleats:
There is a basic classic count for a lower skirt pleat which is 7-9 depending on your figure, Stick to this, to get the right look of the drape. But common mistake we make is, if the saree is a cotton saree, we still make those lots, we need to make 4-5 pleats only so it doesn't create a bulge in front. So always adjust the pleats and the amount during each saree type and each person's figure.
7. An Ill Fitted Saree Blouse:
These days younger women also wear sarees to work or functions, as well as a school farewell or college party. They normal think choosing a saree from your mum's closet will sought their need of the outfit. But forget that a well fitted blouse is equally important as choosing the right saree blouse to match. Never wear a size bigger or smaller blouse of a relative or friend just as you want to save yourself from getting a blouse fitted or stitched in your size. This will kill the whole look of any saree.