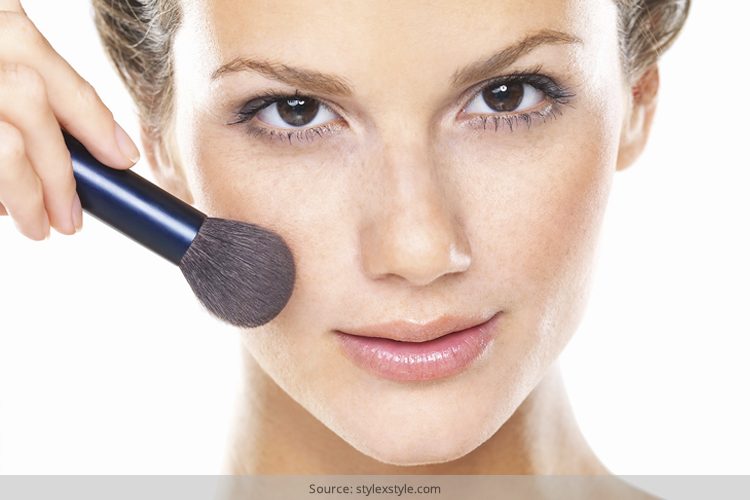 Beauty is alright, but beauty buzzwords seem to be the new found love of many fashion addicts. Like for instance, contouring, tontouring, nontouring, strobing. But thanks to Marc Jacobs, the new fad which is catching up as a hottie today is draping makeup technique.
There are many questions that hit the mind when it comes to draping makeup trend. Example, is draping the new contouring? Was it ever done in the past?
[Also Read: Guide On Makeup Contouring For Different Face Shapes]
Is Draping The New Contouring?
To put you in the right perspective, draping makeup trend is the new way to sculpt your face and give it the post-dance-floor glow. The only twist is that instead of using a highlighter, draping technique uses a blusher on the natural bone structure of your face to create a done up look. Not only does it create a subtle look, but makes a statement as well.
The draping makeup technique is a throwback to the eighties, according to the Marc Jacobs. That's the time, when Way Bandy who was Jacobs' friend and celeb make-up artist did draping makeup on the likes of Elizabeth Taylor, Cher and Brooke Shields. Today, many celebs such as Gigi Hadid to Kylie Jenner have taken to a bit of blusher in their routines. Kim Kardashian didn't bat an eyelid while making the following statement this year "Contouring is dead". Is draping its successor? Let's find out how.
How To Go About Draping Technique
Well, the key to good draping is to blend it to perfection, much like regular contouring. The first thing is you have to apply blush across the natural hollows of your cheeks so as to create a defined and statement making look.
[Also Read: Blush Color]
One light and one dark shade of blush are used to contour and highlight the cheeks areas. The role of the darker shade is to bring out the 'chisel' or 'hollowness' of cheeks, whereas the lighter shade used to blend helps you create a seamless natural look. What it leads to is rosy cheeks from your cheekbones up.
Products Required For Draping Technique
Eager to know about the draping blush trend? Marc Jacobs has introduced a new blush duo. It's called the Air Blush Soft Glow Duo and has two complementary shades, ideal for draping. But you can also use existing blushes in your vanity case, provided they belong to the same colour and undertone family.
[sc:mediad]
"[Way Bandy] embraced the concept of 'color glow' as a way of bringing out the natural 'drape' of the face,'" the brand said in a statement. And if there is anyone who can bring back a vintage style cast in an updated and contemporary way, it is Marc Jacobs.
"It's the new way to blush," says Gilbert Soliz, global makeup artist for Marc Jacobs beauty. "You're essentially changing the shape of the face with color, using it to drape the contours of your face to achieve what you desire, whether it's lift, sculpt, volume, or balance."
[Also Read: Goodbye Contouring, Make Way For Strobing!]
The Air Blush Soft Glow Duo is a five powder blush duo palette designed in Jacobs' signature stripe pattern. It has been formulated with Japanese air powder by using soufflage (its a French word that means air-whipped), which delivers cream-like texture and lasts for a good 24 hours. On the color pairings part, the lighter shade highlights and the deeper one contours.
Three Ways To Drape
Here is how Jacobs spells out the different ways to drape via this tutorial on draping technique:
Lift: You need to blend both the shades together. Then follow it up by placing along the high of the cheekbones.
Sculpt: At this stage, you have to use the deeper side of the blush and apply it below the apples of your cheeks, a bit lower on the face so that it creates an oval shape.
Voluminize: Blend both the shades together, and then swirl the blush on the apple of your cheeks. Now blend.
So when are you trying out the contouring with blush Draping Makeup technique? Tell us how kicked you are about this new revolutionary sculpting syndrome.