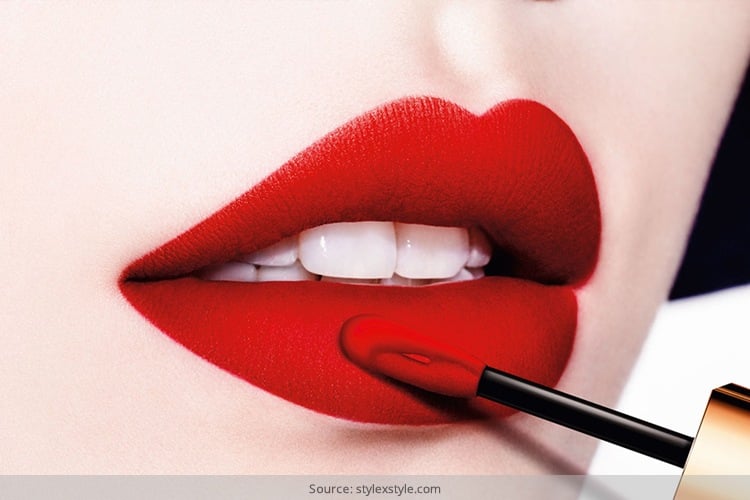 The make-up industry introduces new make up every other day. And the newest hype around encircles the liquid lipstick series by Kylie Jenner. There is love and there is equal hate for the product. But nothing takes away from the success of it. The sad part about it is that they are insanely expensive and are available in America and parts of Europe only. However, girls on other parts of the planet, do not have to feel all left out as there are a myriad brands offering some of the best liquid lipsticks ever. But before you set hands on them, there are a few essentials that you need to make yourself aware of. Here are a few tips to apply liquid lipsticks.
[Also Read: 5 Amazingly Best Drugstore Red Lipsticks You Must Own]
Exfoliate Those Baby Lips
Liquid lipsticks, as compared to the regular lipsticks are smoother. Also they are a little high maintenance. So you need to make sure your lips are prepared to cherish the beauty of it. What I do before swiping the wand of a liquid lipstick on my lips is exfoliate them with a spoonful of sugar. Nothing exfoliates and moisturizes the lips as the sugar. All your dead cells are out and all you are left with is a pair of soft smooth lips.
Get A Liner
Now because liquid lipsticks are a lot more fluid in texture than your regular sticks, defining the shape of your lips with the wand of a liquid lipstick can be quite challenging. Hence, an imperative is to have a lip liner that matches the shade of your lip liner to the T.
Shaping It Up
Now that you have found the best liner that goes with your liquid lipstick, just go and line your lips immaculately. There are a zillion liquid lipstick tutorials on YouTube that will guide you on how to apply liquid lipstick. And almost all of them will take you through the best way to line your lips before filling them up with the liquid color. Make sure you have penciled a beautiful cupid's bow so as to make the lips appear sexy and pouty.
[Also Read: How To Get Full Lips]
Filling Up The Lips
Now using a make-up brush apply a generous coat of liquid lipstick on your lips. Many of you will question why should you invest on a make-up brush when the lipstick already comes with a wand. To be honest, the wands, even in a high end liquid lipstick is not very well defined. If you are following the latest progress in the cosmetics industry, certainly you must have made yourself familiar with the outburst over the poor quality of Kylie's wand. When a high product like hers left the users dissatisfied, chances of a drugstore product standing up to your expectation are pretty slim. Just so you know, you haven't messed up the beautiful line that you have created and the product is well within the boundries, it is always suggested to pick a lipstick brush that is well defined and keeps the tint from flowing outside the desired limits.
[Also Read: Best Red Lipsticks]
Matting The Liquid Lipstick
The best way to elongate the stay of a liquid lipstick is to mattify it. Few of the formulae would allow the liquid to dry into a matt finish. But for other formulae, when it doesn't matt itself, you may add a little amount of talc powder on to your lips with the help of a fresh make-up brush. Do it diligently and carefully so the lipstick is not wiped out. Purse your lips against each other to get an even spread. And you are good to go.
[Also Read: Particular Lipstick Colors For Lip Shapes]
Best Liquid Lipsticks In The Market
To give you a list of my favorite lipstick in liquid, I would share these manes with you – they all are easily available at a store near you.
Yes, applying liquid lipsticks might appear quite a handful, but once you have mastered the art you would grow inseparable from them. Honestly, I can say that because I have experienced the same recently. Like, I would never try anything other than my traditional lipstick, but since I was forced and taught the best way to apply liquid lipstick by my bestie, I can't just get enough of it.
[Also Read: Best MAC Lipsticks]
Something tells me you will fall for these just like I did.