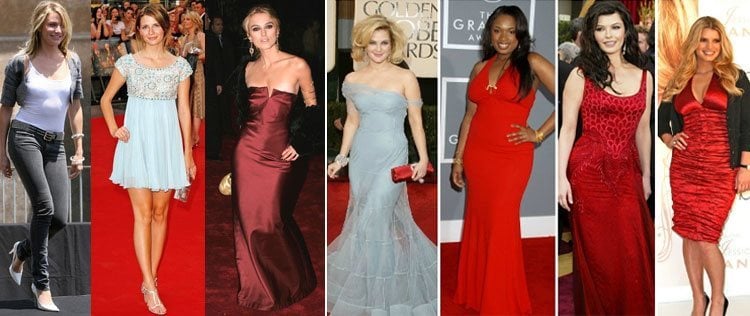 Ruler-shaped body means no defined waistline, no significant curve, no full bust or butt and almost equally proportioned shoulders and hips. So, what exactly should you wear to soften such a boyish structure? Well, let us tell you what you must absolutely avoid to prevent your figure from appearing even straighter. It will help you find the perfect dresses for you. Here we go:
Loose Baggy Tops / Dresses
Loose baggy tops or dresses refer to no defined shape, which you need to avoid at all situations. Being a woman with ruler-shaped figure, the most important style mantra for you should be to add definition to your curves and create an attractive silhouette. But such loose-fitting, shapeless garments will not at all beautify your outline. Rather, the lack of balance between your un-defined upper half and straight lower half will kill your look.
[Also Read: Dresses For Hourglass Body Shape]
Tube Tops / Straight-Fit Dresses
Choosing tube tops or other similar straight-fit dresses is never a good move for women with ruler-shaped figure. The super-straight cuts of those attires will give you a stiff, 'waistless' look, thereby highlighting your ruler shape to a huge extent. Stylists recommend that you avoid such clothes and go for dresses that are nipped or tapered at your waistline or at least below your chest.
Dresses with Vertical Patterns
Ruler-shaped body itself looks straight up enough. So, putting on a garment with vertical prints, patterns or motifs will not go well with it. These will rather create an illusion of more slenderness, thereby playing completely wrong with your actual vertical proportions. By wearing vertical patterns, you may find yourself to have a thinner and straighter frame. Well, you really don't want it, eh?
Monochromatic Dresses
Unless and until you want to emphasize the rectangle shape of your body, do not pick monochromatic outfits. A single color is pretty boring and hence, will put stress on the slenderness of your body. What you actually need to do is to make your shape softer by using vibrant colors and a shade on its own can never do justice with it. But if you go for large color blocks, beautiful prints or something similar, those subtle curves on your body will also look well-defined.
[sc:mediad]
[Also Read: Prints and Body Type]
Plain Dresses with No Detailing
When it comes to wearing a top or a dress on a ruler-shaped body, detailing plays a key role. Simple plain outfits will lie flat on your body without adding curves to your solid continuous shape. If you stay away from all those girly details like frills, ruffles, rosettes, layers, pleats, lace, bibs, etc., you will end up emphasizing your straight outline and looking utterly monotonous. Also, try to have these details at the neckline, front panel, sleeves and around the bust. If they fall near your waist or the mid-section of your body, nip the dress with a belt to add dimension.
Flirty Babydoll Dresses
They are short. They are cute. They are sexy. But they are definitely NOT for you. Babydoll dresses were very much in fashion in '90s and they are considered equally chic even now for their flirty look as well as comfortable texture. But there is a drawback of these outfits with youthful cuts, especially if you have a ruler-shaped figure. Instead of adding to the slight curves of your body, they make you look even flatter. Least appreciable, right?
Wide Fluffy Skirts
Just like dresses with details at waistline, women with ruler-like figures should also steer clear of fluffy colorful skirts. These being too wide and too full may make the lower section of your body look extremely heavy. In short, fluffy skirts can destroy the balance between two halves of your body and spoil your entire look.
Angular A-Line Skirts
Full 'A'-line skirts certainly give women a flattering appearance, but…yeah…they are not for everyone. To be more precise, if you have a straight boyish frame, you should break up with your favorite angular skirts immediately. They will make your undefined or poorly defined structure even more shapeless instead of giving your femininity a boost.
[Also Read: How to Wear Skater Skirts]
Skinny / Tight-Fit Jeans
Do we really need to explain why a pair of skin-tight jeans is not a good fit for your straight figure? It will do nothing but focus on your boyish ruler-like body. So, it is always better to choose slightly flared or boot-legged jeans over their skinny versions. The wider opening of the pants will give some shape to your straight legs.
At last, ruler-shaped women are the luckiest women as they are naturally slender with a well-proportioned figure. So, just dress well and look gorgeous always!