From Karnataka's Mysore Silk to Gujarat's Bandhani, India is full of different traditional handlooms. Some colorful, some with deeper historical meaning, and relating to country's culture-they are all eye-catching. Learning about them offers an insight to learn more about our country. Hence we've rounded several unique fabrics to give you a lowdown about the different handloom techniques used around the country.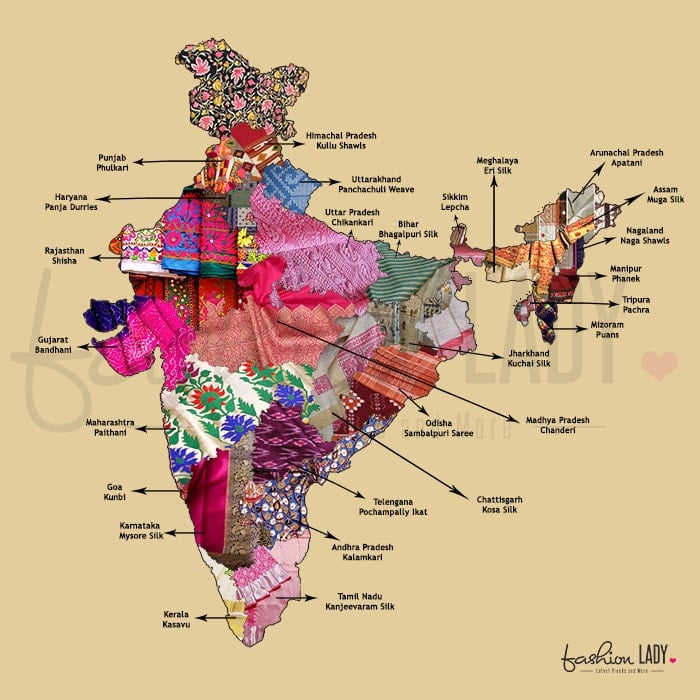 Unique Fabrics of 28 Different Indian States:
So let's get started on an amazing fabric tour of India:
1. Maharashtra – Paithani:
The Paithan town of Aurangabad, Maharashtra is famous for its hand-woven silk saree-Paithani. This fabric was used extensively by the royals. Because of its intensive weaving technique, the fabric looks exquisite from both sides. This fabric is still a big part of Maharashtrian culture with its weaving center in Yeola.
2. Gujarat – Bandhani:
Were you aware of the fact that Bandhani's history go right back to Indus Valley Civilization, where dyeing process was started around 4000 BC? The term Bandhani was derived from the Sanskrit word 'banda.' This stunning tie-dye fabric was made by Khatri, a Gujarati community, and is commonly available in shades of black, yellow, green, blue, red, and white dots that bring out interesting designs on the fabric.
3. Karnataka – Mysore Silk:
When Tipu Sultan ruled over Mysore, the silk industry witnessed a huge growth. Till date, the state is the largest producer of silk. The rich, silk material from Mysore is famous for their quality and artistry. They are traditionally designed using gold zari and pure silk. Because of these reasons, the Mysore silk is famous not only in India, but the rest of the world.
4. Rajasthan – Shisha:
The Mughals introduced the shisha embroidery in the 17th century. Earlier, they used the mirror work embroidery on décor rather than on clothes. Back to the present date, shisha is now famously used not only by Rajasthani people but also in the states of Gujarat, Haryana, and Madhya Pradesh.
They also use embroidered banners like shish torana and abla torana on their home entrances to ward off evil.
5. Tamil Nadu – Kanjeevaram Silk:
There are many handwoven silks available in India, but the most expensive ones are Kanjeevaram. This popular silk fabric is from Tamil Nadu and is famous from their exquisite fabric and zari work. At present, the Kanjeevaram saree remains one of the popular Indian sarees with its rich depictions of gold used.
6. Kerala – Kasavu:
The white and gold kasavu saree is famously used by the people of Kerala especially during the celebration of Onam. Kasavu is referred to the gold zari border depicted on the mundu-saree that is made out of 100% unbleached cotton. These saree features kara designs on the bottom, and peacock designs on the pallu.
7. Nagaland – Naga Shawls:
Weaving is a major traditional occupation of the Naga people. The Naga shawls are highly symbolic and are made using black and red wool. Every major tribe in Nagaland has their own distinct pattern featuring spear, human head, spear, tiger, and elephants.
8. Mizoram – Puans:
Puan-the traditional Mizo attire is primarily a wraparound skirt in white and black color. The designs on the puan are both simple and intricate revealing much about a person's societal status.
9. Meghalaya – Eri Silk:
Eri or Endi silk is a highly textured silk featuring short fibers compared to other varieties. It has a rich depiction of gold which makes it a valuable fabric. The silk is also used for Kantha embroidery and Pattachitra art. It is also commonly used by Buddhist monks as it involves eco-friendly production process without harming animals.
10. Himachal Pradesh – Kullu Shawls:
Kullu shawls are handwoven from three wool types namely Angora, Merino, and local sheep wool. These shawls from Himachal Pradesh are commonly worn by both men and women featuring geometric patterns and bright hues. Even with the steep price, the Kullu shawls are much in demand both in India and outside of India.
11. Assam – Muga Silk:
The Muga silk from Assam is famous for its rich texture and unique fabric. This hand-washable silk is also known as golden fibre featuring a natural yellow gold tint. It was once worn only by the royals but it is now extensively used for making the traditional attire of Assamese women.
12. Goa – Kunbi:
The Kunbi fabric from Goa is a cotton fabric in chequered design mostly used on sarees. It was used in the olden times by tribal women. After the Portuguese advent, the use of the Kunbi saree saw a downfall. The weaving of the same stopped by 20th century.
13. Andhra Pradesh – Kalamkari:
Kalamkari is derived from the Persian words, qalam (pen) and kari (craftsmanship). During olden times, this art was used for telling Hindu mythology stories influenced from Hindu deities. This fabric is now popularly used as a block print on most Indian attires.
14. Arunachal Pradesh – Apatani:
The famous fabric of Arunachal Pradesh is the Apatani weave. This art technique is considered to be the most progressive out of all the tribes of the state. The woven fabric features geometric designs, angular patterns, and zigzag finishing. The people of the state wear this as part of their daily wardrobe choice.
15. Bihar – Bhagalpuri Silk:
For the unfamiliar, Bihar is better known as the silk city. This is because the silk weaving industry at Bhagalpur, Bihar has a history. The tussar silk is the most commonly used fabric made out of colorful threads and produced from tussar cocoons. Sarees designed out of tussar silk gives out the most gorgeous finish. For this reason, the Bhagalpuri silk sarees are most popular because of their wide range of colors and design.
16. Chattisgarh – Kosa Silk:
The kosa silk is the famous fabric used in Champa district of Chattisgarh. This rich fabric is considered to be the finest in the world mostly because of its durability. The whole weaving process of kosa silk sarees takes three to five days. It is said to be made out of a rare worm.
17. Haryana – Panja Durries:
A handloom tradition that is widely used in Panipat, Haryana is Panja. This weaving technique derives its name from the tool, Panja. It is mainly used for creating rugs, floor coverings, and durries. The Panja fabric is produced out of thick threads and includes unique, gorgeous patterns.
18. Jharkhand – Kuchai Silk:
Kharsawan-Kuchai, a Jharkhand region produces the Kuchai silk, which is an organic Indian fabric. This has recently witnessed a rising demand. The wide spread promotion of the fabric has promoted many artisans and weavers around the region. Kuchai silk is now in demand in both India and abroad.
19. Madhya Pradesh – Chanderi:
The traditional saree of Madhya Pradesh, Chanderi was first introduced by Shishupal, Lord Krishna's cousin. These traditional sarees are available in Chanderi cotton, pure silk, and combination of silk and cotton. Its lightweight fabric has earned its other name, woven air.
20. Manipur – Phanek:
The traditional Manipuri costume, Phanek is a color-block striped skirt that is made up of silk thread and cotton. It mostly features a heavy embroidered border at the bottom. This is mostly worn as a half-saree matched with blouse.
21. Odisha – Sambalpuri Saree:
Sambalpuri saree is most popular in the Odisha regions of Bargarh, Sambalpur, Sonepur, and Boudh. This is a handwoven ikat saree in which the yarn is tie-dyed primarily before being woven into a gorgeous fabric. There are other varieties of Sambalpuri saree like Pasapali, Sonepuri, Barpali, Bomkai, and Bapta, which are known as pata.
22. Punjab – Phulkari:
The Phulkari work is a common embroidery work of floral depictions used on fabrics by the Punjabi women. This unique design is made on the reverse of the cloth while the design is created on the front. Phulkari commonly has bright colored floral embroidered work made on light hued fabrics.
23. Sikkim – Lepcha:
The Lepcha community in Sikkim is the most famous for its handloom tradition-the lepcha fabric. This work of art is commonly used on traditional ensembles including cushion covers, shoulder bags, table mats, napkins, and others. Its base fabric is cotton while the wool used for the motifs are embroidered into the textile.
24. Telengana – Pochampally Ikat:
The Ikat textile is produced from Bhoodan Pochampally, Telengana and is famous for its geometric designs and intentional bleed. There are about 5000 looms in the villages of Pochampally and it has found a place on UNESCO's list of World Heritage Sites, with its 'iconic saree weaving clusters of India.'
25. Tripura – Pachra:
Pachra is the handloom fabric found in Tripura. It is a long cloth piece worn as lower attire by the women. It extends below the knee, featuring unique stripe designs and embroidery in several shades. The pachra attire is commonly worn as a risa, a small piece of cloth covering the upper body.
26. Uttar Pradesh – Chikankari:
Chikankari is famously produced in Lucknow. It is a delicate embroidery design that was primarily introduced by Nur Jehan, wife of Mughal emperor, Jehangir. This cloth piece is initially block-printed and after that the chikan stitches are used on the outline. Chikankari embroidery was white-on-white in the past, but at present it is experimented with a lot of different colors.
27. Uttarakhand – Panchachuli Weave:
The rural women of Panchachuli range in the Himalayan region commonly knit exquisite clothes made up of sheep wool and Tibetan cashmere. They earn their source of income from high-quality woolen products like shawls, wraps, and stoles. This weaving tradition has expanded with the help of the Panchachuli Cooperative that started in 1990 that has earnestly been promoting the weave to foreign countries.
28. West Bengal – Jamdani:
Jamdani is one of the main fabric used in West Bengal. This was earlier used as a dress material for men and women but at present date, Jamdani is used in sarees with unique patterns. The fabric is lightly woven in hues of white, gold, maroon, green, black, and silver.
These are the popular fabrics found in India. Each fabric represents the cultural identity of each state. We hope reading about them gained you an insight.