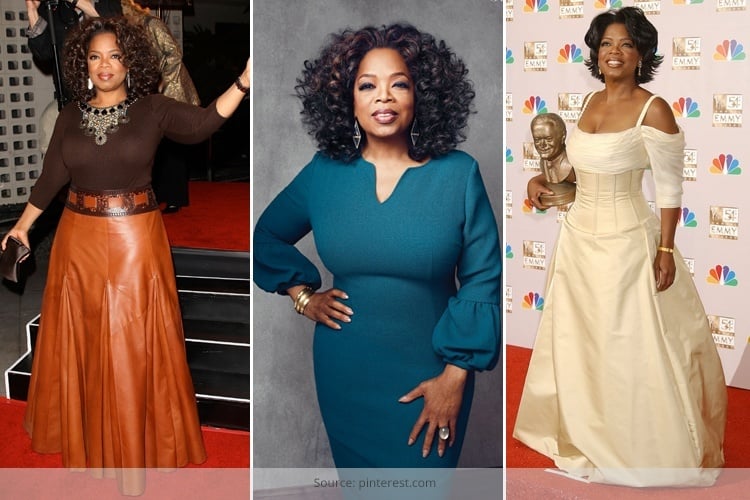 Over the years and touching the heart and souls of many, the Queen of talk shows, host and social activist Oprah Winfrey, CEO HARPO Company has aged gracefully. She is the reason why a million more women out there wake up with hope in their hearts each day. From being a survivor of sexual abuse as a child to growing up in poverty as a teen, Oprah hasn't left behind her lessons learnt so far. The au naturale ebony beauty, with her sassy curls and haute outfits, her personality in total has taken the world of fashion by storm.
FASHION CLOTHING FOR WOMEN OVER 50
The 1994 Emmy Dress
At the 1994 Emmy Awards gathering, Oprah stunned shutterbugs and fashionistas alike proving curvy plus-sized women can make a stance and a statement in sleeveless wear too. The gorgeous fabric, embossed with pretty floral prints, makes a lovely cocktail evening wear for Indian summers!
[Also Read: Plaid Fashion]
What to wear over 50? Take lessons from Oprah to wearing maxi dresses to Red Carpet Events.
Shades Of Brown
The wonders of colours in fashion and that too for plus-sized women like Oprah can be vehemently noticed. The YSL suit, a black top and Prada heels reassures big girls out there that presenting oneself with confidence is what matters!
[Also Read: Grandmother Fashion]
This surely is a great Fashion Guide for Women in their 50s. Do you see how she pulled all the attention to her neckline? Fantastic, we say!
Stunning In A Red Vera Wang Creation
Roll out the carpets once again as we take you back to the famous Legends Ball, which paid a tribute to self-empowered women. Oprah was seen gracing the occasion in a gorgeous red Vera Wang number, hosting the event and the show at the Bacara Resort in Santa Barbara, California. Off – shoulder dresses for women over 50 are also something to pull off with confidence.
[Also Read: Clothing For Women Over 50 ]
Stunning Peach And Pink At The Academy Awards Night
Oprah looked phenomenal at the esteemed Academy Awards show, wearing a bespoke Vera Wang gown in peach and pink. The gown is 100 percent hand draped with silk tulle touches and a sensual V Neckline to add more glamour to the ensemble. Fashion for women over 50 does not mean you ignore all our other fashion advices. Do you recollect that in all posts relating to plus size, we have very clearly mentioned that plus size women and whose with heavy breasts must choose V necklines as much as possible. Guess, Oprah has taken it pretty seriously.
When India Called
Fashion for women over 50 does not mean wearing only designer gowns and dresses. Sarees need to be considered too, right?
[sc:mediad]
While on her trip to India, Oprah dressed as the Indian women would. A dinner with the well-known Bollywood family – the Bachchans, Oprah was dressed in a silk Tarun Tahiliani saree. The orange and red hues played host to the sari-clad talk show queen, as she dined quite fine with the celebrity family!
Dressed By Bradley
Designer Bradley had the wonderful opportunity of dressing Oprah for the Emmys, when she received the 'The First Bob Hope Humanitarian Award In 2002'. The stunning off-white silverfish satin ball gown was the talk of town for many weeks ahead!
Orange Is The New Black
Held at the famous Sydney Opera House, Australia, Oprah made a stunning presence and note in her crumpled elegant orange ball gown on stage.
A Customised L'Wren Scott Dress For Oprah
It is a fact that Oprah never wears anything off the rack, and her designer wear is customised to perfection, just as she likes it. The L'Wren Scott dress in pink chiffon with a belt, diamond drops for the ears and nude heels for the feet, made a fierce fashion statement on one of her shows!
Age Brilliantly And Paint The Town Red
No looking back said her magazine 'O'. Oprah in a one piece, backless red number with sassy heels and hell a lot of confidence in her sixties, made the media moguls go crazy over this quirky red number look!
She Has A Touch Of Grey
Most celebritiess wouldn't dare to touch a shade of grey, unless in brooding moods, but OPRAH in all her confidence hosts a show wearing a long grey dress, with a pretty grey ribbon bow to the side of her bust line!
Here were the 10 trendy looks to adopt from Oprah Winfrey's closet, and we would ask you to show them to the wonderful ladies in their fifties and above. Style and fashion is meant for all, and not for a secluded group! As you see, fashion for women over 50 isn't really that difficult.