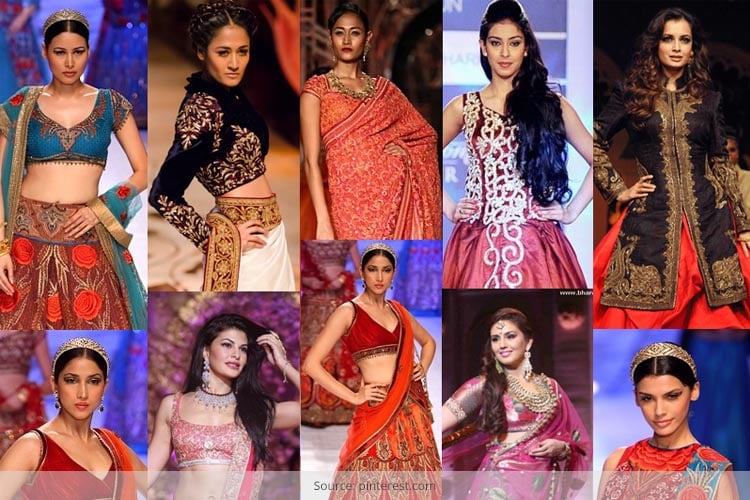 Time truly flies before my lashes could kiss each other! For me the year 2013 passed with a blink, the reason may be I am so much enjoying my work, especially being in an industry that witnesses a new trend with every sunrise. And if you could agree to my statement that when you find your job fascinating and invigorating, it's obvious time flies when you're having fun!
With holiday fever getting intense and new year fast approaching, I decided to have a sneak peak at some of the best fashionable moments of this year, which are worth remembering. With super exciting shopping season, chilly wintry nights and loads of fun, I have decided to round up the best of 2013 fashion trends.
Here are the best fashion 2013 take aways for you! Do have a look!
Believe me it was quite hard for me to pick the best fashion moments of 2013. Therefore, I decided to handpick 8 top Indian fashion designers, who are the crowing glory of the Indian fashion domain, which is rapidly influencing the international industry as well – the best being the recently launched Chanel's Paris-Bombay show. Continue reading!
1. The daring Bride By Kitsch King Manish Arora
It came as a complete surprise to see the Kitsch King working on bridal collection this year. Manish Arora's bridal show was unbelievably outstanding. His bridal collection at PCJ Delhi Couture Week 2013 were purely aimed at the free-spirited new age Indian bride, who dares to break away the traditional barrier for her wedding ensemble. You can click here to know more about his show.

The edgy fashionista who prefers to travel the world on her own should be fearless and bold. This is what Manish tried to convey through his creations. His sheer magnificence gave a new definition to the Indian bridal attire through his free-spirited designs. The designer took inspiration from Buddhist temples and merged them carefully into his singular wedding numbers. The designer always stands out when it comes to color blocking and prints. Instead of the typical wedding hues, the designer chose to go for glow-in-the-dark shades, which he combined with digital prints.
While anarkalis were paired with disco (glitter) leggings, his lehengas were paired with heavy contemporary neckpieces and sarees were seen with jackets in baroque prints and huge motifs. The traditional Varanasi sarees in silk, georgette, crepe, brocade and chiffon were given a dramatic makeover with crystal and sequin embellishment, yet far from the typical detailing.
2. Celebrating 100 Years Of Bollywood By Manish Malhotra
Manish reminded us of the 50's fashion through his tailor-fit Nehru jackets, sarees with embroidered embellishments and ghagras. The models were sent down in braided pleats with ribbons to relive the bygone era. The 60's and 70's Bollywood fashion was brought alive through timeless polka dot-printed skirts (reminding us of the Bobby days), bellbottoms, short kurtis (Kaka's favorite) along-with churidars.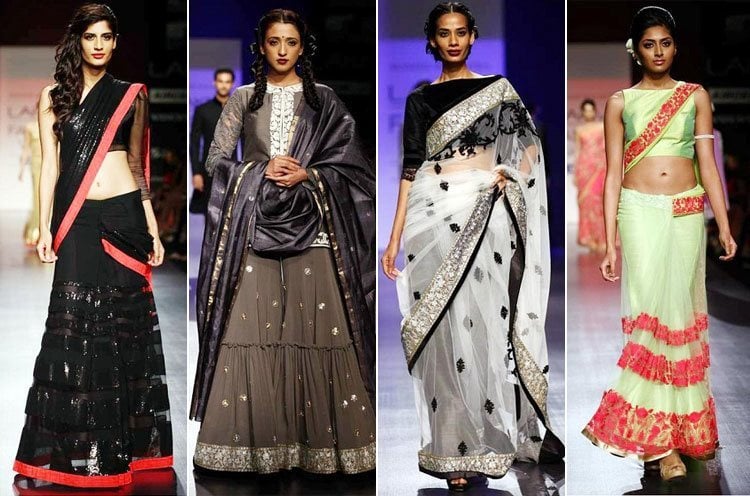 His 80's collection proudly represented the hippie fashion, while the 90's fashion was showcased in pastel shades of chiffon sarees (the Chandni days)!
Because of his profound connection with Bollywood like no other designer, he effortlessly showcased some of the iconic Bollywood moments from different eras through his splendid creations, maintaining a harmonious cod between the Bollywood cinema and fashion.
3. The Best Show Of Sabyasachi Mukherjee
Probably this was Sabyaschi Mukherjee's the best show ever, which he showcased through his vintage-themed Opium Dream show at Lakme Fashion Week 2013. His pièce de résistance based on Lakmé Absolute Royal was spell-binding and awe-inspiring.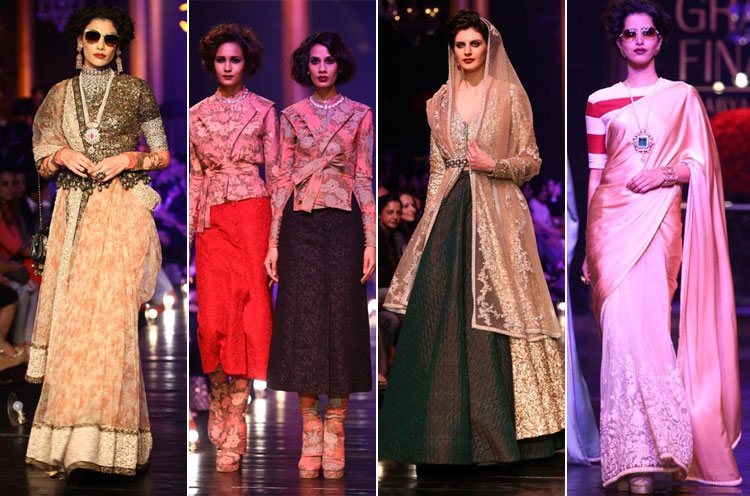 Sabyaschi's imperial fashion show was a tribute to the regal era of the queens yet with a hint of new-age fashion twist. His models were sent down in golden and other royal colored outfits with round glasses, imposing edgy queens and princesses. The designer relived the 1920 fashion era through a subtle use of maximalism against minimalism through earthy and rustic shades. Click here to know more about his spectacular show.
4.  A tribute To Mahakumbh Mela By Tarun Tahiliani
Our fashion designers are famed at offering some unique and unpredictable show every time. The ace designer Tarun Tahiliani exactly did the same thing by taking inspiration from our age-old Maha Kumbhmela  for his Wills Lifestyle Fashion Show 2013.
While millions were taking a dip in the Holy Ganges, the couture king was taking cues from sadhus and saints for his 'Kumbhback' show, as he had personally visited Allahabad to get deep into the Hindu religious aspects.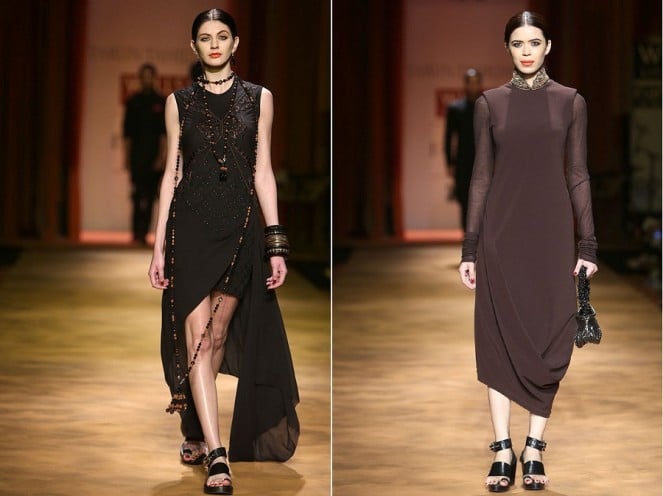 He showcases some of the rare collections, as his designs truly reflected spirituality and sensuality in optimum balance. Tarun made sure to capture some of the finest cues from this 55-day long festival in rich fabric, subtle shades and not to mention the drapes, which were a straightforward inspiration from the sadhus. His collection was more or less dominated by the red and saffron colors which understandably represents the sacred Hinduism.
[sc:mediad]
5.  Mulmul Masquerade by Rohit Bal
Rohit Bal debuted in Aamby valley India Bridal Fashion Week 2013, where put forward a spectacular show with Sonam Kapoor being his showstopper. As the name of show suggests, the designer used a vast use of mulmul and velvet in his creations inspired from Victorian and Elizabeth era.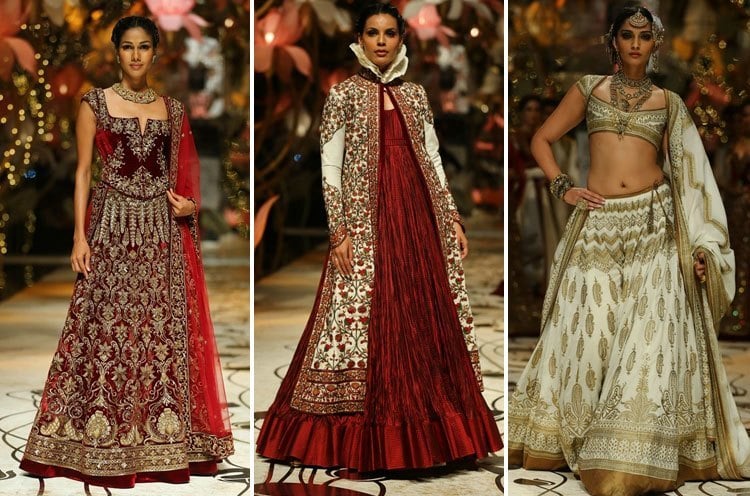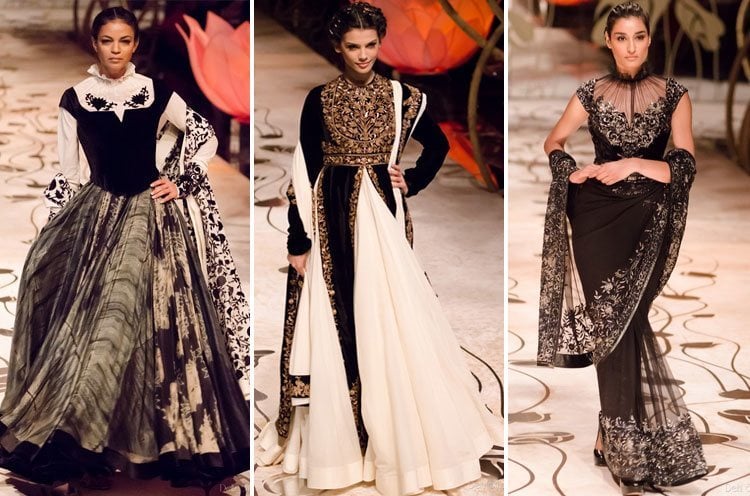 His style vision was illustrated by a perfect blend of Victorian and rich Indian cultural traits. While keeping the Indian bridal pattern intact, Rohit also made use of Victorian style gowns and Japanese Shibori tie-and-die techniques. While he paired his gowns with high-collar jackets accentuated with Kashmiri embroidery and ivory mulmul; his exquisite sarees and lehengas were paired with ruffled-neck blouses and intricate embellishment.
6.  Postcards from Benares by Masaba Gupta
Be it a Lakme Fashion Week or Wills Lifestyle Fashion Week, this year one designer who was spilling her magic everywhere was none other than Masaba Gupta. The young designer took the entire Indian fashion domain by storm, especially when she became the Creative Head of Satya Paul. Her saree designs spread like wildfire, after Sonam Kapoor and Mandira Bedi were frequently seen donning her creations. Her monsoon neon collection was a huge hit and not to mention her lipstick designs.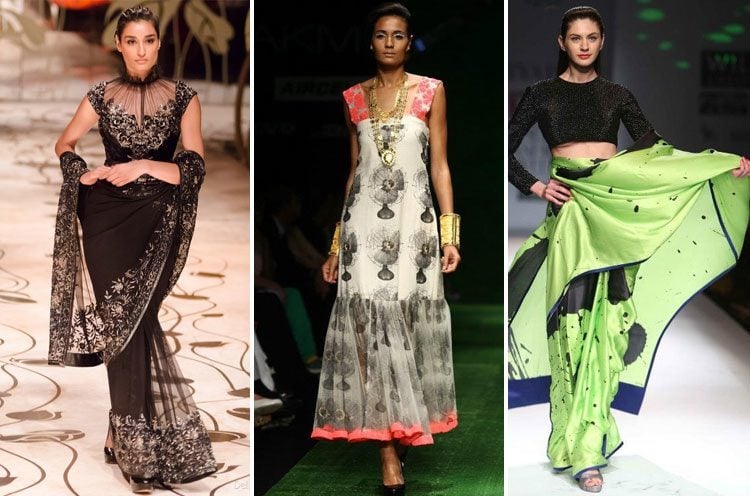 Through her innovative ideas, Satya Paul imminently rose to prominence in the saree world and they proudly referred their collections as the 'demi-couture'. Masaba's collections are a perfect blend of pet-a-porter and haute couture, thereby keeping her designs stand out from other designers' creations of her age.
The Postcards from Benares at Lakmé Fashion Week Summer/Resort was a huge hit. Her show was a prologue to the paradigm of her collection, inspired by the widows of Banaras. The dhoti skirt, which is quite a rage these days is Masaba's brainchild followed by the pastel and neon sarees and outfits flanked by telephone booth, cow, fan and lipstick prints, which are very commonplace but unique when it comes to fashion.
7.  Deconstructing bridal wear by Anamika Khanna
The saree has gone through several transformations this year, the most notable ones by designers like Anamika Khanna, Nikhil Thampi, Anuskha Khanna, Anita Dhongre and Payal Singhal. The festive season was bombarded with some fabulous ethnic fusion outfits, which satisfied even the edgy fashionista.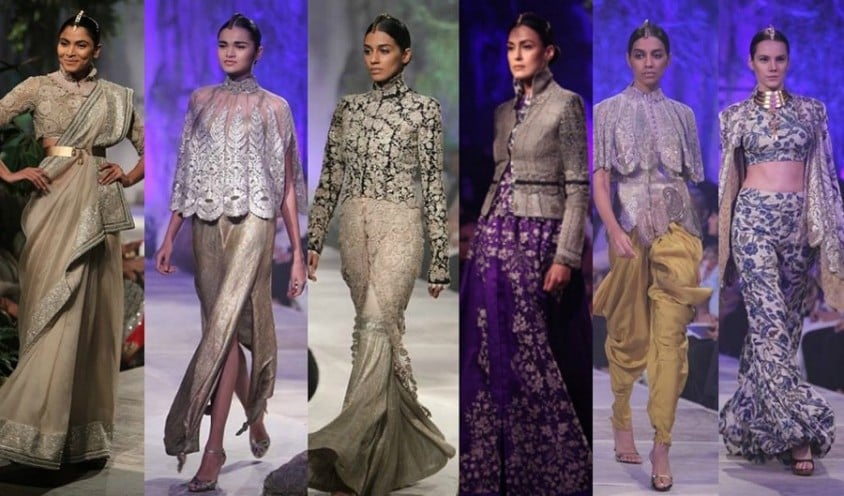 Anamika Khanna's PCJ Delhi Couture Week show made some of the country's best designers like Varun Bahl, Rohit Bal and Tarun Tahiliani on their feet clapping and gasping in awe. Anamika was seen so effortlessly deconstructing the intricate Indian bridal wear and transforming ethnic wear into chic couture numbers suitable for cocktail parties and events that demand western wear.
The models were sent down in modified version of the Maharasthrian nauvari saree, sharara trousers, mod maang tikkas and the celibate lehenga skirts paired with high-collared jackets. After looking at her collections, would you believe this designer has never gone through any formal training?
8.  Indian Punk by Nikhil Thampi
Let me tell you nobody can redesign the saree as Nikhil Thampi does it. The designer does not go beyond Indian territory to take inspiration, instead choose to experiment on our traditional outfits and giving them a stunning makeover.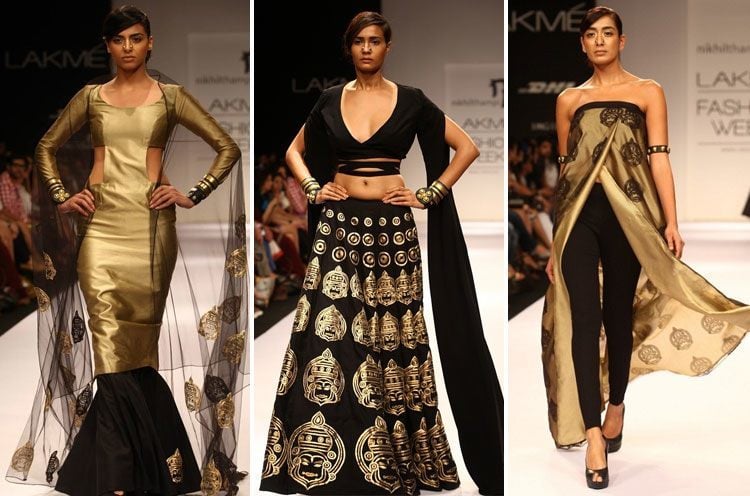 Nikhil's Indian Punk show has been his most popular show ever, where he combined India's classical dance Kathakali with punk elements. The Indian-Western fusion was a huge success, where he paid his tribute to the Southern culture and modified them with some edgy elements and not to mention his signature representations. Nikhil used traditional fabrics like silk, linen, net and cotton silk for his designs and used white, silver, grey, gold and black as his base colors. His array of silhouettes are an eclectic mix of fusion sarees, boxy lehengas and modified cholis. The Kathakali-inspired nose accessories were used as punk elements with his outfits.
Nikhil Thampi's designs are sold out lavishly at Pernia's Pop-up store, which were a huge demand in the festive season.
Well, these were some of my top picks from the Indian 2013 fashion trends. To summarize, the year 2013 was indeed a great year for the Indian fashion domain, with several historical landmarks, new additions and trends that are attracting the international domain as well.
Hope you enjoyed this post!
Images Source: pinterest.com