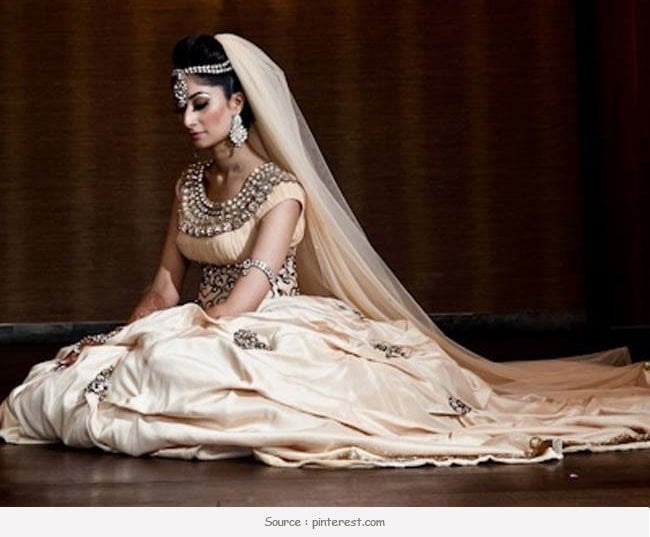 Most girls, from a very young age dream about their fairy tale wedding. Wearing the most beautiful bridal saree or lehenga, with the most breath-taking jewellery and beautiful henna designs on their hands and feet, imagine themselves in a in a lavish venue. This dream keeps building and growing with age until she finds the man of her dreams. While everything else is taken care by the parents and close friends, the clothes for the bride are hand-picked and chosen with much consideration. The ace fashion designers should be blamed for making the girls believe that their dreams are going to become true in the most beautiful clothes.
[Also Read: Bridal Fashion Week 2015]
Indian bridal dresses are something every girl looks into from the time she is young and continues to see different Indian wedding dresses even when she gets older. Although the tradition to wearing elaborate bridal wear remains the same, its only the colors, fabrics and styles that keep changing.
Various Indian designers have carved a name among bridal sarees, lehengas, and designer Indian outfits from Manish Malhotra to Neeta Lulla, Sabyasachi Mukhrjee to Ritu Kumar. These top designers in India have made beautiful designer garments for most B-town celebrities for their wedding. Most fashion trends are seen with their creations and with Bollywood celebrities showing them off at various events.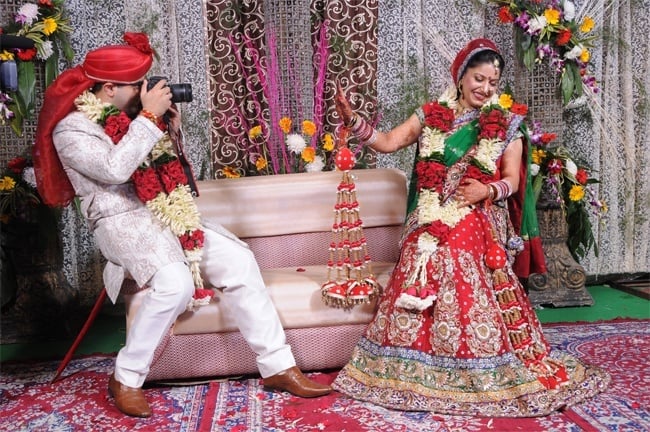 FashionLady gives you a list of top 5 Indian bridal wear designers.
1. Neeta Lulla
The name is enough. She is one of the most acclaimed fashion designers of India, who has won National Film Awards not once, but 4 times because of her magnum opus creations – a perfect blend of traditional and contemporary designs. Some of her best works have been seen in the movie "Jodha Akbar".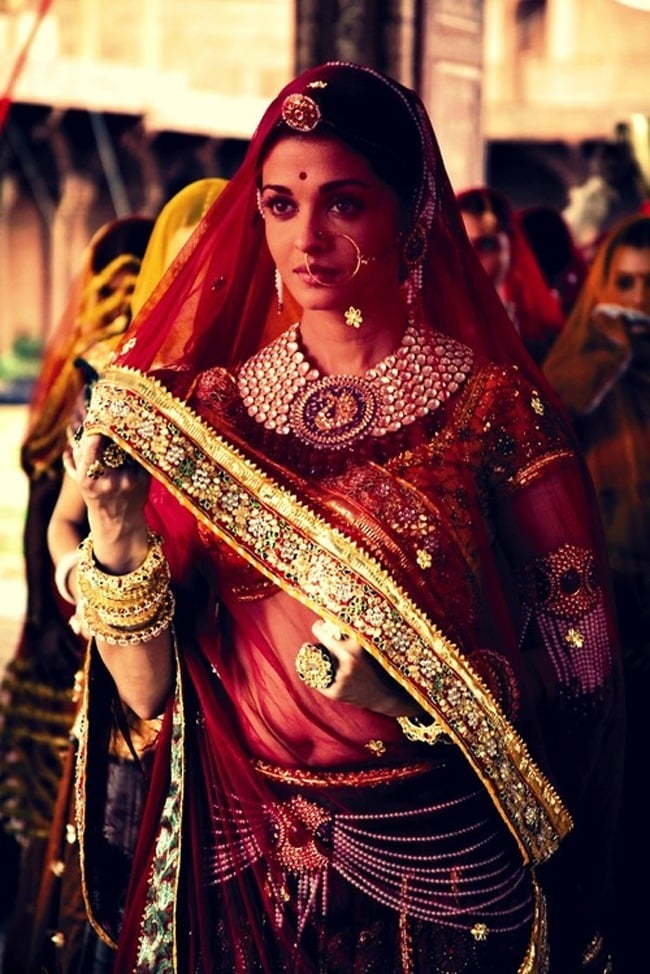 Although versatile, her forte lies in bridal trousseaus and her designs range from being simple to extravagant. Actresses heavily rely on her for their D-day. The Indian fashion designer, Neeta Lulla has also designed Aishawarya Rai's wedding saree. She can effortlessly design bridal wear to suit any culture. She has also designed Esha Deol's bridal wear in red and gold colour and many other kanjeevaram sarees for others.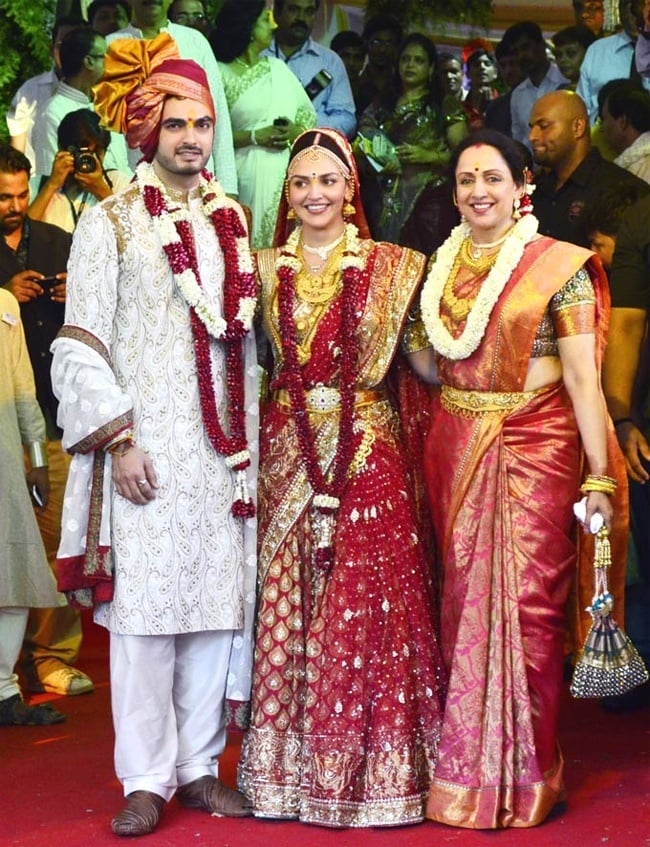 Quite recently she showcased her bridal wear creations at the grand finale of Rajasthan Fashion Week.Her collection was the perfect fusion of graceful cocktail gowns, anarkalis, sarees and bridal lehengas beautifully adorned with varied embroideries. The creations were ideal for the brides who wanted to get married in the summer-monsoon season.
[ Also Read: Look Princess-Like In Neeta Lulla Bridal Collection ]
The shades of gold, ivory, black, pink, blue, red and green just magnified the look of the outfits. Besides, the correct usage of soft fabrics like silk, crepe, chiffon, georgette and net embedded with elegant embroidery provided that sophisticated look.
All of her Indian bridal dresses and designs were light-weight and were created keeping in mind the comfort level of the brides. Bollywood actress Sameera Reddy was her show stopper who wore a stunning orange and yellow lehenga.
2. Ritu Kumar
Ritu Kumar, Indian fashion designer is the undisputed queen of the Indian fashion industry, as her creations have always been par excellence and offer a perfect fusion of sophistication and euphoria. Her designs are always known to be an amalgamation of contemporary and age-old Indian craftsmanship. This veteran fashion designer has been pivotal in helping the Indian fashion industry from its nascent stage to the form it is today.
Her bridal wear collections are always made up of rich fabrics like crepe, georgette, silk etc. With elaborate designs and embellishments, her mythical bridal wears can make any girl look stunning on her big day.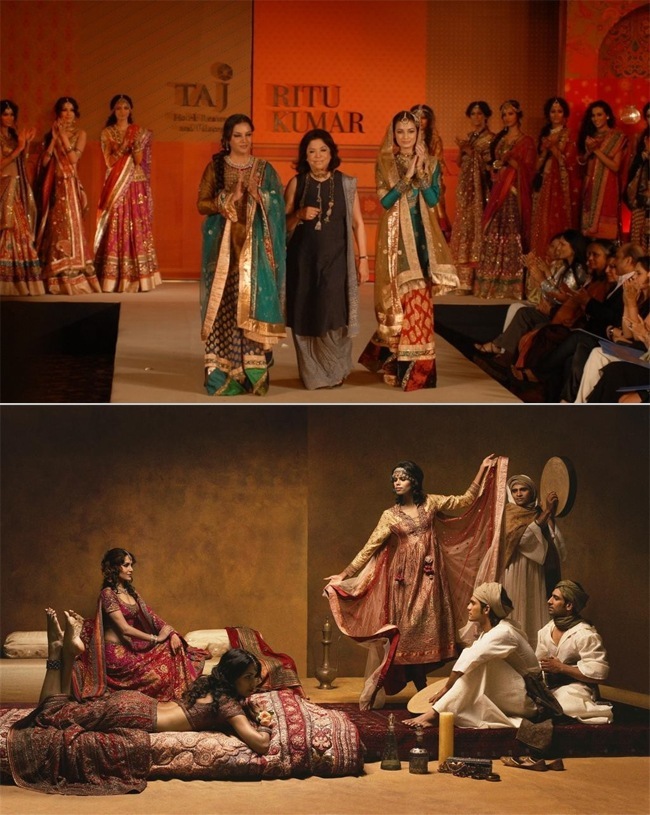 Rajasthan Fashion Week was indeed a show worth-seeing with country's leading fashion designers like Neeta Lulla and Ritu Kumar showcased the best of their bridal collections. The Padmashri awardee Ritu Kumar's models sashayed the ramp donning her superb ensembles. The viewers were just mesmerized by her free-flowing ethnic silhouettes ranging from anarkalis, bridal saris and lehengas.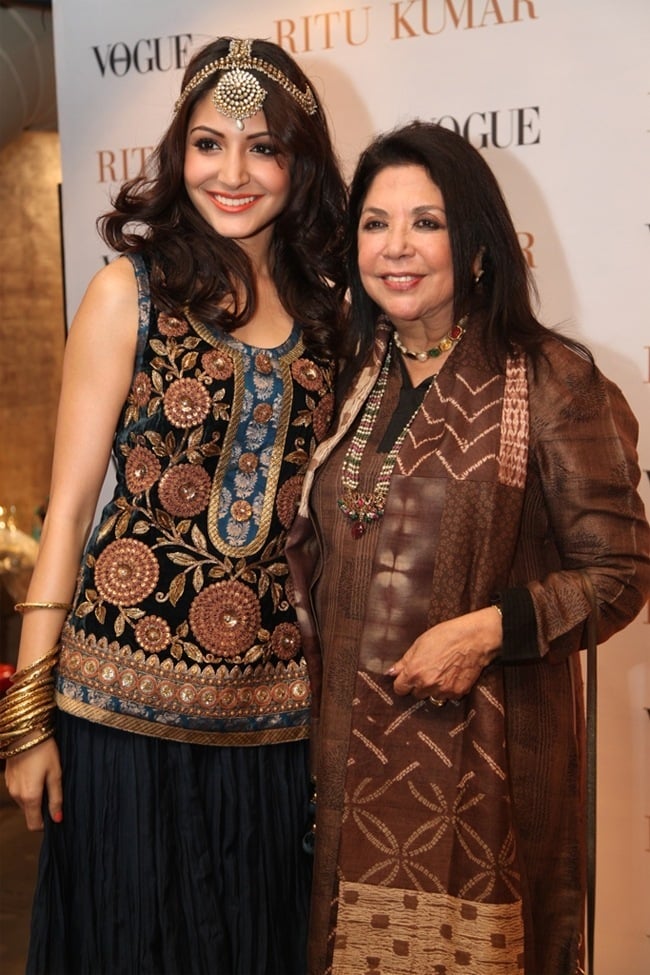 Here is what Ritu Kumar had to say
"The collection is all classical. Lot of layering has also been done on the garments. Short jackets and palazzos are perfect for the pre-wedding or post-wedding functions. Also the collection is for the young brides who prefer silhouettes that make them look young, modern and beautiful."
3. Tarun Tahiliani
Tarun founded his studio in 1990. His signature creations have since went on to become some of the most sought-after creations not only in India but globally as well. His creations are a fusion of elaborate textiles, meticulous tailor-made designs and refined luxury. His creations include pret-a-porter, amplification and couture and bridal accessories, which are Desi in their comprehension yet international in their appeal.
[sc:mediad]
He has reinvented the rich Indian heritage as contemporary high fashion through his masterly craftsmanship and the best-picked textiles from across the country and global as well. He is the first to introduce Italian pattern cutting and is popular for using digital textile printing. He effortlessly blends historical richness with contemporary chic.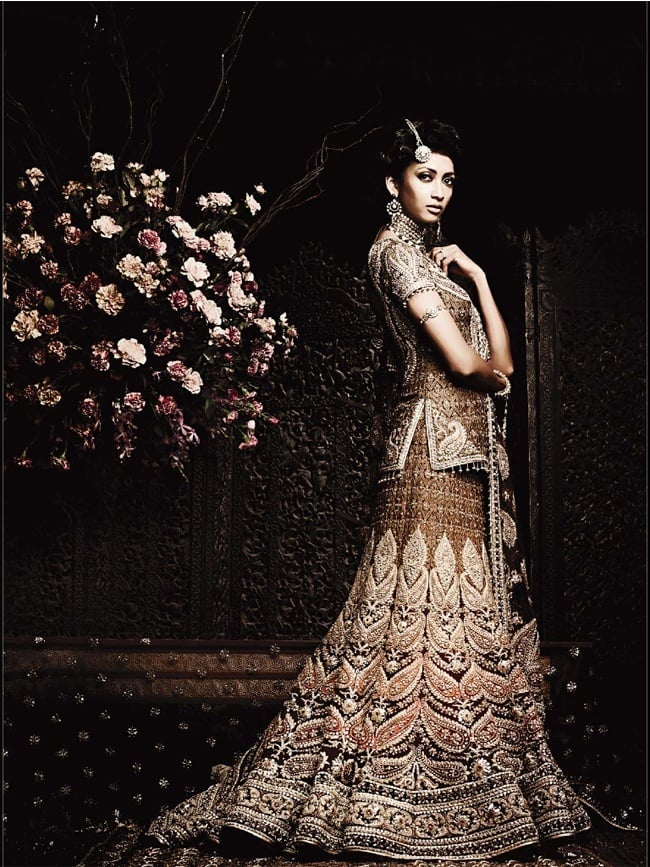 Tarun Tahiliani's wedding collection at India Bridal Week was elegance at its best. The glittering bronze gowns, sarees and lehengas had the effect of a mind trip – surreal and astounding.
[ Also Read: Mina Hassan Bridal Collections ]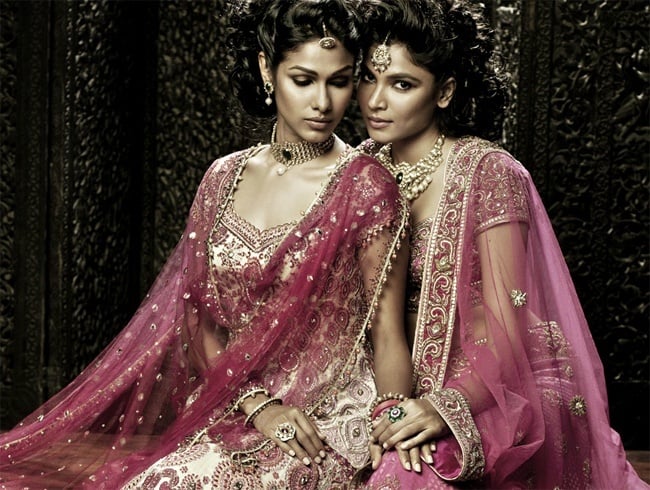 His creations included paisley, old motifs and floral designs. Besides, they also radiated colors of pink, beige, off white and the time honored combination of green and maroon. We loved the waist belts worn around the saris which can give any bride a delicate look to the outfits on the whole.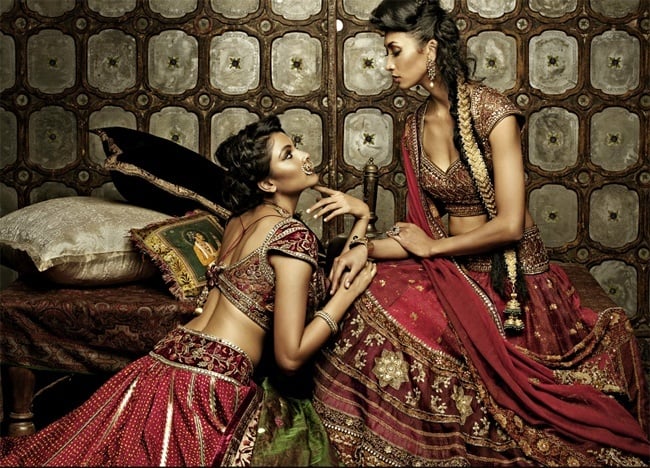 The Indian wedding dresses included crystals, flowing romantic gowns, lace and orchids. And the color story which he had opted was ideal for the wedding mood with reds as the forever predominant color while pink, peach, beige, fuchsia, rani pink, deep saffron, ivory, maroon and black were exhibited in perfect harmony. Embellishments were lavish with zardozi, sequins, antique gold work, clusters of crystals and appliqués which added to the exquisiteness of the garments.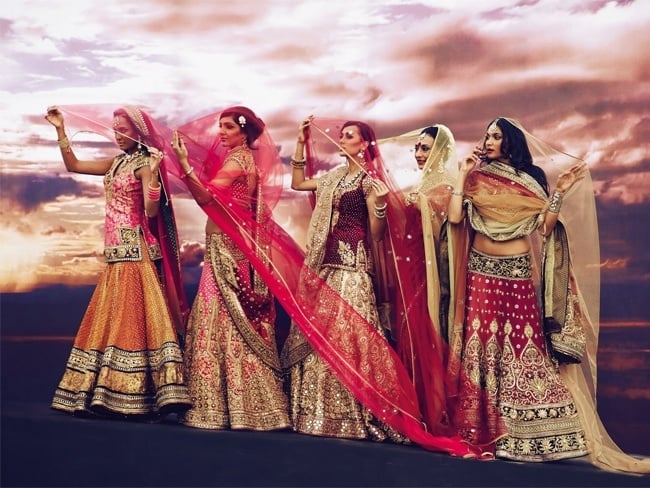 Tahiliani's collections mainly comprised of
Keyhole jackets contemporary anarkalis in juicy citrus shades with meshes of Swarovski elements with thread work adding to the attractiveness of the designs
Rococo, crystal chandelier lehengas and paneled long cholis
The gold net crystal splashed bridal creation with lace fantasy
Draped net saris with superb craftsmanship, self-designed brocade maroon sarees with heavy crystal and sequined borders
The eye-catching slim mermaid gown kurta, the draped net sari and sexy low back blouses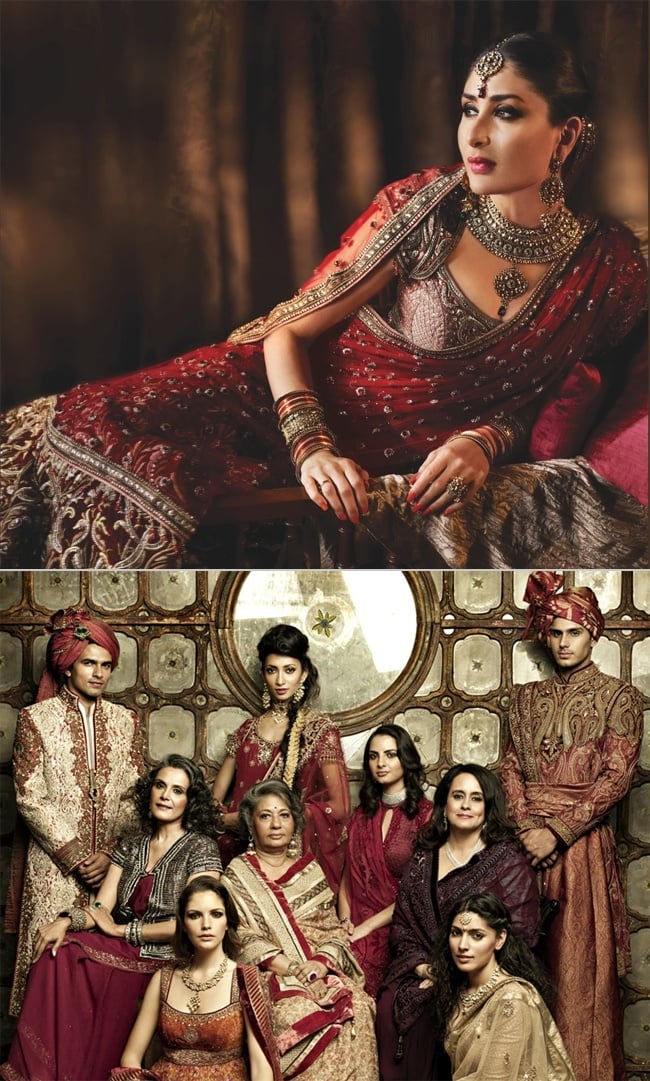 What Tarun Tahiliani had to say,
 "This exposition is a confluence of two great artisanal traditions in a unique fashion. European designers have always used Indian workmanship and now we will see a new fusion of Indian Couture using international construction with the finest weaves, embroideries, jewels, stones and techniques. Everything is luxurious, shapely, western silhouetted but with Indian sensibility. I've used colors like shell pink, ivory, reds and brown in fabrics like sheer tulle, velvet, georgette and soft net. I've used the finest of weaves, embroideries, jewels, stones and techniques. We have done saree drapes, anarkalis, lehengas with different shapes."
4. Manish Malhotra
Indian fashion designer, Manish Malhotra is a household name in India. In 1990 he bag his fashion designing career, and has gone on to become one of the most popular fashion designers Bollywood has ever had. He is one of the most favorite designers of almost all Bollywood actresses, including Kajol, the Kapoor sisters, Madhuri Dixit and Priyanka Chopra to name a few.
His bridal collections are just as gorgeous as his other couture designs. For almost all prominent events, celebs cling on to his creations heavily, be it for red carpet, marriage function or premiere.
5. Abu Jani And Sandeep Khosla
We have already discussed about 'The Boys', as they are popularly being called, in our previous edition in length.
This designer duo who recently completed 26 years in the fashion industry are one of the most sought-after bridal wear designers of India. The Abu-Jaani wedding collection always stands for pure Indian comfort. These designers are famed of hiring the best of karigars to complete the zardozi work on their delicate fabric which is then tailor-made superbly to create one of its kind designer bridal lehengas.
The Bachchans are a great fan of their and so is Dimple Kapadia's family who are a die-hard fan of their work. They are the first of the designers to introduce the use of chikan work in bridal dresses. Their bridal collections are available at their stores in Mumbai, Delhi and London.
6. Sabyasachi Mukherjee
The maestro of designing, Sabyasachi Mukherjee is one of the hot favorites of most of the big B's. Undoubtedly his label is the most sought one during the bridal season. An Indian bride would look incomplete without the essence of Sabyasachi creations flowing into her bridal wear.
His designs often are classic with an Indian touch. He is one of the first Indian designers to incorporate designs that use unusual textiles, fabrics, textures and embellishments. Indulging joys, rituals into his apparel that speak loudly about an Indian wedding, the designer has won millions of bridal hearts. His bridal creations are an ode to the richness of Indian culture.
Off late he has moved on to Indo-western themes that totally uplifted the fashion game. Here are few of his bridal collections that are worth-a-million bucks.
[ Also Read: Sabyasachi Mukherjee's Bridal Collection ]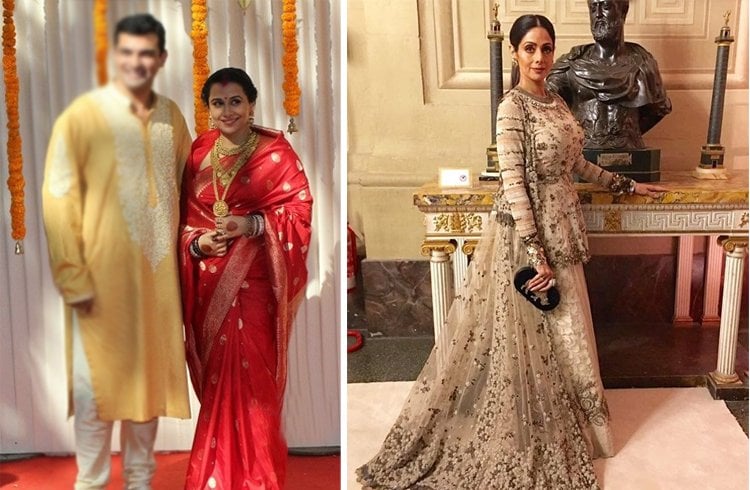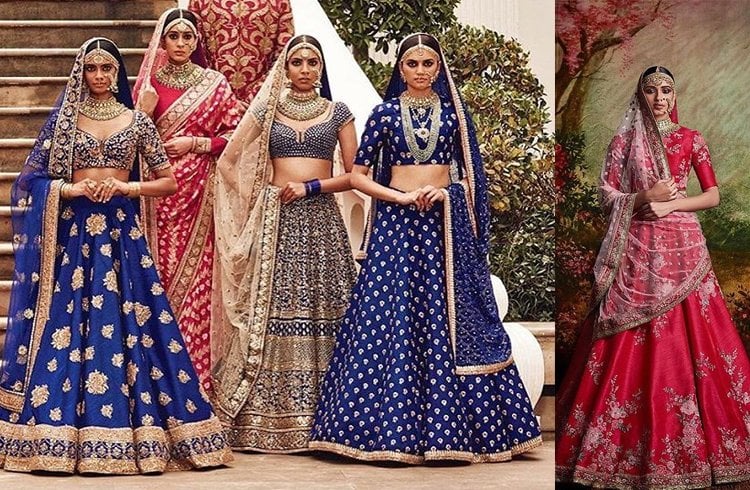 7. Anita Dongre
Pleasant and light lehengas is Anita Dongre's bridal style. Her creations are usually easy, breathable and classic. She is well known for her gota-patti works and is adept at using traditional techniques to create modern designs. Her fashion flare has always voiced the taste of the 21st century Indian bride.
If you have followed her closely, you will notice that this bridal designer beautifully blends bright and pastel shades to create the magical aura. Not just Bollywood but even the Duchess of Cambridge is a fan of Anita Dongre's creations. If you wish to look like a dream come true on your wedding day, pick the heaven-on-earth designs of Anita Dongre.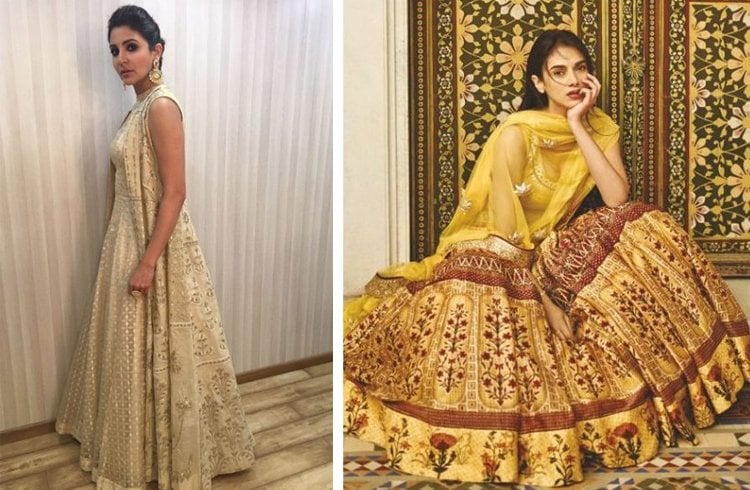 8. Shantanu & Nikhil
The duo, who started out as menswear designers, have created a name for themselves in the fashion world. Moving forward, they began to include Indian bridal wear and impressed the world with their contemporary style.
If you wish to keep the trend in limelight along with the traditions, then Shantanu & Nikhil make the perfect choice of bridal designers. Be it a bridal outfit or an after-wedding party, this wedding dress designers' creations exude charm and sophistication. They are skilled at playing with shades, striking a western twist to the ethnic look, and create a mystical effect.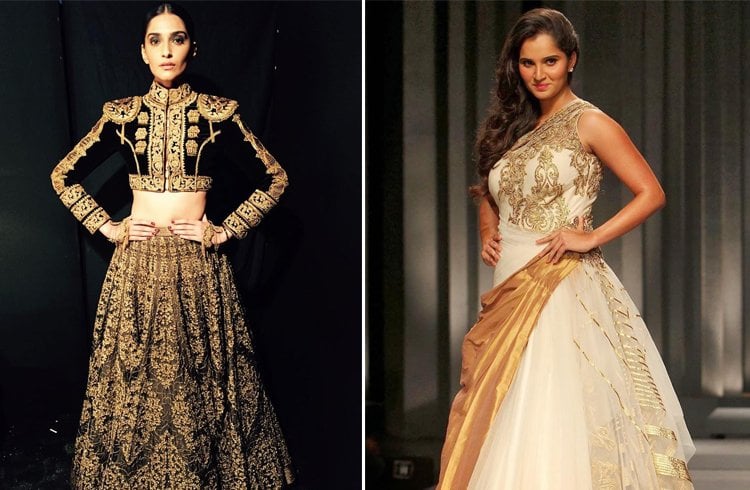 9. J J Valaya
The creator and owner of the luxury fashion brand, House of Valaya, the designer JJ Valaya is noted for his bridal collections. His creations are grand and rich with exemplary craftsmanship. Most of his designs include a lavish use of velvet and zardozi that add charm and elegance in abundance.
The gorgeous brocades and silks are blended along with intricate embroidery which transforms the outfit into a majestic bridal look. Keeping minimalism and holding the grandeur at the same time can only be achieved by the Valaya creations.
From Russia to Morocco, he finds inspiration from all around the world and infuses it into his designs. If you wish to make an unforgettable impression on your big grand day, then Valaya bridal wear will suit you the best.
[ Also Read: JJ Valaya Collection ]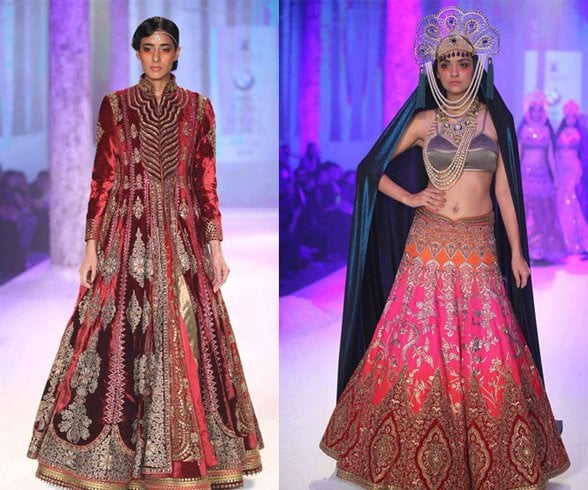 10. Rohit Bahl
If you would like to make a bold statement and lasting impression on your bridal day, then grace one of Rohit Bahl's creations. His apparel hold extraordinary embroidery inspired from Kashmir and the designer holds attention to every intricate detail of the outfits.
If you are not into shine and embellishments, then Rohit Bahl is the right choice for your indian bridal dresses. From simple yet classy saris, fusion cocktail dresses and mesmerizing lehengas, Rohit Bahl designs are versatile and can accommodate any bridal theme effortlessly.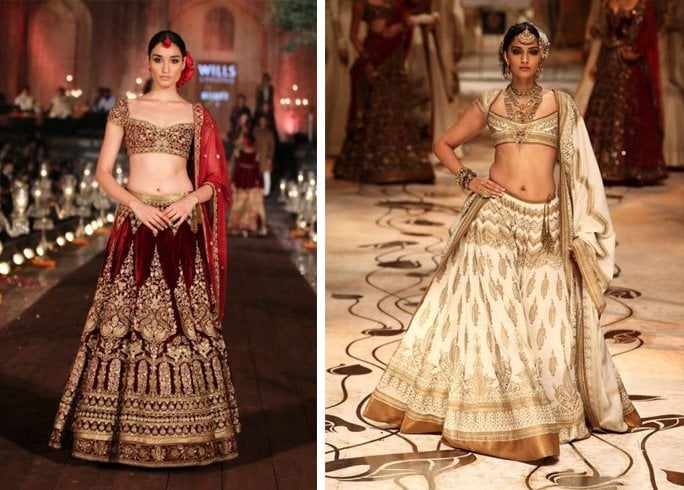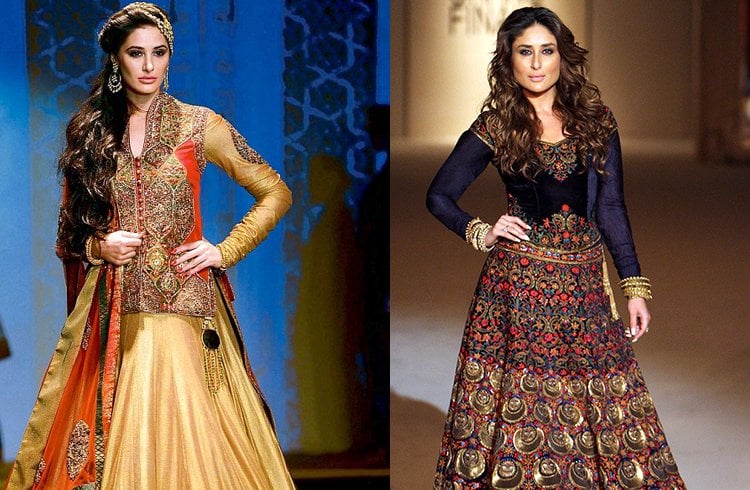 Apart from these above-mentioned indian fashion designers we also have many more remarkable wedding dress designers like Varun Bahl, Rimple & Harpreet, Anushree Reddy, Anamika Khanna etc., who create dazzling pieces of bridal garments and trinkets.
Tell us in comments whose bridal outfits you like the best and wish to wear at your dream wedding.
Stay tuned for more posts on Indian wedding dresses and Bridal Designers in India!
Images Source: pinterest