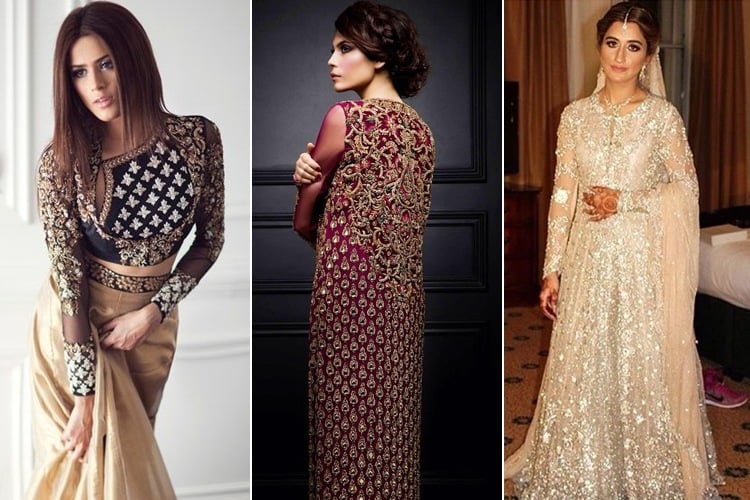 From across the borders and with love, we have the vivacious, and a lot of quirky bridal designers who have made an entrée into the international markets. One such name which we would like to talk about today, would be Mina Hasan bridal collections, our neighbor's designs and ensembles for the brides in the subcontinent are a ravishing lot to die for.
Quite extravagant and very formal, with the Mina Hasan bridal collections we show you today are a luxe chic lot that can allure regal touches from the maestro's brains. Daughter of the famous legend Noor Jahan, Mina Hassan has a regal touch in her work seeking inspiration from the art, talent and the grandeur of the family she hails from. Her royal background is resplendent in the elegance of her label – Mina Hasan bridal collections.
LATEST PAKISTANI FASHION BY MINA HASAN
Beautiful embellishments, very feminine and powerful, grand yet minimalistic intricate details and a myriad of adorations grace every ensemble and piece designed by Mina. Call them defined, majestic or simply princessy; you cannot but stop and hold your breath at the latest Pakistani fashion by Mina Hassan- take a look!
[Also Read: List Of Pakistani Fashion Designers]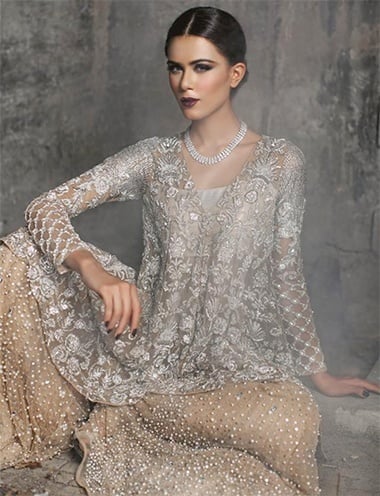 Mina is known for the chic bridal haute couture and amazing bridal wear she comes forth with. Each of the pieces in her collection doubles up as a formal wear for the upcoming wedding season and the ramps in 2015 were set ablaze with sultry brides walking around, showcasing her creations.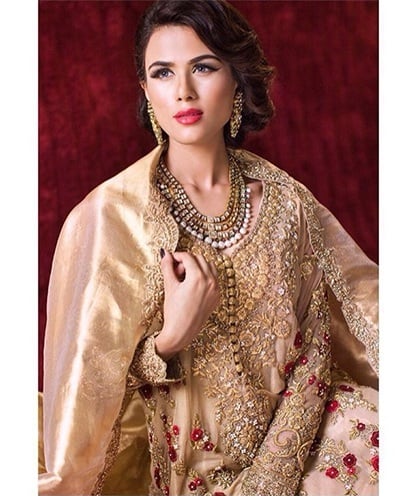 Across Karachi and Lahore, Mina has her flagship stores calling potential brides to come check and try her collections, hues and shades quite unconventional, embroidery that speaks of an outstanding touch, patterns and cuts not regularly seen. Most Indian bridal designers need to take notes and cues from her.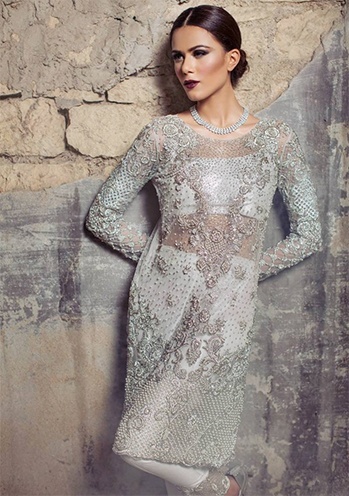 What we love about Mina Hasan Pakistani designer's collection is that she doesn't shy to break away and yet stay traditional with her bridal collection. For example, jewel encrusted chunky bridal haute couture, to make you feel like a princess but in a modern way with a touch of tradition involved.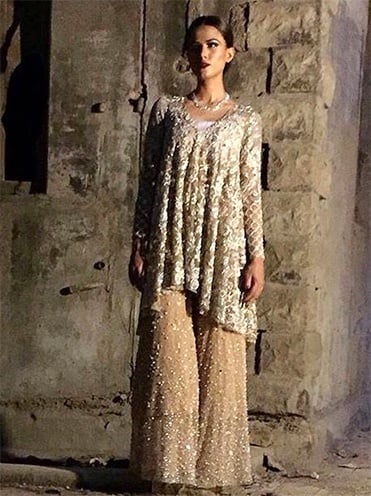 Mina Hasan's Designer Wear Collection
[Also Read: Local Fashion Designers Of Hyderabad]
There are dresses with metallic tones for the bride to flaunt and with a heavy look too, but she balances the combos with pastel shades embossed on them. Another note our designers in India should try and play with.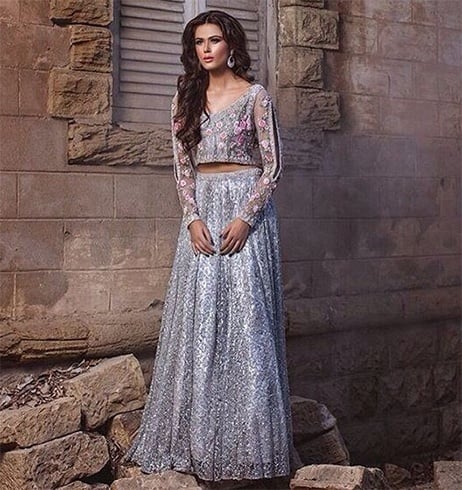 Resham thread work on bridal dresses are seen aplenty with Indian bridal wear, however, Mina goes one step ahead dressing them piece with diamantes and stones.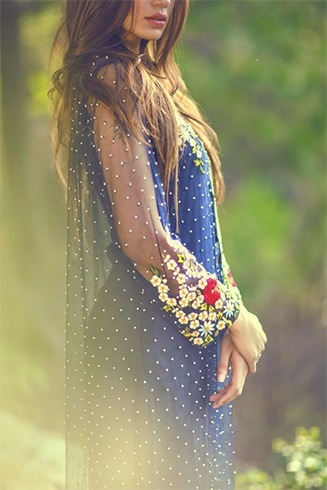 Bridal Collection By Mina Hasan
For brides who would like lighter tones on their bridal haute numbers, Mina shows us colors and combinations to rock on with.
[sc:mediad]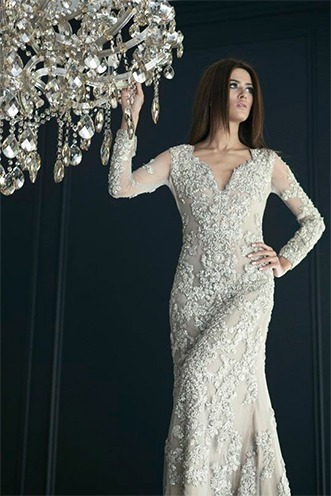 Mina Hassan plays with majestic touches and flowing silhouettes. Each piece handcrafted to finesse, with luxe embroidered patterns that speak of royalty and princessy touches.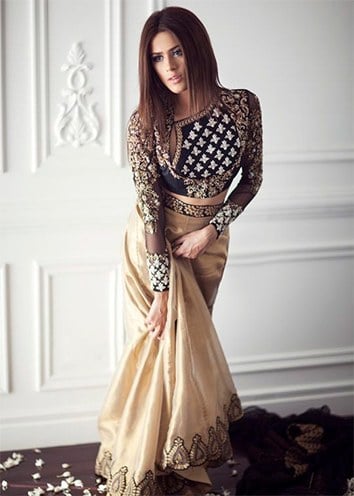 Every bride needs a BFF as a stylist for her D-Day look, and somewhat Pakistani designer wedding dresses designer, Mina Hassan brings just about that. Today if you take a look at what our Indian designers do for the brides, you would be wowed. However, if the Indian designers only go a notch more than just repeats or an indo-western touch, we would have haute models at the mandaps.
[Also Read: Indian Designers On Foreign Carpets]
Pakistani Designer Wedding Dresses
Embellishments or the lack of it on a bridal dress, Mina Hassan sure teaches us how to play with cuts, designs, shapes and styles- never compromising on traditional touches but bringing out the power of feminine ways on modern luxe bridal numbers too.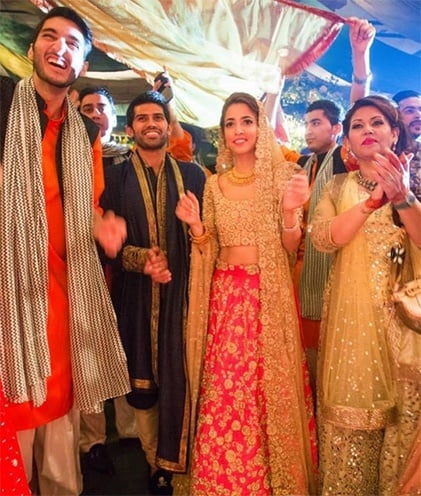 Not all brides have to be dolled up in sarees or lehengas, ghagras or shararas only, there are brides who look for the unique wedding salwar too, which is what most wedding dresses of Pakistan look like. Mina Hassan doesn't fail to satisfy them as well.
Build a bold identity and a quirky one at the same time too, wearing one of the best wedding dresses of Pakistan or emulating the scene. Your wedding is a once in a lifetime affair, and you would want it to be the talk of the town in a positive way, wouldn't you?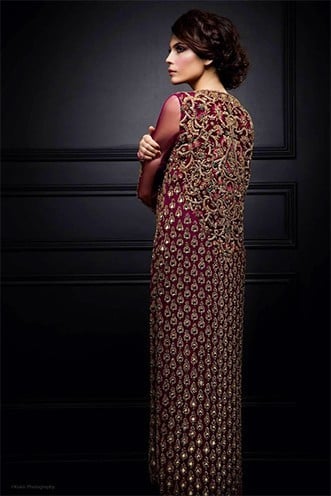 Think about the wedding dresses of Pakistan for inspiration maybe, and get your karigars working on the same lines.