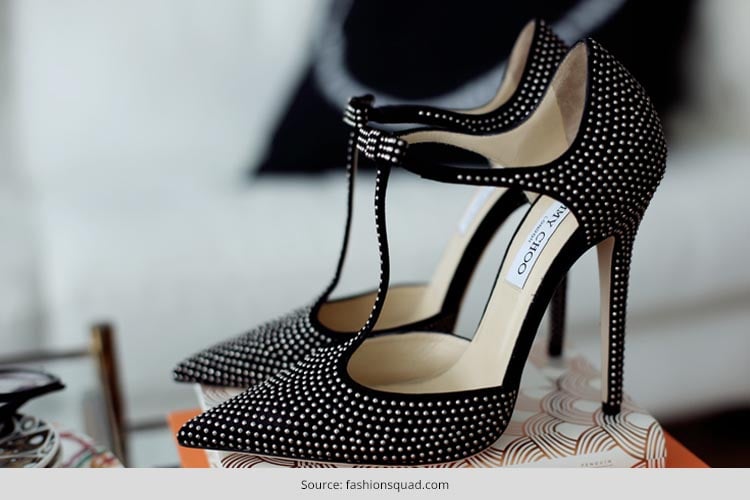 We all need a pair of Jimmy Choo heels, no questions asked. And even if you prefer flats or sneakers, we still need a pair of the branded heels for style and the oomph factor. There are many more reasons to say why Jimmy Choo heels are a must-have in every wardrobe for most women out there- they get you the right attention and make others burn with envy. Jimmy Choo heels help enhance the look and flatters the body too, and there are many varied for us to take a pick from as well.
[Also Read: Most Expensive Shoes in the World]
Jimmy Choo Dress Shoes
From stilettos to pumps, kitten heels to wedges, Jimmy has understood the mind of the woman who has a thing for shoes!
1. Obvious to say but a pair of Jimmy Choo dress shoes when worn right adds the oomphatic height we all desire to have.
2. You wouldn't look too petite with your man when out in public, and your natural stature would be vibrant too in those heels. It also adds to your confidence, when you desire to be a little more statuesque as well.
3. Bring on the attention with those heels dear PYTs, for Jimmy Choo knows how to make women draw attention to detail, and the world at their feet.
[Also Read: Types Of Heels To Wear]
4. Stylish like the models on the ramps and the fashionista diva out there, you could have Jimmy Choos worn for all events and occasions, even the most somber ones around.
5. Add more confidence into the world out there with Jimmy Choos on your feet. The shoes add glam sham to anything you wear and you get to look sexy and tall too.
6. Talk about your personal style in these beauties, and feel better at the way these lovely heels add more grace and grandeur to your personality too.
7. Accentuate your sexy legs and make them look amazing wearing Jimmy Choos today, they help enhance your posture and brings about a leaner look.
[Also Read: 5 Shoes Hacks That'll Keep Your Feet Happy]
8. Did you know, wearing the right shoes or heels can actually help tone your legs too? And in addition to that, the shoes help you also improve the way you carry yourself to any event; especially noticed when you walk or stand.
[sc:mediad]
9. Plus sized beauties and girls with plenty of curves could wear Jimmy Choos to look tall and slim too. Wear the precious babies with any outfits and you would be an attention grabber at the parties.
10. Classic styled heels with closed toes are very professional to look at, and you can wear them at work or for the leisure moments too. This is what makes Jimmy Choos so versatile and a very good investment to think of!
11. Jimmy Choos are a perfect fit, and they do not provide any discomfort as such which is why even though the Jimmy Choo shoes price could be a little steep, they are long lasting and enhance the look for every occasion!
12. If you want to have your toes spread out and not painfully huddled, look for open toed shoes.
13. Colours and styles when it comes to Jimmy Choos to choose from are a myriad lot, and believe us when we say you would go berserk searching for the right one!
14. You would not suffer with bites and pains wearing Jimmy Choos, since they are made with love and tested for comfort as well.
[Also Read: Chic Embellished Footwear Designs Would Love]
15. The inserts of every Jimmy Choo pair are comfy enough for your body to bear the weight and the feet to relax in. There is no reason for you to worry about the tripping or the heel coming off, since Jimmy Choo pairs are known to be of the highest quality.
While celebrities endorse and wear Jimmy Choos, we would want to know which of the fifteen pairs we showed you caught your fancy? Do write in and yes, take a look at these cute Jimmy Choo wedding shoes too.
They caught your fancy, didn't they? Have fun and do pick a pair of Jimmy Choo wedding shoes for the D-Day too!