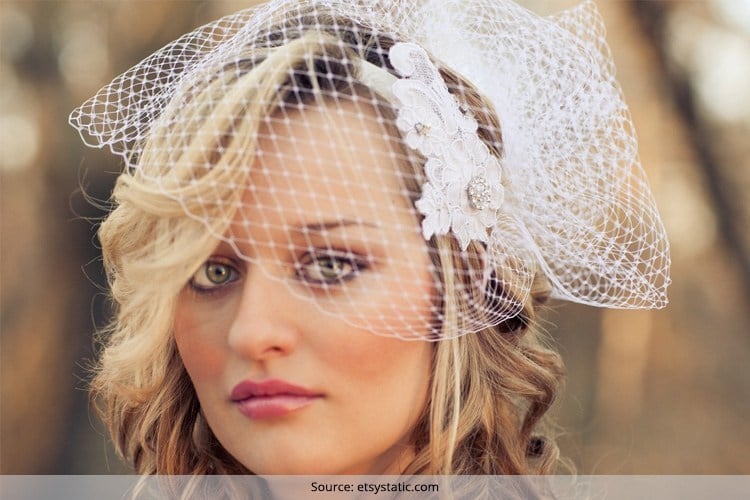 The new-age desi bride across all communities and religions in the nation is a very demanding girl, and she very well knows what she wants. Not the run-of-the-mill princess is the modern Indian woman, she wants a little something different to flaunt at her wedding, and here we are talking about head accessories that bring about the crowning glory effect.
Keeping that in mind, we would like to show you myriad styles of bridesmaids' hair accessories and Birdcage Veils to choose the best for you D-Day saga and also motivational talk on how to wear them pretty too. Excited?
Lets look at different lace wedding veils including net and so on
Decide on Your Look
More and more wannabe brides these days are opting for the old-world-glam-sham look at their weddings, wearing Birdcage Veils. From clothes to makeup, hairdos to accessories, traditional touches with modern edgy contouring is the name of the game!
The Indian Christian bride keeping in mind the climes and the weight of a wedding veil, wants to ease out on the wedding saga, and are opting for birdcage veils in net, sheer or satin these days.
[Also Read: Bridal Headpieces for The Crowning Glory]
The look is very chic and vintage, with a touch of the old-1930s look and a very sophisticated one that too. The options are a large range for anyone to choose from, and the best part is, the birdcage lace wedding veils can be worn for cocktail parties and at your BFFs shaadis, sangeets and their weddings too!
Why So Popular?
Lace birdcage veils are popular because of the detailing done on them. Some are minimal while others are overpowering. Some of them are worn as long veils, while others are worn solo for the chic vintage touch and look.
Whatever be your choice, you still would look elegant and grand at your wedding or someone else's wearing the birdcage veil.
The Buck Doesn't Stop Rolling There
The bride-to-be has to have her bridesmaids couture matched up and in sync with the colour and theme of the wedding, which is why the long veils are mostly worn by the bride, while the birdcage veils are handed over to the bridesmaids to wear. And there are pretty bridesmaids hair accessories, made from sheer, net, lace, satin, rayon, cotton as well and silk too, made for the elegant ladies to flaunt at the wedding.
[Also Read: Wear Bohemian Wedding Flower Crowns]
Should You Be Sporting a Long Train of Veil?
A long train of veil is a gorgeous piece of fashion any bride can flaunt at her wedding, and it is but a traditional headpiece which every mother-of-the-bride carefully chooses for her daughter. But sometimes, the right headpiece for the bridesmaid to match up with isn't found easily and customization for the same doesn't work too well. The answer here then would be to present the lovely lasses with lace or sheer and very gorgeous types of veils.
[sc:mediad]
50's Glamour
Recreating the glamorous weddings of the fifties isn't tough anymore, and the bridesmaids could now emulate the look of leading divas back then – Grace Kelly and Audrey Hepburn to name a few.
Fancy the look of Sophia Loren or Marilyn Monroe, maybe Bridgette Bardot too, the birdcage head piece would stun the attendees and grab quite a few eyeballs too.
Birdcage veils with faux pearls or maybe from faux fur too, even lace bolero as well could be the ideal fashion statement to wear at your friend's wedding or yours.
[Also Read: Bridesmaid Hairstyles For Long Hair]
How to Choose Birdcage Veils
Decide on the colour of the birdcage headband you would like to flaunt at the wedding
Popular colours doing the rounds are champagne to ivory, pearly whites to off-whites with crystals and pearls or fur and lace
The length is what you should also take into consideration – they come in two lengths. Short ones to cover the eyes, and long ones to cover the entire face.
What type of netting would you like to have? French, Russian or English?
The embellishment on the birdcage headband for bridesmaids speaks a lot about the wearer's individual fashion taste and choice. Decorations to feathers, ribbons to lace, pearls to beads, diamante to wooden chunks and more, sit and decide with your bridesmaids and if possible, a stylist too!
We hope you find the best birdcage veils for your bridesmaids, and should you as a bride-to-be want to wear one yourself, we would suggest the longer types of bridal headpieces, which covers your entire face, using our Bridal Veils Style Guide.