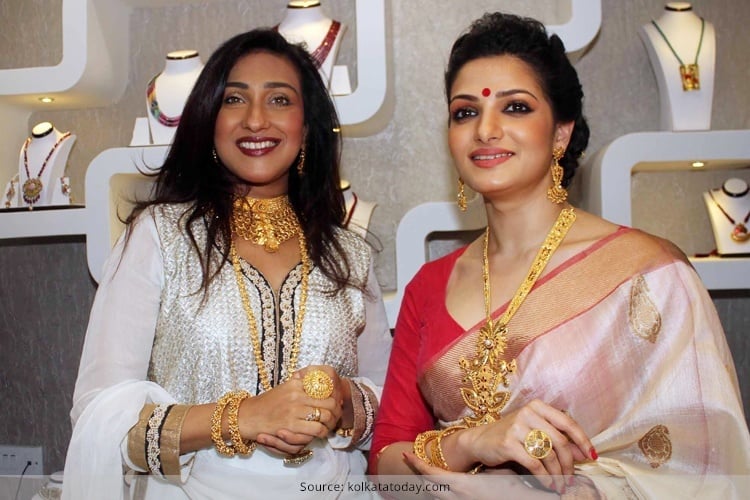 Gold Jewelry of Bengal falls enormously different in appearance and texture than the gold jewelry found anywhere else in the country. Kolkata Jewellery is characteristically intricate and fine in terms of designs. As such the molds used by the craftsmen working in the field of jewelry designing in Kolkata are totally unlike the ones used by the rest of the country. If you are a Kolkatan, you perhaps already know what I am talking, but if you are not a local of the city and are just touring for a short while, you better pick up a piece of gold jewelry from this City of Joy.
KOLKATA JEWELLERY SHOPS
Here is a list of the best jewellery shops in Kolkata.
M.P Jewellers
M.P jewelers is one of the most celebrated jewellery shops in the city. With its multiple stores across Kolkata, it has won customership from every nook and corner of this former Indian capital. Most of its stores are located in the major junctions making it easier for buys to connect. The staff employed by MP jewelers are exceedingly friendly, and despite the all-time crowd in the stores, one does not feel ignored or overlooked by the salesperson. The service of M P Jewellers are marked by professionalism and the products are coined by quality. You will not be disappointed in them with your purchase. They also specialize in astrological gems along with gold ornaments.
[Also Read: Jewelry Shops in Hyderabad]
Anjali Jewellers Kolkata
With their increasing number of showrooms across Kolkata, Anjali is peaking its reach among the Kolkatans. Recently, they have opened an impressive number of stores in the adjacent towns as well, and this growth only speaks of what an impressive designation Anjali Jewellers have acquired for themselves among the best jewellery stores of the city. The brand is remarkable from their wedding jewellery collections with reasonable making and service charges. Along with pure gold they also deal with diamond jewellery. Anjali Jewellers is famous for the celebrations discounts they come up with occasionally. During Valentine 's Day they provide incredible concessions on the purchase of light weight jewellery.
Chardrani Pearls
Chandrani Pearls is enjoying the monopoly in the trade of pearl jewellery in Kolkata since decades is a noteworthy jewelry shop in Kolkata. The quality of the pearls available at Chadrani Pearls is indisputably high and they employ some of the most celebrated designers to design their pieces. Initially trading only in white and crimson pearls, they have now ventured in the arena of colored and cultured pearls and other precious stones. In Chandrani you will find something that goes with every outfit in your wardrobe. The pearl sets of Chandrani with their classy patterns will add that extra panache to your look any time of the year.
P C Chandra Kolkata
They are yet another big player contesting among Kolkata's best jewellery stores. Eloquently recognized for their wide display of wedding jewellery, P. C Chandra also offers a range of light weight rings, earrings and pendants for regular use. This chain of stores has extended its reach beyond the main boundaries of the metro and has established stores even in rural areas. Nevertheless, the popularity of each stores is proving to be a new feather on its cap every day. The goldsmiths of P. C Chandra are always striving to create new and alluring designs on continuous basis. One must check out their spread during the Durga Puja season.
[sc:mediad]
Senco Jewellers Kolkata
Senco Jewellers are best known for the color of their gold and the quality is never even the last question one would ask about the products of this store. They boast their expertise in heavy wedding jewellery, but there is a trick here. They can create large pieces even with lesser amount of raw product. Thus the pieces would look heavy but will not make a hole in your pocket. Senco is also the go-to store of buyers looking for astrological gems. The gems they sell are all GSI tested and a piece worth of staring at for hours.
Kalyan Jewellers Kolkata
[Also Read: Jewellery for Different Face and Body Types]
Recently, to respond to Kolkatans' high demand of gold jewelry, even Kalyan Jewellers have opened a couple of branches in the city. Though the population of Kolkata maintains high level of loyalty towards its native makers, some of the folks are also experimenting with what new products and designs the nationally famous chain of jewellery brand has to offer. Must say, Kalyan Jewellers is picking up sales in the city as well.
Bow Bazaar
The above listed stores are the most celebrated Gold Jewelry Stores that Kolkatan love to crowd round the years. However the love of gold that Bengali's are born with take them to shops beyond these branded stores. If you happen to visit the city and buy some Bengali gold jewellery, you might also choose to take a lazy stroll across the street of Bow Bazaar. Bow Bazaar is replete with many small sized jewellery stores which sit there since the British era. They might appear unimpressive by the looks, but a peek inside these stores will demonstrate the amount of talent and hard work the goldsmiths put into their craft. The service charge and making charges are comparatively lesser. The products are totally worth giving a try.
[Also Read: Bengali Jewellery Names]
All these stores have developed a tendency of offering huge discounts on Durga Puja, Dhanteras and V'day lately. Again, as the price of gold in Kolkata is dropping now-a-days, like many other major cities, Kolkatans are in a mad rush to hoard up their lockers with jewelry. If you are in Kolkata now, don't miss this 'golden' opportunity. This is the time.