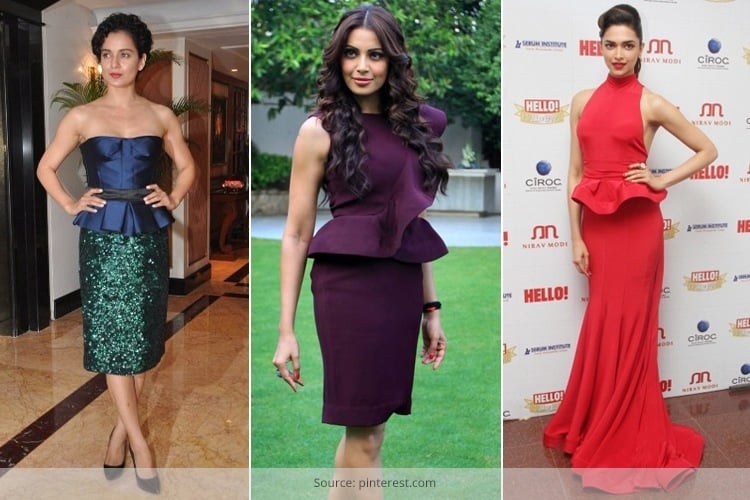 Peplum dress is that kind of attire which is essentially feminine plus an excellent way to flaunt your shapely curves. And when you want to wear such an exclusive outfit you need to take some cue from leading fashionistas. Well! Who can be more inspiring than our ever charming and always in style Bollywood actresses. From red carpet events to casual outfits – celebrity fashions is all gaga over peplum dress.
Let us show you how to wear peplum dress in style
Peplum dresses are body hugging and thus there is an urge to have a perfect peplum dress body type. Although you need not be skinny or size zero to wear this fashionable dress, you need to have a well-toned body for sure. It is of paramount importance when you shop for your peplum dress to try it and make sure it is the one that suits you the most. If bought without proper thought, peplum dress fashion can turn out to be a disaster for you.
Let us check out how some celebrities wear a peplum dress flawlessly and turn heads wherever they go.
[Also Read: Sequin Dresses For Date Nights]
Peplum Gowns
When Aishwarya Rai wore a peplum gown at the Cannes film festival, it turned out to be an absolute hit instantly. She looked ravishing and chose the perfect colour as well as minimal accessories to get the look. When you do not have an hour glass figure, choose very thin silhouette so that it sticks to your body well. Also, be careful in choosing the colour. Lighter shades work well when you want to look slim, and you can wear eye catching colours when you have the perfect figure. Look how stunning Deepika Padukone looks in red backless peplum dress.
Peplum Tops With Pants
Another way to add a peplum to your wardrobe is to have a peplum top. You can easily team up a peplum top with jeans or formal pants. Check out how this leggy lass Malaika Arora Khan wears a bright yellow peplum with blue jeans. Even Priyanka Chopra carries it stunningly with full black party wear attire in Bollywood style. Remember, when you choose the shoes for you peplum attire, let it be simple ankle strap shoes or court shoes so that all the attention goes to your dress and not shoes.
[sc:mediad]
[Also Read: Chic Looks From Sex And The City]
Peplum Tops With Skirt
Peplum tops with pencil skirts are an excellent way to make a style statement in a party or a formal event. Peplum tops with one sided shoulder or off shoulders or even full sleeves make for stunning attire. Look how gorgeous Kangana looks in a green and blue peplum dress. A point to note on how to wear a peplum dress is to simply sport a dark top when you are busty or have broad shoulders. On the contrary if you have large butts go for a dark coloured skirt or bottoms. Parineeti Chopra has done it so gracefully.
Peplum Dress
A peplum dress is a classic and all-time favourite when it comes to celebrity fashion. This single colour peplum dress is for the perfect ten figure. Asin in this ivory coloured outfit simply looks elegant. We definitely need to take a cue from her on how to wear a peplum dress and how to style your hair. Keep it simple is the mantra. And while choosing accessories go for something contrast but plain. Also choose the colours of your dress sanely. See how Bipasha Basu does it with elan on her dusky skin.
[Also Read: Celebrities With Broad Shoulders ]
Don't you think wearing a peplum dress in a right way will turn you into a diva? Try it out.