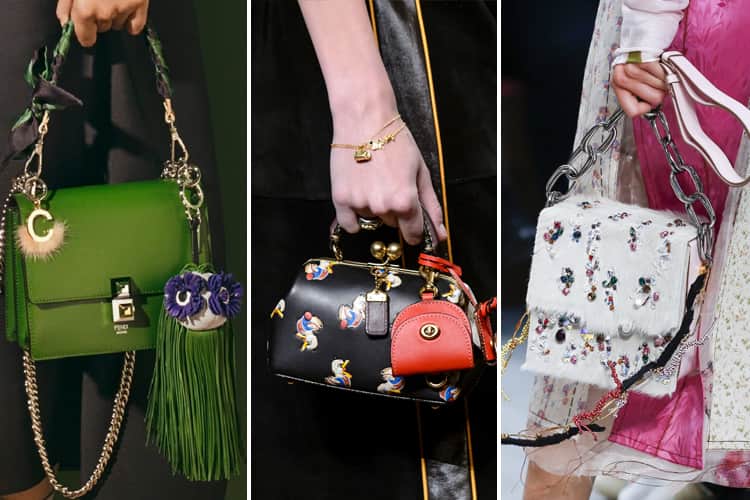 With winters almost on their way out, fashion is going to take more of a spring-summer twist. Dark colors will pave way for soft, moderate and minimalistic ones. A trend you will see in handbag trends 2019. When it comes to variety, you will see a bit of fabric and snakeskin here and there. A few louder prints, sparkles, and appliqués will be there to catch your attention.
But if you are a lover of "simplicity", then this is your season.
Top 16 Handbag Trends 2019:
Enjoy this detailed list of best handbags 2019. And don't forget to tell us your favorites.
1. Fringe On Your Bags:
Fringe has made it to the latest handbag trends of spring/summer 2019. At Balenciaga, sack-style bags were covered in a thick fringe cut out from a fabric.
For Calvin Klein, there was more fringe than the bag on the runway. But it looked chic nevertheless. For Versus Versace, Donatella created a bejeweled fringe on the bags that were ornate and symmetrical looking.
Fringe ruled on the top designer handbags 2019 for spring – a case in point, Christian Dior, Alexander Wang, Carven and more.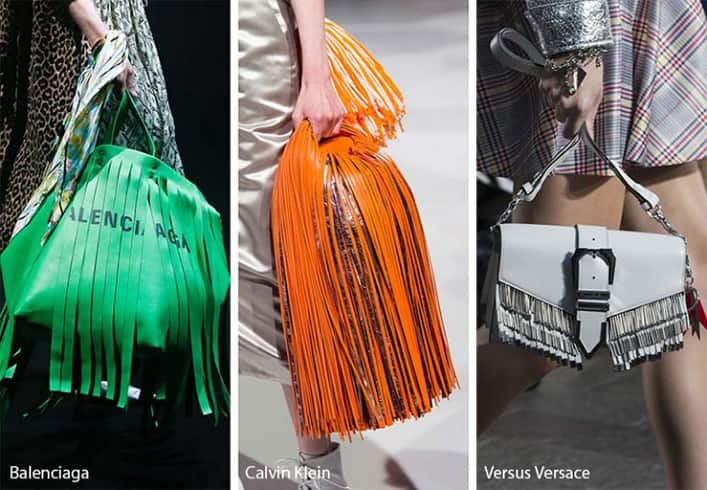 2. Solid Bags:
Talk of fashion handbags 2019 and sporty elements were also spotted on the runways for spring/summer 2019. Sporty bags could be seen in the form of solid backpacks and purses that looked perfect for extreme adventures.
Louis Vuitton was all about grey backpacks with a rounded top. Lunchbox style bags were also available in a similar design. In Balenciaga, you could see solid plastic handbags in striking colors – tough and sturdy looking they were impeccably designed.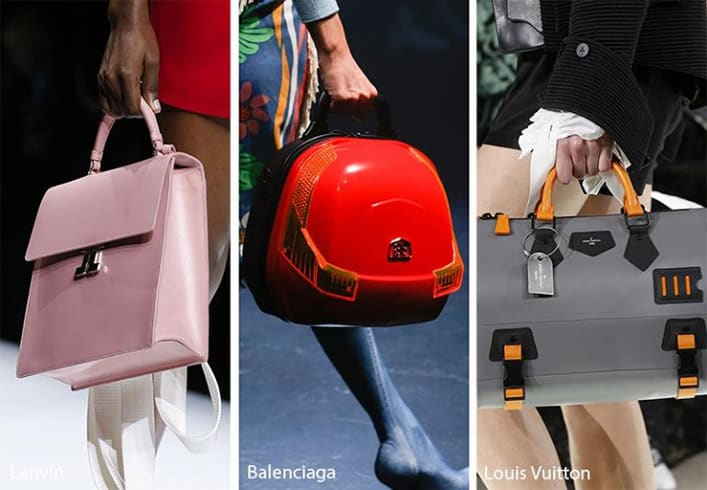 3. Tassels:
They are always a fun element, and always add that extra zing to a purse or bag. Tassels could be seen in different shapes and sizes as a part of the handbag trends 2019.
Balmain came up with a round silver bag with silver tassels attached to its zipper (and you wanted to see gold tassels, is it?)
Tod's put up snakeskin wrist bags embellished with tan tassels. More size-worthy than the bag itself.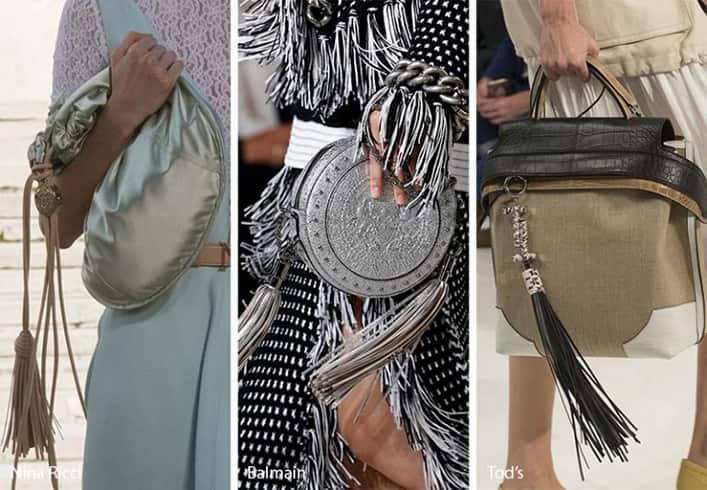 4. Bucket Bags:
A perfect choice they looked and make for the best handbags 2019 of summer. Their casual shape looks good while it scores utility points for holding a lot of things. Miu Miu bucket bags were particularly adorable with bottoms made of woven straw and leather strap giving them a professional vibe.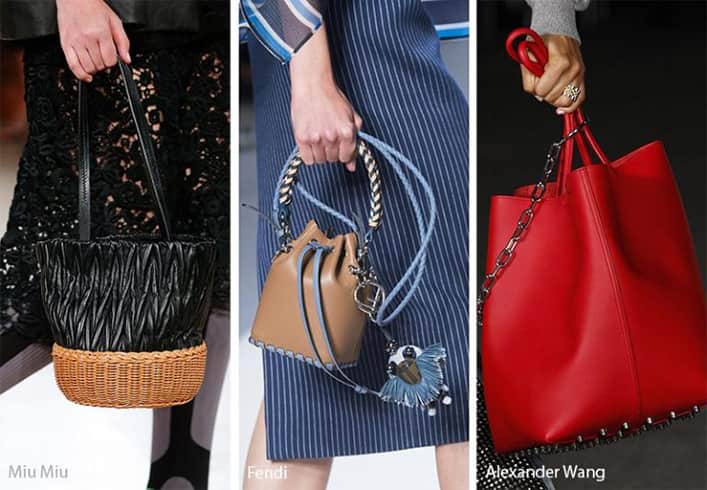 5. Triangular Hobo Bags:
When Hobo means Boho!
Hobo bags make for an easy and comfy choice. Coming to the latest handbag trends, many of the hobo bags were designed in a triangular shape.
Tom Ford hobo bags were made of plain black leather with a front pouch. In Michael Kors hobo bag, yellow crocodile skin was the perfect material for the drawstring. Navy suede was the material of choice for triangular-size hobo bag.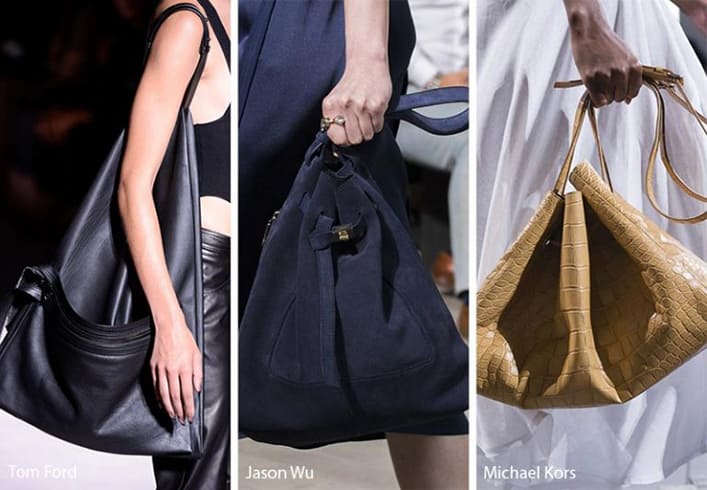 6. Saddlebags:
They have been the classic purse choice for many casual occasions, thanks to their rounded design and rustic feel. Plenty of leather saddlebags were seen as fashion handbags 2019 for spring.
Chloe came up with small purses in saddlebags with rounded bottoms, in brightly colored leather and with silver or gold chains when it came to handles. The Loewe collection stood out on account of snakeskin used in saddlebags.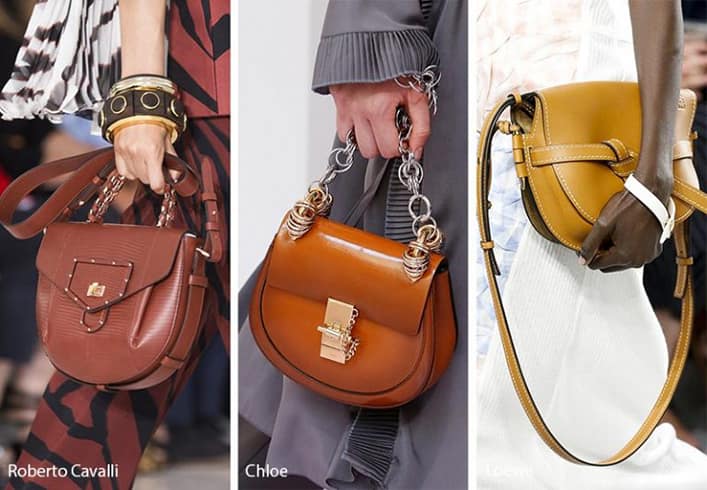 7. BrandSay On Front And Center:
A bag is seen as one of the best signs of wealth (actually, it is). That is why there is a trend in people to buy bags with larger logos and brand names which look prominent. Designers have been prompt to get their logos gracing many of the fashion handbags 2019.
At Dior, all kinds of purses, clutches, and bags proudly displayed variations of the slogan "J'Adore Dior". Consider Lanvin, jewel appliqués were used to emphasize the brand name. While at Moschino, the brand name was everywhere, including on the spring 2019 bags.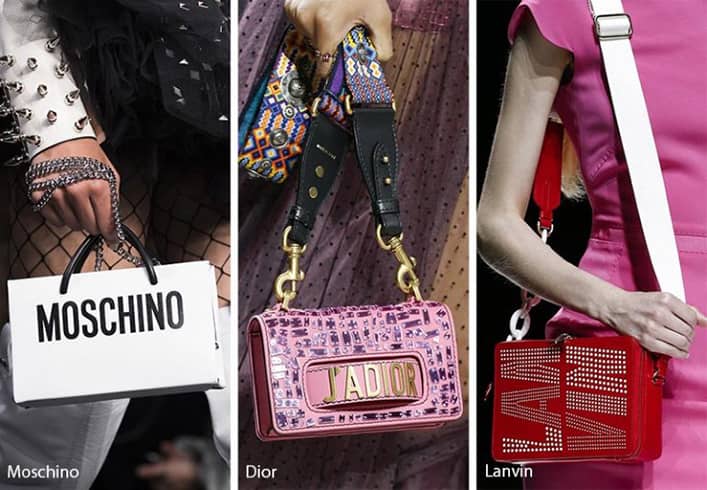 8. Pillow Bags:
Cozy looking pillow bags is a sight. But that as a handbag trend for spring/summer 2019? Sounds interesting!
Maison Margiela presented coziest bags – made of plush white material and looked pillow-shaped minus the handle. Simone Rocha presented loose velvet bags which looked classy and appropriate for the evenings.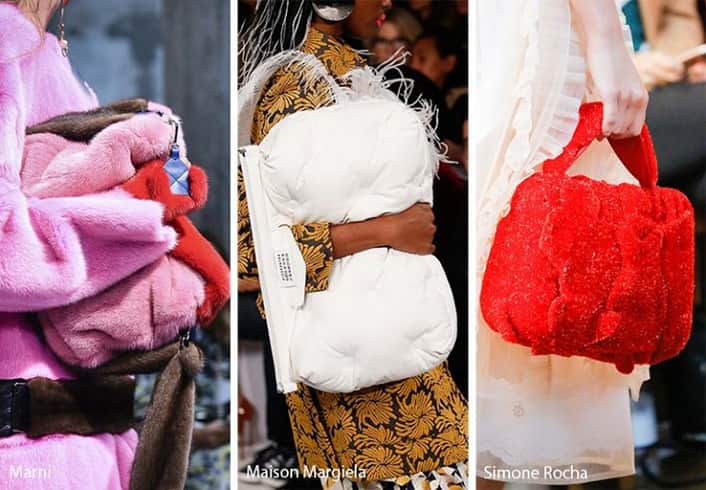 [sc:mediad]
9. Fur Bags:
Spring-summer might be too hot for fur but if you are keen to show opulence, then go for fur bags. Every bag of Altuzarra was covered in a fuzzy white or black fur. Furry boxes also showed their presence and approval in Marni, Simone Rocha, and others brands of LUXE handbags.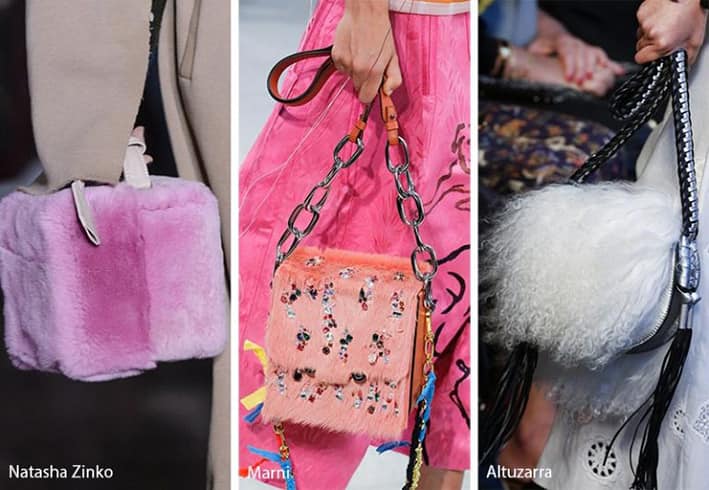 10. Raincoat As Bag:
Balenciaga bags as raincoat rocked the latest handbag trends. They were colorful, and made of plastic – some call them as "skirts" (not a bad idea) but actually, it is tiny raincoats for the bags.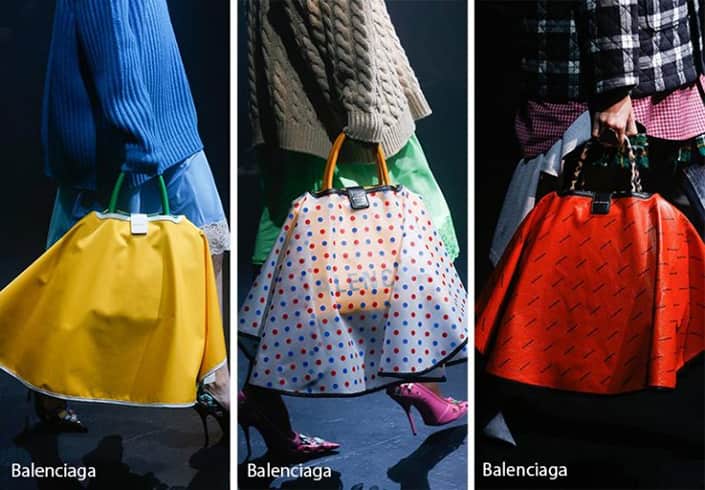 11. Studs/Punk Bags:
A stud is all about giving an impression of metallic elements. That's how you get a punk feel. And so, punk purses and backpacks made it to the spring handbag trends 2019. Alexander Wang saw a hybrid of smaller and larger studs, especially on red bags. They were seen in small rows, along with the bottom of the bags, which anyways looked elegant. Balmain bag, on the other hand, was early-90s style backpack made of black leather and covered in small-sized silver spikes.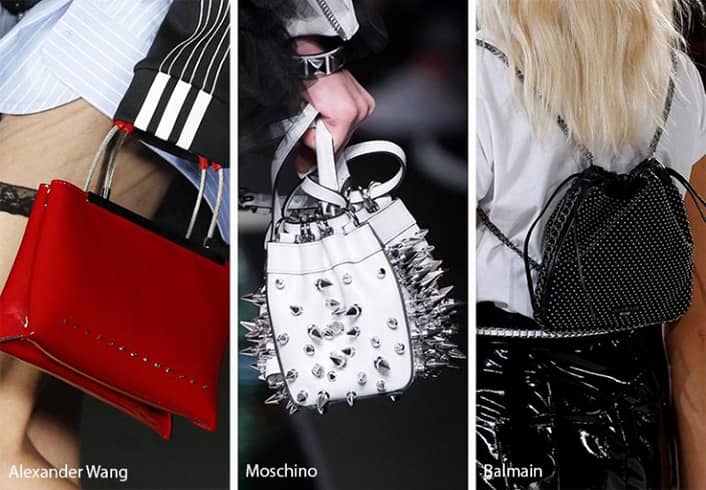 12. Cross-Body Bags:
They are a perfect choice for a night out – a wild night – because they hold so many things – a phone, a lipstick, some money, yet they won't bounce around when you dance. Valentino came up with glittery cross-body bags – perfect for an outdoorsy party gal.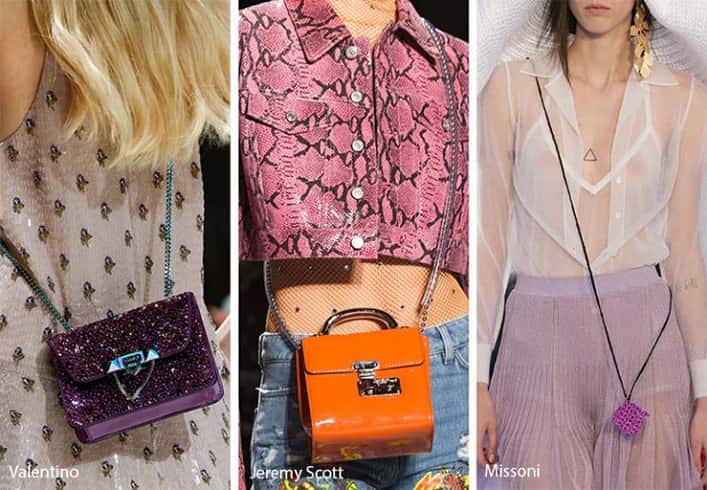 13. Geometric Creations:
Architectural inspiration, is it?
Yes, you could say that. Because the latest handbag trends come with some unique shapes. Take, for instance, bags from Gabriela Hearst. With flower pot-shaped bottom and accordion top, could you believe you are holding a piece of architecture on the fashion ramps? Cube-shaped handbag from Louis Vuitton with the pointed-edge down is yet another proof of creativity in fashion.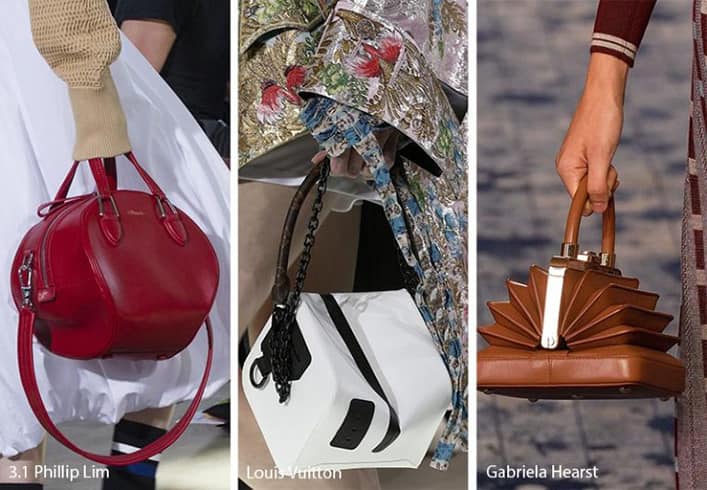 14. Animal Bags:
Hey, animal bags aren't for the coochie- coos or toddlers. Some of the best handbags 2019 also show you cool and adorable animals in the form of purses or backpacks. The Philipp Plein show had models carrying tiny backpack shaped like teddy bears. These bags were made of black leather and had eyes and paws created out of dozens of tiny crystals. Adorable dog purses from Thom Browne were also made of black leather. At the Emporio Armani show, bags were in the shape of the label's eagle symbol.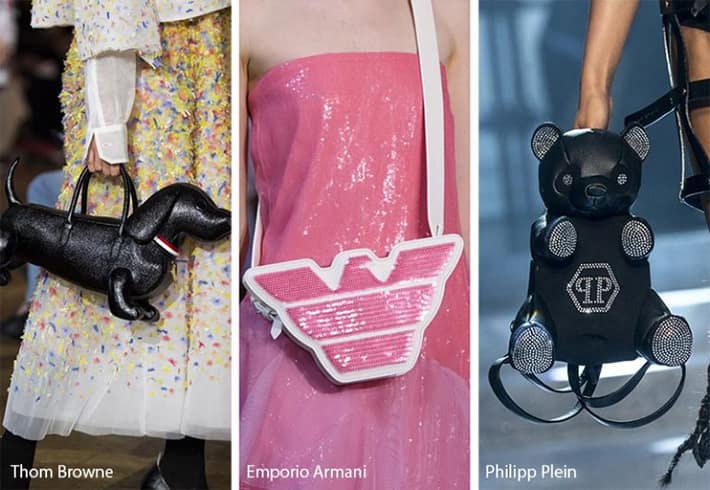 15. Pastel Purses:
For the warmer seasons, pastels are a natural choice, because they are so cool and soothing to the eyes. Many designers chose the pastel palette to make the fashion handbags 2019 to be on the spring side.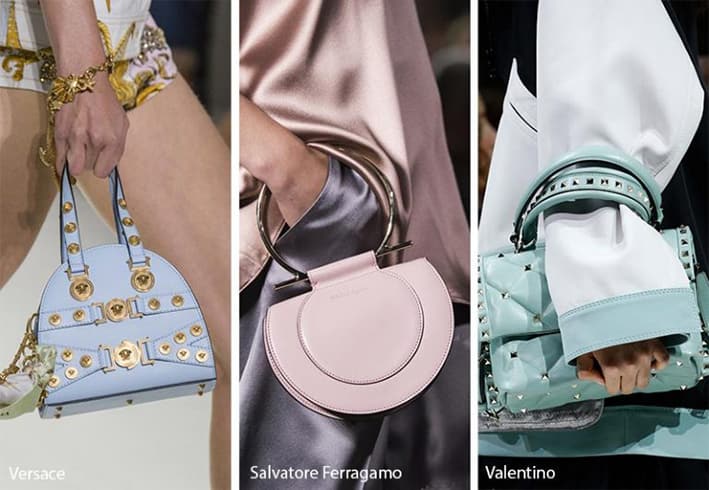 16. Undercover Bags:
Here are some bags that don't look like bags….
Some of the quirkiest creations also took a pride of place in best handbags 2019. Alexander Wang's collection showed up a shiny little clutch that looked like a roll of money. Dolce& Gabbana brought out a whimsical-looking bag which looked like an ornate table lamp with red velvet lampshade.
Guess the funniest of the undercover bags? A yellow-colored air-freshener bag from Moschino with a floral pattern.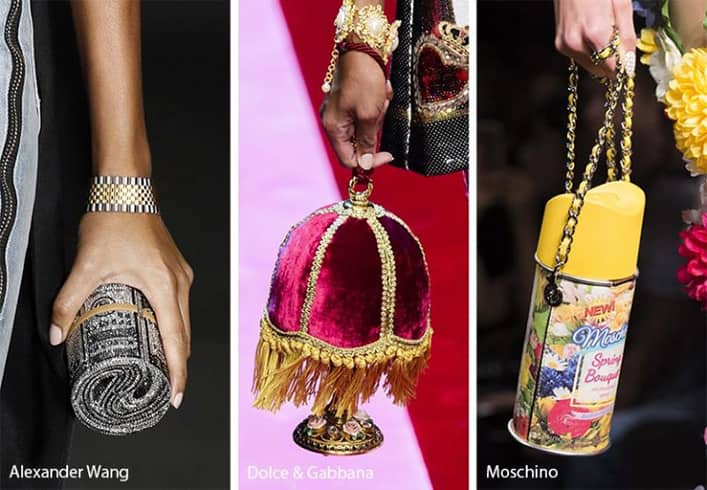 Now you know how the cool, creative, innovative, and interesting options make it to the list of the best handbags 2019. Which of the top designer handbags 2019 are you going to pick for yourself? Write your likes and comments and tell us your 'bag story'.
Images Source: glowsly.com