What's a royal wedding without hats and fascinators and some high heeled Louboutins and Jimmy Choos?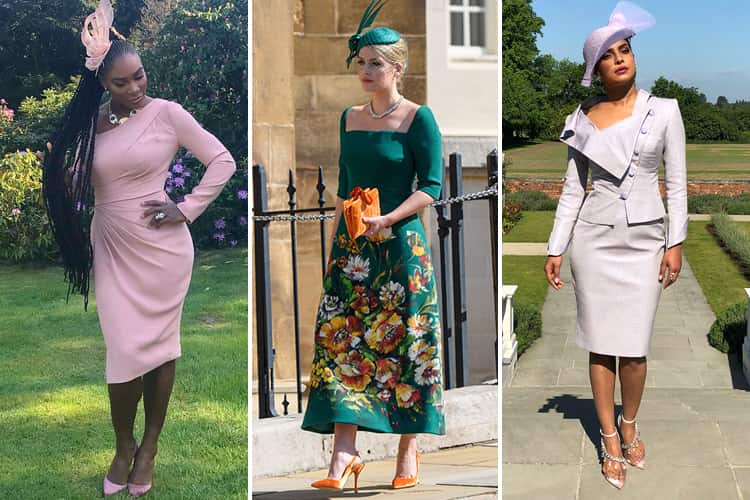 Hats have long been a trademark of the royals and continuing the tradition, every celebrity that attended the royal event adorned either a hat, a fascinator, or a headpiece.
As the royal nuptials of Prince Harry and Meghan Markle aired live, the things that surely had us hooked on to our screens were the pretty hats and fascinators. Now, it's not every day that we get to see our star divas wearing headgears.
Here Are The Best Hats and Heels:
From subtle to stunning to pleasantly surprising styles, our fashionistas from across the world made their way into the Chapel dressed in designer headpieces and heels, adding an upstate element to their royal wedding look.
Here's a roundup of the top hats and heels that got our eyes rolling.
Amal Clooney:
One of the best dressed at the royal wedding was Amal Clooney, in a spring-summer outfit. Beaming in a happy yellow Stella McCartney dress, Amal turned heads with her yellow side hat from designer Stephen Jones. We love how it was worn at an angle, with the yellow veil giving us only a peek into her glowing face.
To complement her sunshine look, Amal sealed her feet in a pair of golden, closed toe heels. Although the details of the designer are still unknown, what we do know is that it added magic to her exceptional look.
Serena Williams:
Showing off her voluptuous self in a well-fitted blush pink Versace number, Tennis star Serena Williams wowed us with her delicate pink fascinator, placed just right on her beautiful braided hair. Complementing pink peeps with block heels gave a finishing touch to the serene wedding day look of Serena Williams.
Victoria Beckham:
Victoria Beckham's wedding look was all about the lovely veil. Wrapped in elegance and understated glamour, alongside the best-dressed man, David Beckham, Victoria Beckham got us swooning every bit. The Philip Treacy navy blue fascinator was clipped to her pony, letting the blue veil take the centre stage.
Adding a striking contrast to her navy blue midi was the pair of striking red heels from her own label Victoria Beckham.
Oprah Winfrey:
The social figure, Oprah Winfrey, made it to our top-dressed list of the royal wedding, courtesy her blush Stella Mccartney dress, adorned with lace trims. To add some drama to her delicate dress, hat designer Philip Treacy repurposed her old beige hat dating back to 2005, by adding a bunch of floral and feathered elegance in warm shades of pink. Closed strap on peeps in soft salmon pink ended the look on a perfect note.
Priyanka Chopra:
PC, who is also the bride's close friend, was the only Indian celebrity to get an invite to the royal wedding. For her special day amidst the royals, Priyanka opted for a custom-made Vivienne Westwood suit in a plush spring tone of lavender.
[sc:mediad]
For her headpiece, Pee Cee turned to the best in the industry, hat designer Philip Treacy, who adorned her tresses with an exquisite hat that boasted of a flower bunch inlay at the back.
While her headgear stumped us, her princess heels made headlines across nations. Ditching the usual closed-shoe etiquette at royal weddings, Priyanka stormed in a pair of clear heels from Jimmy Choo. While the toes were still tucked-in, the transparent upper made them visible. Sealed with a jeweled strap, Priyanka absorbed all the attention from international media.
Lady Kitty Spencer:
Harry's cousin, Lady Kitty Spencer, gave us a major throwback at the wedding, resembling her aunt and the late mother of the groom, late Princess Diana. Charming us with her elegance was Kitty, dressed up in a green D&G corset dress. Hat designer, Philip Treacy worked her magic wand, creating a pretty and unique disc-shaped headgear that was hooked on to a side sealed with a motif, while the green net veil covered her head and face partially.
Complementing the hand painted flowers on her dress were her orange gold Gianvito Rossi heels the lady wore with transparent inserts.
These were on our list of toppers who wore the best hats and heels at the royal wedding. Which ones are your favorite?