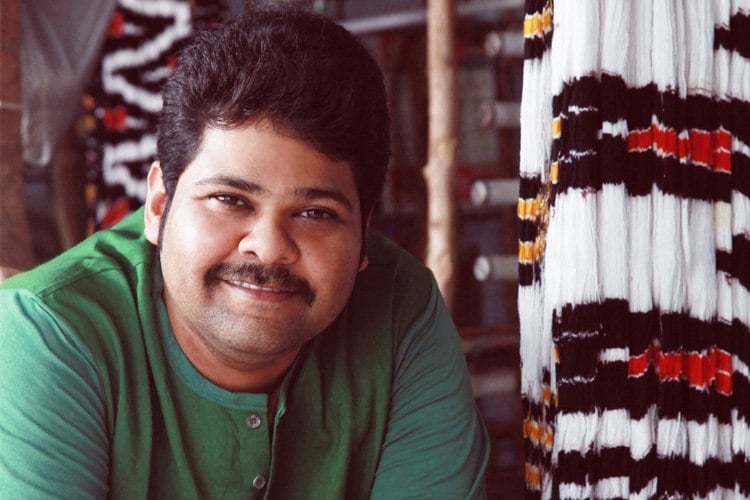 Gaurang Shah, the Master of Weaves, a textile designer who has revolutionized the art of weaving and created a magical world of Khadi and hand-looms, is one of the renowned designers of the current times.
In an interview with Hindustan Times he said – "Give people variety and they will embrace it" and with such strong thought he delivered various patterns and designs in hand-loom, in basic cottons to heaviest silks winning our heart and bringing us back to the our tradition. He is one note-worthy person who has taken up this meticulous task of weaving and delivered the best of the best.
Gaurang Shah, the designer who showcased Kanjeevaram on the ramp for the first time in Lakme Fashion Week, has taken out precious time to interact with the team, FashionLady.
In a Tete-A-Tete with us, the simple and creative mind enlightened us about weaving and hand-looms. Read along to know more.
1. We would like to know from the start. Please share a snippet of your journey with us.
Gaurang Shah: It all started when I was 8 years old. My father had a store where he used to sell blouse materials. After school, I used to spend my time at the store and learn the work from him. That was where my interest in textiles, textures and colors began. After graduation, I joined our family business.
Slowly, I developed a passion for saris and I decided to open my own store here. At the start, I was into selling saris but I wasn't very happy with the fabric, texture and colors, hence I searched for weavers from Uppada and many other textile sectors and asked them to weave for me, my designs and my inputs.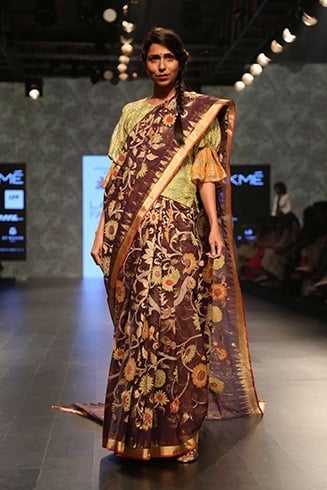 2. Your fondness for the city Hyderabad? Your favorite place here?
Gaurang Shah: Being born and brought up here, I belong to this city. Wherever I go, I have to come back home to Hyderabad.
Since I am passionate about my work, I spend most of my time at my store and this is my favorite place.
3. What is the next Fashion Week, we will see models sashaying Gaurang Shah outfits?
Gaurang Shah: The Lakme Fashion Week Winter/Festive 2016 coming up in the August.
4. Do you have a theme board set already?
Gaurang Shah: We are known for our saris and hence saris, but since its festive season, we are planning Anarkalis, Ghagras along with some unusual designs in saris.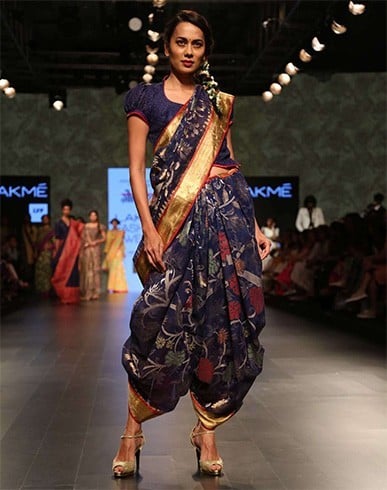 5. Do you follow Pantone's color of the year? Or do you build your own shades?
Gaurang Shah: I don't follow any color scheme. Every piece of my collection depends on my drawings, my thoughts and my mood. (laughs) It also depends on the colors I have in stock and what best use I can put them to. Apart from designer, I am also a Business man and believe in strong returns and hence for each color, I develop four such unique outfits that can please my customers.
Last year at the LFW, I tried pastels in Khadi / Kanjeevaram which was a huge risk but great success. I always travel with my 1400 colors shade card with me.
6. Which celebrity will you love to dress – Hollywood/Bollywood?
Gaurang Shah: Probably anyone who can carry the sari well. Everyone is equally perfect – we would be glad to dress them all.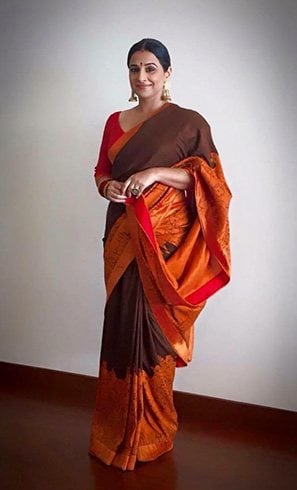 7. We hear that you have about 700 weavers working for you. So is it just weaving or do you have any plans for embroidery or embellishments?
Gaurang Shah: I am more into weaving but I don't cast aside embroidery and embellishments altogether. I do very few like Chikankari, Kashmiri, Parsi but every work involves handiwork and I don't believe in modern machine woven detailing.
Every piece of embroidery with me is time-consuming and intricately designed. I also deliver Kutch embroidery, Kasoti embroidery from Dharwada which are long lost forgotten. We compile the designs again only on hand-woven saris. With us you can find kashmiri work on Kanjeevaram as well.
8. You have revived and reinvented a whole lot of textiles. Which one is closest to your heart?
Gaurang Shah: Every sector holds a special place in my heart. Having developed everything from the scratch, it is hard to take a pick. I traveled to every village and during that initial phase, there was absolutely nothing. We found very few traditional weavers and gradually we changed the outlook and brought the younger generation back into the weaving province. And so, every village, every state, every sector of clothing is very dear to me.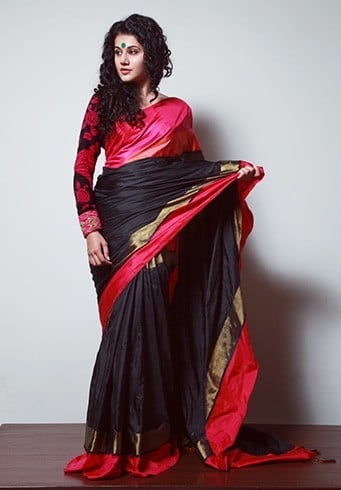 9. At the last LFW, you arranged for a show before exhibiting your collection. You had brought on board singer Razab Ali and dancers like Akhilesh & Apoorva. What can we look forward to this year from you?
Gaurang Shah: It's a surprise! I would not like to reveal much. Just wait and watch.
[sc:mediad]
10. What do you see yourself doing 10 years from now?
Gaurang Shah: (laughs) undoubtedly retired. The plans are clear, once I hit 50, I am done with work.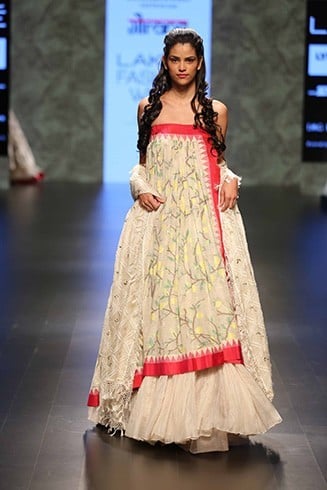 It was a pleasure to know a person whose mind revolves, rotates and flips around only designs, patterns, textiles, colors etc. With the expertise of delivering praiseworthy compilations at the 9 seasons of Lakme fashion Week till date, he is looking forward to taking a step higher into the world of fashion by aiming for Milan Fashion Week next year.
We, greatly appreciate Gaurang Shah for spending his valuable time with us which we thoroughly will treasure.
We wish you all the luck for your upcoming ventures and trust us, we can't wait to see what you have in store for the fashion world.