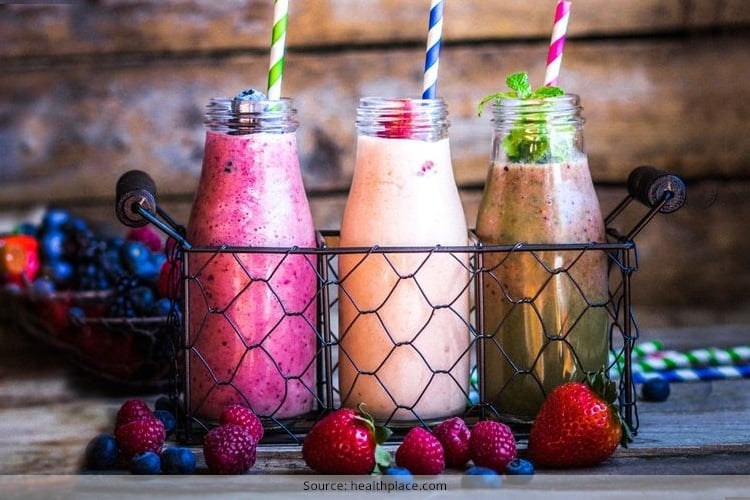 Come winters and the first thing we rush to have is hot chocolate. While chocolate has plenty of antioxidants in it, the sugar content or the commercially produced ones can be alarming for the body to consume. And since some of you have written in asking us to tell you more about how to stay away from sugars to remain lean and trim, we spoke about sugar detox tips too. However, since the winter winds are blowing and you still want to stay warm and supple, here are healthy fruit smoothies, which you must try.
[Also Read: Drink These Smoothies for Clear and Glowing Skin]
10 HEALTHY FRUIT SMOOTHIES FOR WINTERS
Try these lovely and very delicious healthy fruit smoothies, which your parents, your hubby or boyfriend and even your gal pals would love. You really don't have to spend much time on these precious healthy winter drinks, and you could conjure them and customize them according to your own needs too.
1. If breakfast is the most important part of the day, which ideally it should be, you then should try having healthy smoothies to fill you up. This smoothie not only is a crunchy delight to savor, but is a mix of vitamins and minerals much needed to help strengthen the body's immunity system too!
[Also Read: List Of Winter Fruits]
For this recipe you would need:
1/2 Cup Warm Almond Milk
1/2 Cup Cooked Millets
2 Tbsp. Chia Seeds
1 Tbsp. Cinnamon
A Dollop Of Butter For Taste
Blend all in high-speed blender and there you have the first smoothie.
[Also Read: Juice Therapy]
2. Warm Ginger Winter Smoothies
Suffering from a bad throat condition, coughs and a running nose too, try one of the best healthy smoothies to fill you up and heal you too.
For this recipe you would need:
1 Tbsp. Ginger (Shredded)
½ Cup Milk
And A Pinch Each Of Cloves, Cardamom And Cinnamon
Honey
Bring the milk to a boil and remove from the flame. Now add the spices one at a time and mix with a spoon. Finally add the ginger shreds and cover the dish. Serve hot with a dash of honey. Medicinal and pure bliss, the smoothie would help you stay warm and heal you soon!
3. Pear And Ginger Smoothie
Pears have the potential to calm down those nerves and anxiety pangs, so let's get on with conjuring a pear and ginger seasonal smoothie, shall we?
For this recipe, you would need:
1 Cup Finely Chopped Pears (1 Or 2)
1 Cup Warm Milk
[Also Read: Kola Nut Side Effect]
A Pinch Of Nutmeg For Flavoring
A Handful Of Assorted Nuts
Ginger
Into the blender shall you place the spice, the dry nuts and the milk. Give it a spin for ten seconds for a coarse touch, to which the finely chopped pear pieces can be added. Spin them in the blender for another ten seconds while still warm, and serve.
4. Maca And Chocolate Smoothie
You wanted a chocolate smoothie, right? Try one with maca and raw chocolate and bring into the body all the calcium and minerals needed.
For this recipe you would need:
6 Cups Nondairy Milk,
1 Frozen Banana
Handful Of Assorted Raw Nuts
3 Tbsp. Raw Chocolate Powder
2 Tbsp. Coconut Oil
2 Tbsp. Hemp Seeds
A Tablespoon Of Maca Powder
A Pinch Of Nutmeg For Taste And Flavour
Blend all the ingredients until smooth.
[Also Read: Smoothie Recipes for Weight Loss]
5. Apple And Cinnamon Smoothie
Yes an apple a day will keep the doctor away, since it has vitamin C in it which your body needs. Let's learn how to make this smoothie for the cold days ahead, shall we!
For this recipe you would need:
One Large Apple (Boiled And Mashed)
1 Cup Warm Milk
1 Pinch Cinnamon
Handful Of Chopped Dry Fruits
Into the warm milk shall go the apple mash, to which you should add the cinnamon pinch and mix well. Pour into a glass and serve warm, with dry fruits as toppings! Quite a healthy fruit smoothie, isn't it?
6. Bring in more sodium, potassium and other minerals into your body, while having an amazing banana strawberry smoothie this winter. Stay in shape and allow the antioxidants to work its magic, preventing those ageing spots from happening too.
For this recipe you would need:
2 Cups Strawberries
1 Frozen Ripe Banana
2 Cups Milk
A Few Drops Of Vanilla Yogurt
1 Tbsp. Honey
Blend all the ingredients until smooth.
[Also Read: Butter Fruit]
[sc:mediad]
7. Banana Delight
Plenty of minerals that keep the body nourished and happy, bananas also aid in helping the digestive system too.
For this recipe you would need:
1 Whole Ripe Banana (Grilled In The Microwave Until Golden Brown And Mashed)
1 Cup Warm Milk
A Handful Of Roasted Nuts For The Crunchy Taste
A Pinch Of Nutmeg For Flavoring
Mix into the warm milk the spice and dry fruits. Add to this the banana mash and give it a spin for a couple of seconds in the blender. Remove and serve with a dollop of honey. One of the best WARM WINTER SMOOTHIEs we could live on for life!
8. Crunchy Chocolate Oaty Smoothie
This is a crunchy hot one for your pleasure only, since the love for chocolate cannot be underestimated. Chocolate has antioxidants and oats has fibers, and together they form an amazing healthy snacking option- one of the best smoothies for winter we say!
For this recipe you would need:
1 Cup Milk
1/2 Cup Oats
2 Tbsp. Tablespoons Bitter Chocolate
Let the milk warm up to a semi-boil, to which you add the oats and mix on slow heat. Remove from the flame in a minute and pour into a glass that has the chocolate powder in it; topping it with dry fruits of your choice. Mix with a spoon and serve hot! Enjoy!
9. Boost your immune system and try one of the best smoothies for winter. With plenty of vitamins and antioxidants from berries, tangerine and kiwi fruit entering your body, you would stay healthy all through the wintry days.
For this recipe you would need:
4 Cups Greens (You Rotate Between A Few, But Mostly Spinach & Kale)
½ Cup Pineapple Chunks And Juice
1 Orange
1 Kiwi
2 Tbsp. Ground Flaxseed
1 Cup Plain Greek Yogurt
1 Cup Frozen Mixed Berries
1 Cup Water
Blend all the ingredients until smooth.
10. Autumn Chai Smoothie
Chai anyone! We aren't talking about the normal chai that we have every day, but one that has spices and zesty tastes to it. Sip it and keep warm with the autumn chai smoothie, your mom and dad would love.
For this recipe you would need:
1 Frozen Banana
2 Cups Almond Milk
1 Tsp. Coconut Oil
1 Tsp. Cinnamon, Cardamom, Ginger (Fresh And Powdered Versions)
A Pinch Of Nutmeg
1 Tsp. Coconut Syrup For Sweetness
Blend all the ingredients in a blender and pour into large glasses, topped with coconut pieces for the crunchy effect. Now pour into the glasses the warm almond milk and stir for a minute each. Serve warm.
We hope you loved our ten winter smoothies to try this winter! If you have your own ideas to share, do write in!