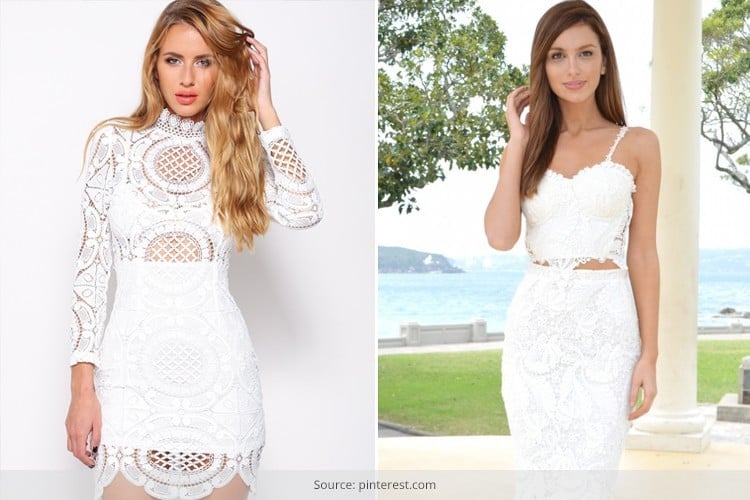 A white lace dress is an ultimate combination of uber style and unparalleled elegance. If your wardrobe does not own one of these outfits then it is surely an incomplete collection. Lace dress outfits are a fad these days and white being the most prominent and classic out of them. However, it is tricky to wear a completely white lace dress outfit. You definitely need a dash of other colour and suitable accessories to flaunt a white lace dress in style.
LET US SHOW YOU SOME WONDERFUL IDEAS ON HOW TO WEAR WHITE LACE DRESS
A white lace dress is your answer to dressing up in many occasions and celebrations and it is a perfect hit for summer and spring wear. When in doubt go with a white lace dress to look confident. It can be anything from a white lace skirt to a white lace top; you just need to carry it with all the grace and charm.
[Also Read: Styling The White Blazer Can Be So Easy]
Here are some beautiful white lace dress outfit ideas to rock your look.
Dapper With Denims
A white lace dress of knee length or short with a denim jacket or shirt on it looks completely chic. Choose the jacket style based on your size. It could be a full sleeved short length one or even a sleeveless medium length jacket. A white and blue combination shall never die and so also you white lace outfit. Add some bling by wearing chunky accessories.
[Also Read: White Dresses]
Cutesy Skirts
A white lace top can look good with any kind of skirt. But it looks ultra cute when paired with short skirts. Go for frilly round skirt. Keep the colour of your skirt as girlish as you can. How about some peaches, pinks and reds? They look completely ladylike.
[Also Read: Beautiful Crochet Pattern Skirts]
Lovely Tops
When you have a white lace skirt in your kitty then flaunt it with some floral and romantic tops. Try darker colour tops to make a style statement. You can even choose a matching white crop top to pair with your white lace skirt.
Statement Jewellery Piece
If you want to wear a plain white dress in totality then add a dash of glamour by adding a statement neck piece. Try to use bright contrasting colours to highlight the piece. Also use chunky and bright accessories like a metallic clutch or handbag or put on red stilettos for completing your white lace dress outfit look.
[Also Read: How to Wash Whites]
Blingy Belt
If it is just a casual white lace dress and you do not want to pile up yourself with accessories, try a belt. A belt will keep your look to the minimal and at the same time give you the desired style. A thin belt or a wide waist belt looks equally stunning. Wear the one which suits you the best. So pick some black, brown or colourful belt to go with it and do not forget to match your accessories with that belt.
Sensuous Silhouette
The colour white is sensual and when you wear it as a long silhouette you will look nothing less than a goddess. A white lace midi dress also looks ravishing. Opt for deep necklines or backless outfits to add to your sex appeal.
We are sure you can't wait to wear your lace dress next time you go out. So, how did you wear your white lace dress outfit? Do share with us.