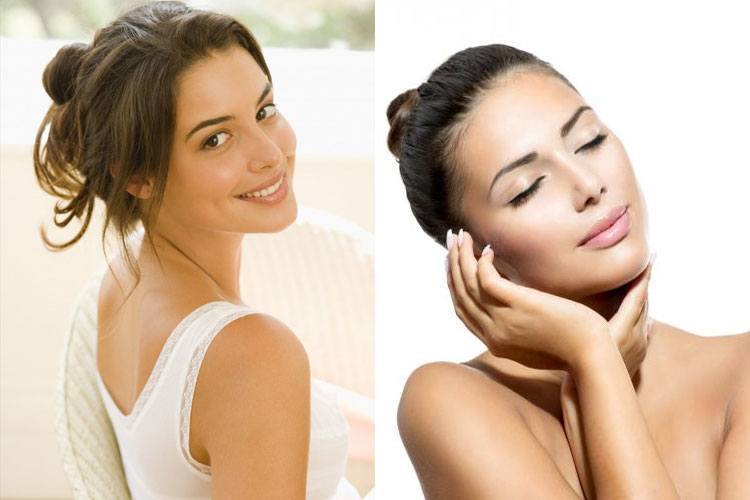 Dull skin can ruin the most beautiful looks. And this is no science talking, just plain logic. Are you still keen on putting powder on your face as a stop gap arrangement or open to making dull skin brighter and fresh as before?
Here are some tips to having glowing skin that will be both pleasing to the eye and a good sign of healthy looking skin. Here we go.
[Also Read: How to Get Rid of Post Party Dull Skin]
Home Remedies to treat Dull Skin
Exfoliation
Removing dead cells from the skin is what exfoliation is all about. It boosts the skin's healthy appearance. There are endless skin scrubs and exfoliants available at cosmetic stores. Apart from using your hands, you can use exfoliating gloves but after you have rinsed them with water and dried them. Don't use sponges as they can become a breeding ground for bacteria.
Moisturisation
We make sure to have 8 glasses of water a day. Our skin needs the same attention in the form of moisturisation twice a day, one after the morning bath and the second before going off to bed. Added SPF protection is like a topping in the moisturiser. Apply moisturiser before night time too so that your skin stays nourished and looked after.
Hydration
Drinking water is the best way to keeping your body and skin hydrated. It also increases the passage of blood to the skin, creating pinky cheeks and healthy glow.
Vitamin C
Skin brightening products such as Vitamin C oil when applied to skin keep the complexion glowing. Whenever you have dark spots coming up on your skin, use Vitamin C to reduce skin pigmentation.
[Also Read: Vitamin C – The Elixir for Your Skin]
Home Remedies to treat Dull Skin
Malai
Gosh, one hates having malai on toast, parathas and in milk. But never mind, your skin would love it.
[sc:mediad]
DIY
Get milk cream or malai and mix it with turmeric and gram flour (besan). Apply this paste on your dull face and let it dry before washing it off with lukewarm water. This will go a long way to beautify and enhance your complexion.
Lemon Mask
Lemons are known to be of skin bleaching and lightening properties. Make use of lemons to get rid of skin tanning due to sun exposure.
DIY
Squeeze the juice of a lemon and apply it on your face. Try to avoid dabbing it on the area around your eyes. After 15 minutes, wash it off with water to get the results. If your skin begins to feel dry after using it, put honey or curd to moisturise the mixture and then apply.
Honey and Sugar Scrub
Exfoliation is the first method to getting dullness out of your face. After all, the dead skin has to be removed for the face to shine again.
DIY
Mix honey and sugar granules in a bowl. Now apply it evenly on your face and neck. Start rubbing your cheeks, forehead and the rest of your face in order to remove the dead skin cells. Wash your face with water. Apply this pack each week if you have normal skin. If you have sensitive and dry skin, then use this scrub less often.
[Also Read: Remedies for Dark Skin Around Neck]
Tamarind Pulp
The pulp made from Imli (tamarind) helps in getting rid of dead skin cells on the face. Since the pulp is rich in antioxidants, fibre and vitamins, it imparts an inner glow to the skin by knocking off the impurities.
Peach and Tomato Pack
Peaches are known to give a glowing look to your face. Since the antioxidants, minerals and vitamins in it bring out your natural glow and give a sense of healthy and plumpy feel to your skin, get started with peaches as a home remedy.
DIY
Mix peaches and tomato well and apply it on your face. Let it stay on for 20 minutes. Now wash off your face with water to get glowing skin.
Now get ready to fix your dull skin problems through the remedies mentioned above before you start losing out to others.