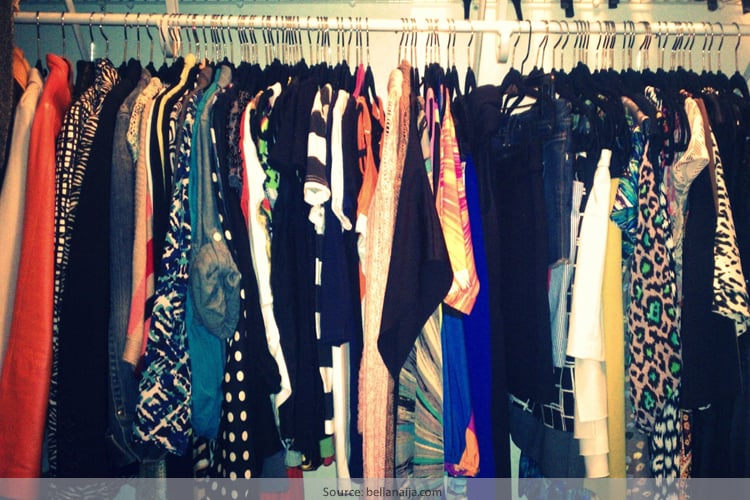 As much as we all love to shop for new clothes, we also like to get rid of the old ones. Don't we? But stop right there! Ever wondered how to make clothes reusable? Yes, there are ways your old clothes can get a revamp and look like a whole new outfit, and that too without costing you anything. Ever tried of converting your distressed denim into a pair of shorts or done a cute little patchwork on your tee to quirk it up? These little things, although will need some time and effort, can make your old clothes look brand new or store bought.
[Also Read: How To Make Clothes Smell Good During Winter]
So before you decide to toss out your old clothes or give it away, think twice. Bagging up clothes is definitely not fun, but making new ones can be exciting. Here are a few tips on how to make cute outfits with old clothes.
How To Revamp Old Clothes
There are several ways in which you can revamp your old clothes without breaking your bank. From sewing to adding some bling to your boring dresses, here is how to make old clothes new!
1. Tops
It's just amazing how you can transform your old top into something absolutely new and stunning by just making a few simple alterations. Try replacing the buttons or sewing a patchwork. White shirts or tops can get a quirky makeover when you add a dash of colour. So go on and colour them now!
If it the collar is too dirty, even after repeated washing, turn them inside out and restitch by hand or machine or simply crop them off and voila, you have a new top! If there are holes in the top, you could just pick an appliqué patch and iron them out.
2. Pants And Denims
Give your pants and trousers a new look by adding some colour outside the leg seam. If you are inspired by Boho fashion, you could simply cut them off and leave them raw. For those pants which have lost shape and become loose, cut out the pocket bags and restitch the sides together and watch the magic!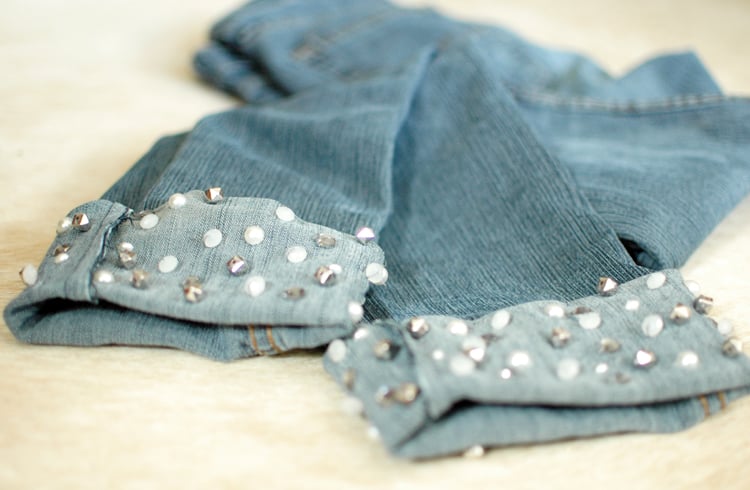 3. Dresses
As much as dresses are cute and classy, they come with a hefty price tag too. So even if we don't use them often, the heart never gives way to getting rid of them. Well, not anymore! If the shoulder is the problem in your dress, an old bra is all you need! Find an old bra, cut off the straps and sew them on to the dress or add bra loops, which can hold a dress in place. Then attach them to your dress with a safety pin into the bra loop.
For cleavage issues, you could simply sew in a pretty bra onto the inside of the dress. Transparent dresses simply need a piece of your old chiffon dupatta or sari, which can be stitched inside. However, if you are bored of a particular dress, then quirk it up by adding a satin belt, a huge rose badge or just a simple stole.
Wedding dresses are a whole new story, though! We all have that extra grand lehenga which is just collecting dust. So, how do we put it to use? Simple! Cut off the bodice and make a beautiful corset. The skirt can also repurpose into cushion covers, curtains or pretty table cloths too.
How To Make Cute Outfits With Old Clothes
Now that you have decided to keep your old clothes, there is some cost effective and easy ways in which you can make a super cute outfit from your old clothes. Follow these simple hacks and see your wardrobe transform! Here's how to use old clothes to make new outfits.
[sc:mediad]
1. Scarves
Ever knew your scarf can be made into cute wrap-around skirts? Yes, wrap your scarf around your waist and knot it up on your hip. You could also glam it up with a cute belt or a nice pair of tights.
[Also Read: How To Update Old Clothes With Bleach And Stamps]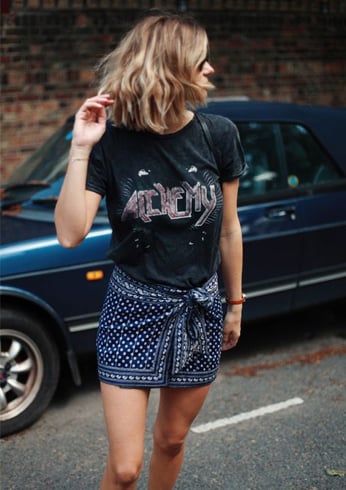 2. Tees
We all have them in plenty! Don't we? If the t-shirt has lost colour, simply dye it black or white, as these basics never go out of fashion. However, if you are bored of a top, you simply do a little DIY act and convert it into a part wear attire. Some cutting, weaving and playing with collars and the back can give a brand new look to your otherwise boring t-shirt. Another interesting way is to cut out bits and pieces of different old tees and sew them together into an interesting scarf! Another idea is to simply cut off the sleeves and the top part, attach an elastic belt and make it a tank top.
[Also Read: How to Get Musty Smell Out of Clothes]
3. Tights
Repurpose your old tights into something fun and quirky. Bring out your painting skills and splash a little colour on them. Polka dots are very much in trend, so you could simply make bright dots on your boring black tights and watch the attention it grabs!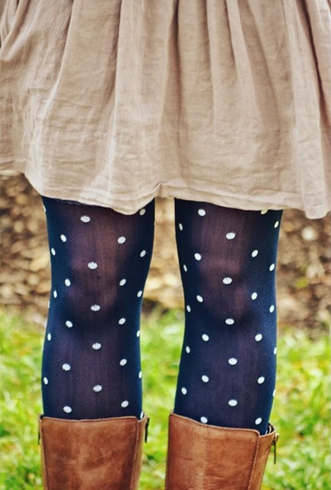 4. Sweatshirts
Sweatshirts make their way out of the wardrobe only during monsoons and winters. Although we hardly use them, we do pay a huge price to pick them off the stores, which makes getting rid of them all the more difficult. So how do you repurpose your otherwise dull and plain sweatshirt? Simple! Cut out a few fabrics from your old dupatta or saree and make a patchwork. You could also try an appliqué work, lace detail around the neckline or just paint on it to make it look colourful.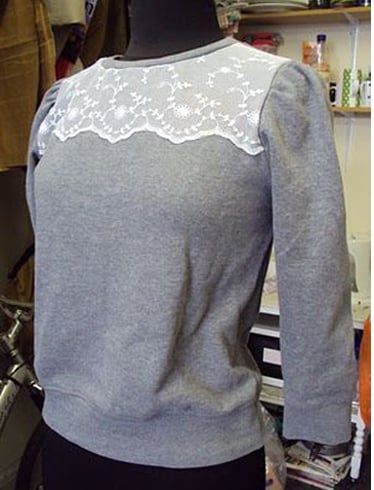 5. Saris
We all have them in plenty! Old saris pile up in wardrobes like dust and we simply have no idea how to use them back or get rid of them. While getting rid of them might sound like the easiest solution, you could re-use them in ways more than just one. Cut off the borders of the sari and use them to make a classy dress you can flaunt in a house party. You could also make silk tops, trousers, kurtas or just a maxi out of it. Simply team it with funky accessories and a nice scarf and you are good to go!
[Also Read: Patchwork Trend]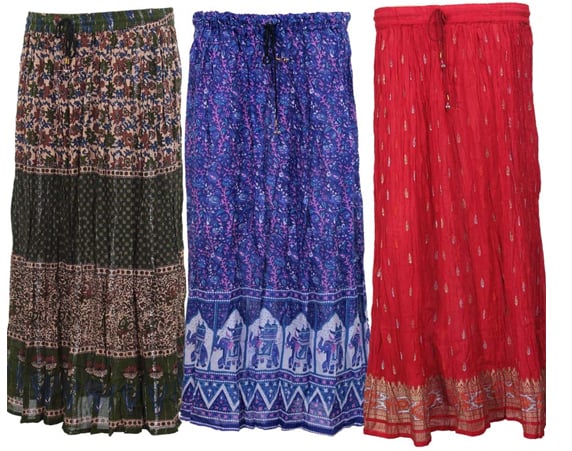 6. Crop Top
Crop tops might be in trend, but how much of it do we really use! Well, if you are bored of using it as an element in layering, here's some good news for you. Save your crop top as you can match it with your favourite sari or lehenga. Yes, crop tops can make for funky and casual blouses, so don't get rid of them.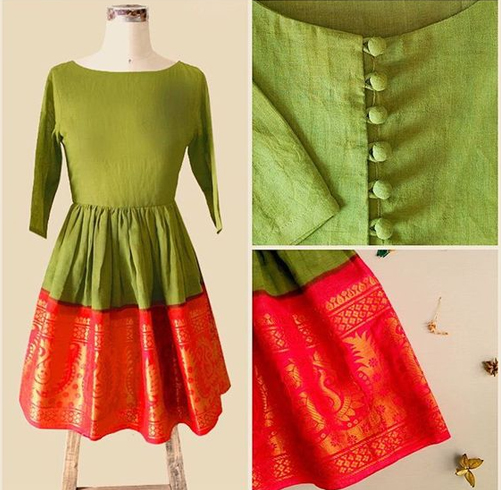 So, it's now your turn to save your old clothes and make something cute and stylish out of it!
Images Source: pinterest.com