Have you tried taking a nail selfie and failed to get the perfect shot? We admit picture perfect nail clicks are difficult to achieve but not impossible. Want to ace the #nailfie trend? Check out our tips to learn how to pose your nails like a pro!
How To Pose Your Nails:
First, hold up your hands in the air to allow the blood to drain. This is an old hack that can instantly prep your hands for a click. Now, you can go ahead and try the tricks listed below to learn how to pose your nails for the perfect pic.
[Also Read: Nail Art Designs]
1. Use A Colorful Background:
A colored background is the main trick for creating a mood and making a nail color pop. Instead of posing your hands against your outfit, table, or thigh, you can just customize the background.
Try picking a few handmade papers to create the perfect backdrop for your nailfie. You can use color blocking technique for creating a perfect background that can highlight your nail art.
2. Cling To A Clutch:
Grip the edge of a clutch or use it as a prop to angle the nails towards the lens. This can allow you to have the clean perfect shot!
3. Use Nail Paint Bottles As Props:
You can try holding a bottle of the same nail paint you have on your nails for a sleek look.
4. Select Creative Backdrops:
Select a creative background for complementing special detailing on your talons and delivering a unique combination in your nailfie. Try shots by flattening your hands out or wrapping your nails around something. This can allow you to hide your flaws.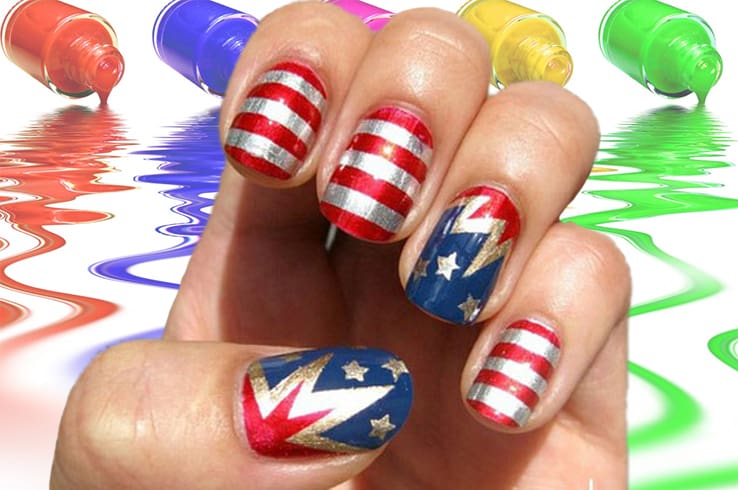 5. Shoot With Your Friends:
Wondering how to take pictures of nails with your friends? Try shooting two-handed pose with your friends. Try a casual flex, like how you keep your hands while you blow-dry your nails. This can get you a natural shot yet show off your manicure beautifully.
6. Opt For Interesting Poses:
Try different poses to keep it interesting. Fun and playfulness are key factors for winning the ultimate #nailfie game. Remember there is no limit to experimenting to get the perfect nail shot. After all, we all love candid pics at the end of the day.
7. Experiment With Filters:
Phone filters are widely popular. From Nashville to Hudson, there are filters that offer you varied combinations of flash and brightening effects. You can give them a shot for creating gorgeous nail photos.
8. Accessorize For the Perfect Nailfie:
Select the right piece of jewelry to take your nailfie game to the next level. A statement ring can add that right dose of bling and glamour to your nail shot.
[sc:mediad]
9. Place Your Hands In Your Lap:
Don't have any fancy accessories for your fingers? No worries! Simply place your hands in your lap to highlight your ensemble instead of the accessory. Your followers on Instagram will surely lap up your nailfie!
10. Claw Your Way To The Top:
For starters, flex your fingers, showing off just your nails and a little palm of your hand. This is a popular pose for taking gorgeous nail pictures. Try a casual flex instead of a firm one for a more feminine appeal and top the popularity charts.
11. Go For The Bottle Grab:
Improvise the claw pose with a bottle grab. Although it has a raw appeal actually it's one of the best poses for a nailfie.
12. Strike The Hand Over Hand Pose:
This one is a classic pose. But it will require another person to take your picture or some superb self-timer skills.
13. Experiment With Props:
You can get creative and grab anything to add a quirky element to your nail shot. Take your purse, wallet, mug, a bag of Cheetos, a scoop of ice cream, or colored pebbles (below). And you are ready for a great click.
14. Give A High Five:
You have to watch your angle while trying the high five pose as some Instagram filters can make your fingers look weird.
Points To Remember While Posing Your Nails:
Give your hands some TLC: If you are going to post your nails for everyone to see, take a minute to pamper your hands with some tender loving care. Slather a generous dose of hand cream or go for a quick manicure. Nails after manicure always look better and so do soft hands in a nailfie.
Arrange for the perfect lighting: Without the right amount of light, no filter can make your nail shot Insta-worthy! Try to step outside in the afternoon light to get the perfect shot or go for artificial lighting. Just make sure you don't allow crazy shadows to ruin your hard work.
You can always edit: There is no need to hit the panic button over tiny flaws when you can edit. You can use a photo editing app to erase any cuts or marks on the hands, brighten photos, and even color correct.
Nobody's hands are perfect except for those of models. But you can use the above ideas to nail your nail shots. So go ahead and click your nailfie now!
Do share your tips with us if you think you are a pro at posing your nails. We would love to hear from you!