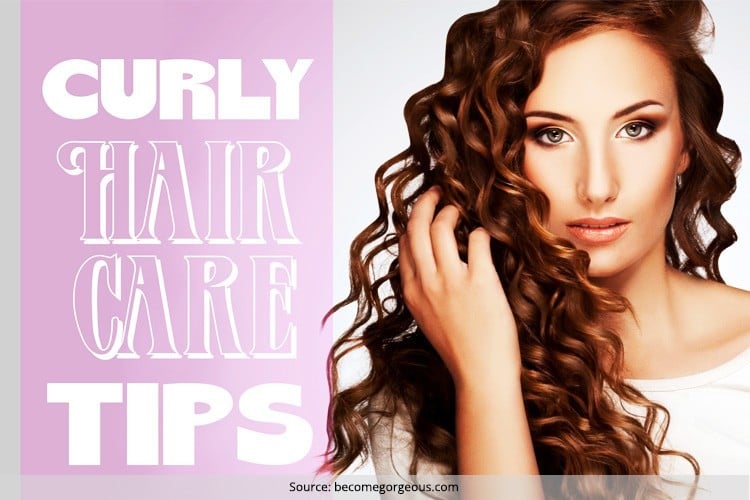 Do you have curly hair? Have you been bothered with regular hair care regimen but not the effective results? You need to understand that curly hair need different hair care methodologies, depending upon the texture and curl types. Naturally, curls are dry and frizzy and required special care unlike straight hair. The reason being that natural oil of the scalp doesn't reach to the end of your hair due to various twists and turns on the way. Here, we present you 10 hair care tips for your curls, which if you follow you will be astounded seeing the healthier, shinier and bouncy curls!
[Also Read: Short Curly Hairstyles for Women]
1. Choose The Right Products
First and foremost, remember that there are no specific shampoos for 'Curly Hair'. Curly Hair tend to be dry at their cuticles. Hence, shampoos or conditioners that are meant for damaged or dry hair are perfect for curly hair. They work the same. If you are into swimming, then you should be using clarifying shampoo to rinse off the chlorine from your hair, as chlorine may further dry your hair. Choose a Sodium Lauryl Sulfate free shampoo as this chemical may act harsh on your curly cuticles.
2. Try Co-Wash Formula – Conditioning
Co-wash means washing hair with conditioner, which may result in shiny and bouncy curls. It ensures that your hair remain extra hydrated. In curly hair, it takes longer for natural oils to travel from the scalp to the cuticles' ends. This has been the reason why curly hair seem to be dry and frizzy. Post co-washing, you can also apply leave-in conditioner to help your curls stay
hydrated all day long.
Hairstylist Tippi Shorter suggests –
Consider sprays for soft curls. Thicker gels for medium to big curls and dense creams for crimpy coils.
For those suffering from scalp conditions like dermatitis should co-wash very occasionally to prevent worsening of the condition. Also, you may need to shampoo your hair in case of oily hair for co-wash will be unable to rinse the extra oil from your scalp. Remember, conditioning should be done from the bottom of your hair up towards the scalp.
Deep condition your hair at least once a week.
3. Detangling Art
How to prevent tangled hair? This is one question every girl with curly locks would ask. Often, it is difficult to detangle the curls. Say no to brushes as they may cause hair breakage. Use wide tooth comb. You could also use detangle spray on your tangled hair flicks and then comb them either with your finger or with wide tooth comb.
It is also advisable to style your hair when it's wet. Combing should be done from the bottom of the hair up towards the scalp.
4. Care While Drying Your Curls
If you have thought of using bath towel to dry your hair, hold on! Instead, do it with a t-shirt, as it will help reduce the frizzes. Simply squeeze your hair gently, and remember never to twist it. Avoid blow dryers. Use diffuser as it will dry your hair evenly for a uniform look. Flip your head over and now use diffuser from roots to midlength. Preferably, leave the curls at the end to naturally dry.
5. Steam Your Curls
This is how you can deep condition your hair too. Apply deep conditioner to your wet hair. Now, damp both the face towels and shower caps with warm water. Place one face towel on top of your head and now wear a shower cap. Thereafter, place the second face towel on top of your head and wear another wet shower cap over it. Sit under your hooded dryer about 20 to 30 minutes. You can set the temperature according to your convenience.
[Also Read: Natural Hair Hacks]
[sc:mediad]
6. Get The Right Hair Cut
Curly hair are more bound to build split ends, hence you should get them trimmed every 6 to 8 weeks. You could choose to have a layered look for your curls to look more bouncy.
Curly hair tend to retract up t0 30% of its exact length. The reason why curly dry hair and curly wet hair are two different things. Hence, ask your hair stylist to dry your hair before making a cut and ensure that you haircut is done to the exact length or cut you have wished for.
The suggestive cut is from medium to long with layers cut. Note that a blunt cut is a dated version. You could ask for layers starting at your lips and gradually angled back.
7. Condition Before You Exercise
Sweating while working out may tangle your curls and make them greasy. To avoid this, apply a styling cream and then tie up your hair in a bun. This will allow the moisture to set in!
8. Stay Away From Heat Based Styling
Remember, heat is not for your curls. Heat may damage your cuticles, which are already dry. Heat based styling tools such as flat iron and curling irons damage your hair.
If you observe that your curls have lost its bounce, simply stay away from heat-styling and use a conditioning mask.
9. Treat Your Scalp With Coconut Oil Massage
This will keep your curly hair healthy. To do this, section your hair into parts. Now, take small amount of organic unrefined coconut oil and massage the scalp for about 10 to 15 minutes. Cover the hair with a shower cap and wrap with a towel. After 5 to 10 minutes, wash off your hair with mild shampoo.
[Also Read: Hot Oil Treatment for Hair Growth]
10. Sweet Silk Dreams
Why you should avoid cotton pillow covers? As it soaks up the moisture from your hair, letting it frizzy and dry after you wake up. Opt for silk pillow cover as it will reduce the friction of hair and keep them smooth!
These tips and tricks will surely wash away your stress about your curls!!
Go Curly, we say!