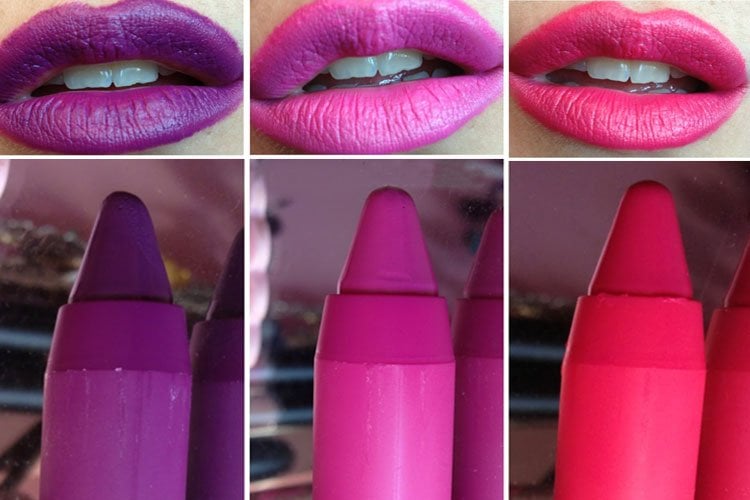 You have always loved that glossy pink lipstick you had. But summers are here and while people are sweating around, you need something that will not look all shiny and pasty on your lips. This is where matte lipsticks come in. Matte lipsticks are those which will not give you a shiny finish. They are dull but do look elegant and classy. But often matte lipsticks are a little tricky. They may turn a little chalky and their texture becomes so transparent that you can actually see the imperfections on the lip.
[Also Read:  Best Orange Lipstick]
That is why you have to be really careful when you are buying matte lipsticks. It is always better to invest in some good quality matte lipstick and those which promise long staying powers. Since a wax lipstick has more wax than shiny pigments, it gives a drier finish to the look. So, whenever you are buying matte lipsticks, make sure you go for something which has more moisturizing power.
[Also Read: Do's and Don'ts to Sport a Bright Lipstick]
Here is a list of dome best matte lipstick shades you can wear this summer:
1. M.A.C Summer Shades:
MAC matte lipstick – one of the most popular brands for matte lipsticks, has the longest staying power and can be worn at almost any place or occasion. They are subtle yet very catchy and unlike their glossy range, the matte range has a longer staying power and is non-transferrable too! The entire collection is very fresh and vibrant and light to be worn in summer too. They glide easily and since they are heavily pigmented, their colour stays a lot longer. Some popular mac matte lipstick shades for summer are:
Prices: The price range for lipsticks starts from Rs. 1450.
2. Revlon Matte Lipsticks:
This has some of the brightest colours of the spectrum. But the good thing is since they are matte; the colours look bright and beautiful. Again they have a lot of moisturizing power and will cover any imperfections in your lip. They last for quite a long time, at least for 5-6 hours. The range is more towards pink, but you will also find some wonderful peaches and purples too.
[sc:mediad]
Prices: Rs. 750 onwards
3. Colorbar Velvet Matte Lipsticks:
The advantage with the Colorbar range is that the velvet matte lipsticks are very creamy. So even if you are not using the glossy one, you will find that this one will glide on your lips as smoothly as butter. This range of matte lipsticks is also very bright and two strokes of it will actually remove all the imperfections. Plus the lipstick shade range is easy on your pocket. So, ladies if you are a fan of bright colours, you should definitely check out Colorbar's matte lipstick range.
[Also Read: Lipstick Shapes]
Prices: Rs. 250 onwards
[Also Read: Top 5 Tips for Long Lasting Lipstick]
4. Lakme's Absolute Matte Lipsticks:
Comparable to the M.A.C lipsticks when it comes to their staying power and pigmentation, the Lakme range of matte lipsticks has lots of reds and vibrant hues. They are bright but do not feel heavy at all. Since the range is so versatile, you have colours for every occasion. You can start from light colours to darker shades too.
Prices: Rs. 225 onwards
5. Maybelline Super Stay Lipstick:
This lipstick actually justifies its name. The package proudly claims of the 14 hour stay and needless to say, it does stay for pretty long. They have subtle and vibrant colours in this range and give you a very easy and smooth texture. They have a satin finish, so they are a little different from your normal matte lipsticks.
[Also Read: Pink Lipstick Shades]
Prices: Rs. 625 onwards
[Also Read: Vegan Lipsticks For a Beautiful You]
Matte lipsticks are very hot this summer so don't forget to get your hands on some of the best colours!