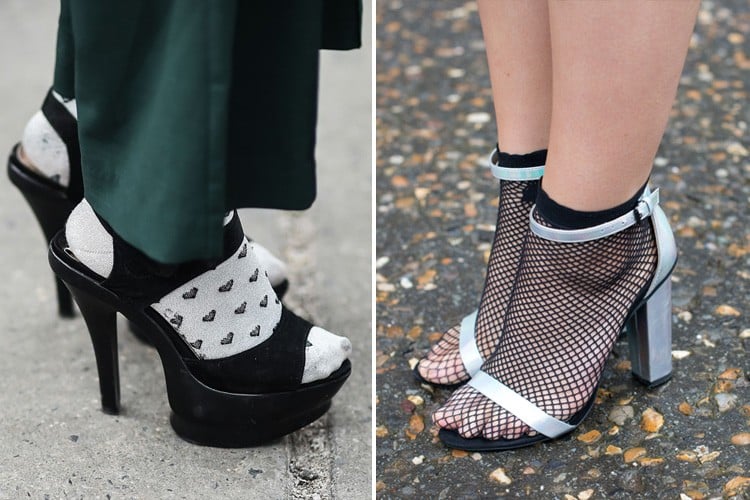 Pumps, platforms or strappy sandals are fancy expressions of footwear, but ever thought about fashionable socks? Yes, designer socks can be good for party wear as much as cool fashionable socks for campus. There was a time when socks were nothing great to show, but meant to hide. Today, socks have gone the colourful and printed way, with unique designs, and adorned with frills, etc.
[Also Read: Different Footwear For Different Purpose]
Socks have come a long way from a fashion 'don't' to a fashion 'do'. Irrespective of strappy heels, cool socks for girls can be the cutest accessory worth flaunting.
Firstly, you need to get yourself eye-catching socks that will add to your attire, not spoil the show. Plus you need to keep your outfit minimal, so that your trendy socks stand out in the crowd and get the deserving attention.
Take for instance, the French 'It' girl Jeanne Damas who has worn the socks and heels perfectly well. The colour of her heels goes well with the rest of her outfit and grey socks too.
You can also pick a cute and girly pair of socks with white dots and small stripes that goes right above the ankle.
Scroll down for some of the perfect style tricks on how to look flaunt the socks fashion that will give you the much-needed oomph. Take a look and let us know how you found this concept of fun socks for women. It is not only experimental, but chic and contemporary too.
Ankle Socks
Sporty shoes or sneakers make a great pairing with ankle socks. Thought it might look a wee bit boring, keep it fun by choosing dressy socks having prints or with lacy trim. You can also go for anklets which are easy to pull off and look subtle. Or for that matter, go ahead and chose sneakers that have fancy colours and prints to make them look like cool fashionable socks.
Knee High Socks
These fashionable socks are bold statements in themselves. They not only give you the much needed extra warmth in the winter chill, they also give dimension, and texture to your outfit. Needless to say, knee high socks give you a more polished look than bare legs.
Since knee high socks give a full show of colors and prints as compared to ankle socks, you need to pay attention to the combination of colors and prints. While the neutrals are easier to mix and match, you can never go wrong with black.
You can experiment with textures such as rib-knit, crochet, sheer, opaque rather than just plain cotton.
If your socks are multi-colored with an eye-catching pattern, then the rest of your outfit should be subtle.
You can wear knee high socks with heeled sandals, or calf-high boots. Mini skirt would gel well, and so would shorts.
[sc:mediad]
Thigh High Socks
Going well past your knees, the thigh high socks are not just super comfy but super sexy too. They might need garter belts to help them stay up and not fall down. But the best part about over-the-knee sock is that they are easily compatible with panties, skirts and shorts.
In terms of accessories to match thigh high socks, go for a bohemian dress and a cute hat.
Want to look fun and quirky? Then pick this cute design of cat socks. It would be a nice and adventurous way to show your personality.
[Also Read: The Romantic Fashion Trend]
Hope the fashionable socks shown above have been able to change your outlook towards dressing your feet. With a pair of interesting socks, you will be able to wear your favourite pumps and shoes a little bit longer. Write in your comments and let us know how to look flaunt the socks fashion.