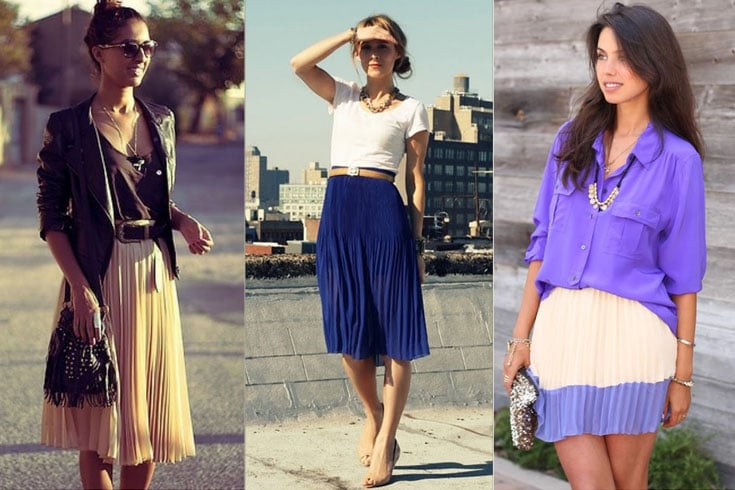 The best thing about fashion and style is that everything comes back around. So if your old, flared jeans are lying in your closet, it's time to get them out because it's coming back in trend. And so are pleated skirts! Gone are those days when you think that pleated skirts were schoolgirl thing. Now most models and celebs are flaunting one or the other kind of pleated skirts- a pleated leather skirt or pleated chiffon skirt- there's a way to flaunt it all! In this article we will tell you all about how to wear pleated skirt and what are the trendiest combinations you can have for pleated skirts. So, let's get started!
[Also Read: Denim Skirts Hacks]
What To Wear With Pleated Skirt
Let's start with the different lengths of the pleated skirt. There are midis and short skirts and even long ones. All of them look extremely classy, provided you know how to style them! It all depends on the kind of top you wear with your pleated skirt and that will make all the difference. All you need is a little bit of style advice and you are ready to go!
Keep It Bohemian Cool:
For cold winter days in the street, there's a way to dress up in long pleated skirts. A cardigan and a long pleated skirt along with sneakers and some accessories can help you get that Bohemian look in a jiffy. Vans and sneakers are your best bet when it comes to the shoes.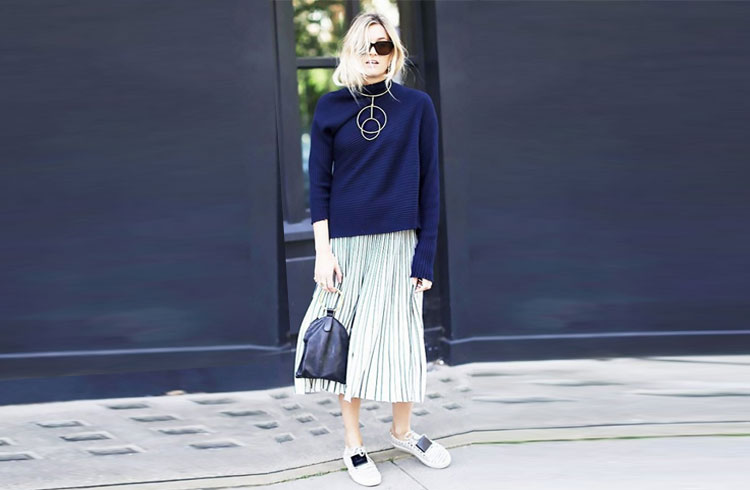 Go Retro With Polka Dots:
Even though long pleated skirts are already a retro item in your closet, having polka dots on your skirts are an added bonus to your style. Tuck the skirt in your waist and wear a long chiffon top for the perfect look. Accessorize with matching shoes. Here's some inspiration for you.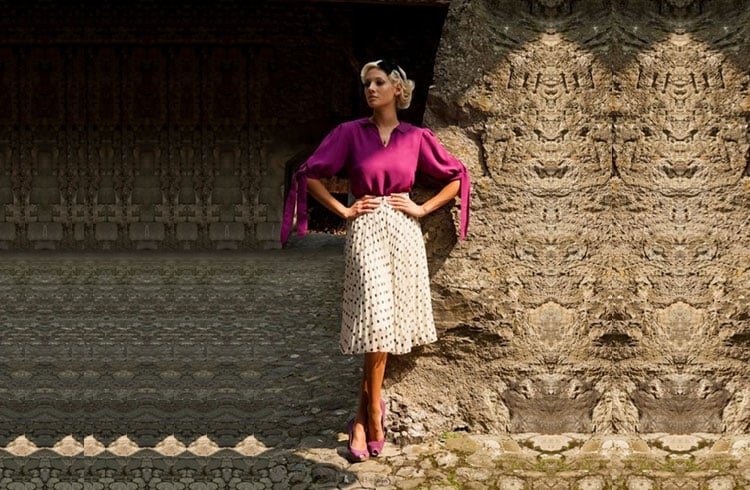 The Perfect Formal-Casual Combo:
Pleated skirt fashion with knife pleats sometimes looks very formal. You can give a casual look to your knife pleats by adding a simple t-shirt and a statement necklace. It's the perfect combination between formals and casuals and needless to say you can nail a date and an office party with equal confidence.
[Also Read: What To Wear For Thanksgiving]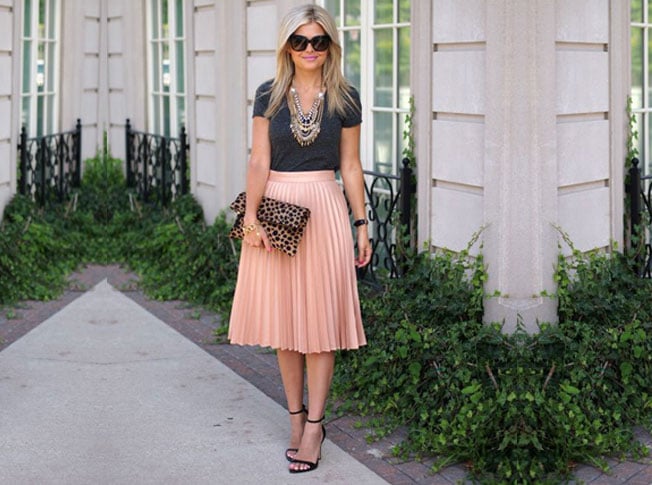 That Bronze Goddess Look:
Ever thought of venturing in the night with a long bronze skirt? Well, we guarantee that look's going to turn quite a few heads. Most pleated chiffon skirts are gold and silver in colour and are perfect for a party, but bronze pleated skirts can be quite an asset- mostly because they are rare and look perfect for the night. Team them with flats or heels (depending on your comfort) and black top and bling earrings- you are all set to go!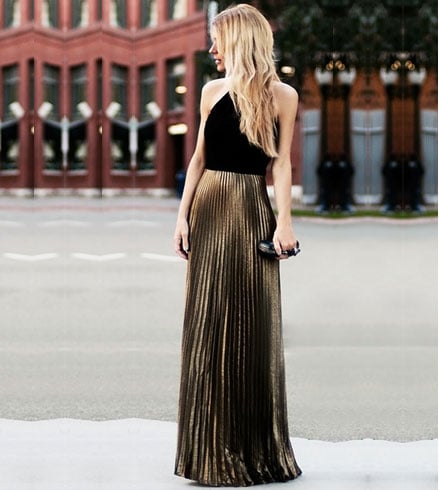 Nail That Professional Look:
Sometimes, the pleats in a skirt may make it look very casual. But if you are really in a the mood to wear a casual skirt to a formal occasion, the best way would be to add something professional and formal to the look. A fitted blazer and some formal heels should do the trick. Add them to your attire and see it transform to a totally professional look! Check out this model's idea:
[Also Read: Different Types of Skirt Styles]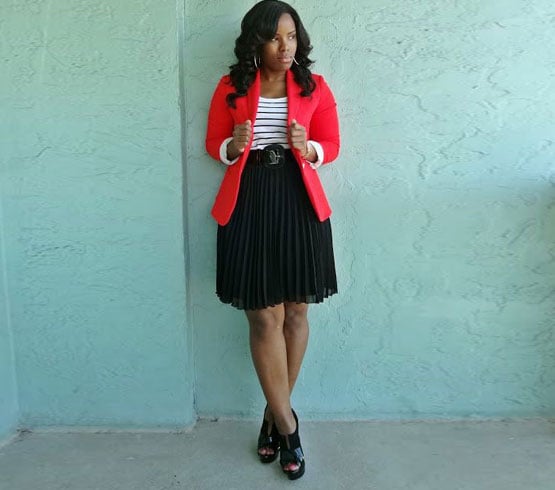 Keep It Light And Breeze For The Summer:
White pleated skirts look like the summer breeze and are perfect for a day out in the summer sun. Keep it extremely casual by pairing them with some flats and a breezy top. Going out on the bike and need to keep warm? You can easily add a bomber jacket or a leather jacket to this look.
For some inspiration, try this:
[sc:mediad]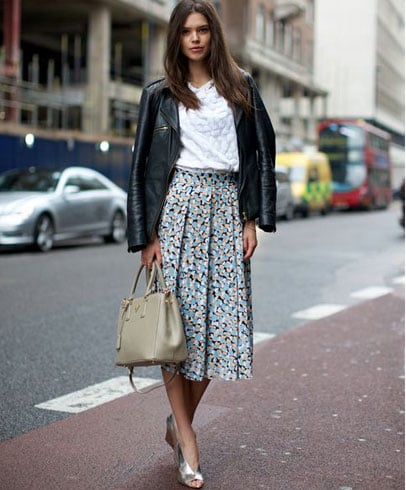 Or this: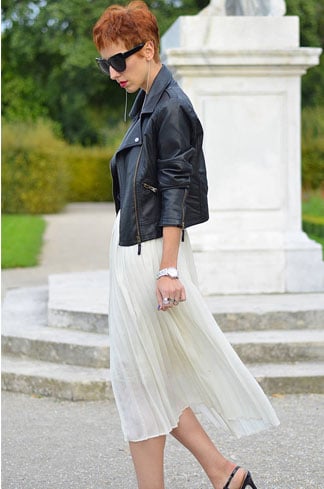 So, here are the top ways on how to wear pleated skirt. Don't be afraid to experiment because it's hard to go wrong with these beauties!
Images Source: pinterest.com