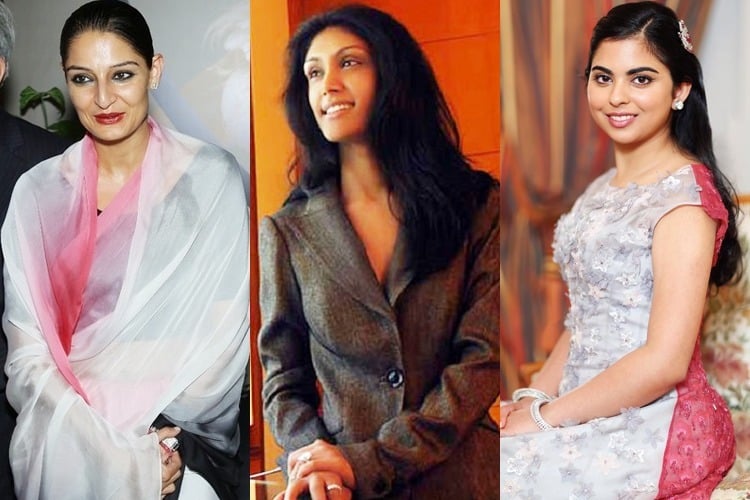 What's it like to be a billionaire daughter? It's a nice feeling obviously, when one has all the riches in the world at one's disposal. But it is also about shouldering a sense of responsibility that their respective fathers bestow them with. Never mind the riches they have, what makes the billionaire daughters stand out is a blend of simplicity and sartorial style. Dripping diamonds, presidential suites, designer clothes and villas might be their cup of tea but what comes out most are their responsible initiatives towards their company and underprivileged society at large. Come let us check out what makes them impress us most apart from their beauty and socialite status considering their billionaire tag.
[Also Read: Most Expensive Shoes in the World]
Roshni Nadar
The only child of Indian techie billionaire Shiv Nadar, Roshni Nadar made her way to being the CEO and Executive Director of the HCL Group at the age of 28. Whoops! What an age to reach out to the top. The company's worth is poised at $5 billion. And Roshni is not just running a multibillion company, but is also involved in philanthropic initiatives of Shiv Nadar Foundation.
Vanisha Mittal
If her marriage to an investment banker Amit Bhatia at the age of 24 was celebrated to a whopping $60 million, you can well imagine the net worth of beautiful Vanisha Mittal, daughter of the steel magnate Laksmi Mittal who features No. 21 as far as the Forbes List goes. A master's degree holder in South Asian studies, Vanisha at a very young age came on board Mittal Steel, a company whose estimated value is worth $51 billion.
Pia Singh
The daughter of KP Singh, a real estate magnate, Pia Singh is a stakeholder of $400 million in her father's firm DLF. Pia heads the DLF entertainment venture, DT Cinema and Retail Business of the Group as Managing Director. Mind you, she is all of 39! Having put in $1 million last year to start the Skills Academy in partnership with Pramod Bhasin, Pia aims to train youngsters in basic literary skills such as typing, speaking English, accounting and computers.
[sc:mediad]
Nisha Godrej
An MBA degree holder from Harvard, Nisha is the daughter of Adi Godrej. The net worth of her family is an impressive $5.2 billion. Nisha happens to be the president of Human Capital and Innovation at the Godrej group and successfully manages over 20,000 employees. On the social front side, Nisha helps out Dasra, which is an organisation meant to educate girls. That's quite an endearing effort on her part, isn't it?
Akshata Murthy
She is the daughter of humble and renowned Infosys co-founder Narayan Murthy. Yes, Akshata Murthy is what we are referring to who holds 1.4 % stake in Infosys. Married to Rishi Sunak, her Stanford classmate, Akshata refuses to be another daddy's girl. This spirit in her made her a senior associate at Siderian.
Isha Ambani
After the passing away of Dhirubhai Ambani, most Indians have loved to consume press coverage revolving around the next generation of Ambanis comprising of Mukesh and Nita Ambani and Anil and Tina Ambani. It is now turn to see the sons and daughters of both these families staging the limelight. The most seen and recognised face is Isha Ambani, who at the age of 16, has been ranked second in the Forbes list of Top 10 billionaire heiresses in the year 2008. Isha has been the student body council president in school, part of the football team and little do we know that she is a trained pianist. She is majoring in Psychology and South Asian Studies.
[Also Read: How Nita Ambani Makes a Classy Style Statement with Sarees]
Now that you have seen the faces and pedigree of the billionaire daughters in India, we can only wish to be one in our next birth, what say?