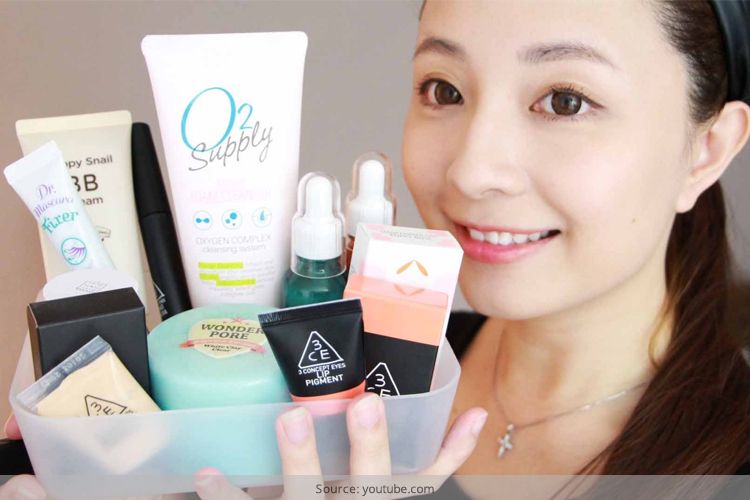 Korean beauty trends have been ruling markets for years now. Starting from mineral-rich waters treatments to carbonated face baths to Ombré lips and hair shading Korean experts have brought us everything. Korean beauty trends value customization of products for the individual user. Also, having flawless skin is high on their list of ideal facial features. A lot of Korean products also help you to have soft dewy skin because a fresh faced look is one of the must haves when you think Korean. Basically, there may be a different trend for every facial feature but the base rules remain the same. The recent trend of Korean Eye treatments has the same beauty goals but they are just dedicated to your eyes.
[Also Read: Korean Beauty Secret Revealed]
It's time you stopped settling with any less than absolutely perfect eyes. With these Korean eye products and Korean serums, you don't have to walk through your everyday life with puffy eyes that are underlined with dark circles. Pale eyes, fish eyes, dull eyes and those most dreaded underlying dark patches can be a thing of the past now.
Korean Beauty Products For The Eyes
Since, Korean beauty products for your eyes are such a huge trend, we decided that our readers should have a nice idea on how to use these. To get you acquainted with some of the best Korean Eye Treatment products, we decided to list out the best products available at the moment.
So, here is a list of the top Korean eye products:
1. Belif Moisturizing And Firming Eye Cream
Price: Rs. 3432
The Belif eye cream is one of the best eye creams in Korea which is why it tops our list. The cream does not contain any synthetic components, added colors, or unnatural fragrances. The cream has a consistency close to a gel which rubs on smoothly, absorbs quickly, and works wonders with makeup without smudging it or leaving an oily appearance. It is not greasy like other available eye creams, yet it is thick enough to completely moisturize the delicate area around your eyes efficiently.
2. Etude House Nutrifull Eye Cream
Price: Rs. 772
If you want to take the organic route with eye creams, this is the eye cream for you. This eye cream is made with cloudberry extracts and organic shea butter. Its consistency is slightly thicker and thus the cream is more viable as a night cream for your eyes. Leaving this cream on all day under makeup may not be the best idea, but, it has its advantages. Even though it is a bit heavier, it absorbs quickly and glides on quickly leaving the eye area nicely moisturized. What's more? All these benefits come to you without burning a hole in your pocket.
[Also Read: Makeup for Round Eyes]
3. Holika Black Caviar Wrinkle Recovery Cream
Price: Rs. 3300
If your main focus is on your wrinkles or even if you just want to prevent wrinkles from invading your under-eyes, this cream is the best cream for you. Enriched with premier ingredients like black caviar eggs, royal jelly, gold diamond honey, and other natural nutrients, this wrinkle recovery cream protects your under eye skin leaving it smoother and firmer in appearance. This cream helps reduce the signs of aging and moisturizes the skin from within.
[sc:mediad]
4. MIZON All-in-one Snail Repair Eye Cream
Price: Rs. 924
This may seem like a very distasteful idea for many but it's pretty much worth the risk. This cream contains 80% snail slime filtrate that really moisturizes your delicate eye area without leaving a heavy or greasy feel. With its gel like consistency, this cream increases the firmness and elasticity of the skin. It glides on smoothly and can be worn under your makeup without any fear of smudging or smearing. This eye cream also works on your fine lines keeping the eyes and under eyes bright and youthful.
[Also Read: Korean Hair Oil Products You Should Know About!]
5. Petitfee Black Pearl And Gold Hydrogel Eye Patch
Price: Rs. 660
Eyes masks are another great way of making your eyes look youthful and lively. These masks are infused with a black pearl and gold Hydrogen serum and thus these patches double as a korean eye serum to help firm and brighten the under eye area. These are super easy to use as they are stick on your skin without much hassle. You can actually have these on while working on chores around the house. When used regularly, the skin around the eyes will glow like never before. Additionally, you also get another variant of these eye mask which you could try, the PETITFEE Premium Gold and EGF Eye Patch.
6. Tony Moly Panda So Cool Eye Stick
Price: 462
We couldn't help but keep an eye stick on our list. If puffy eyes bother you more that they should, this eye stick is the perfect product for you. You could use this with or without makeup to get refreshed and de-puffed eyes at any time of the day. Having ingredients like Seawater and bamboo extract, this eye stick covers dark circles and blemishes around the eye. The silky consistency mixed with a pleasant flower fragrance moisturizes, relaxes and brightens the area around your eyes. The best thing about this stick is that you could carry it anywhere hassle free.
With this list, it should get easier for you to choose a perfect Korean eye care product for yourself. Go give your eyes the love and care that they deserve.